2023 Indian Roadmaster
Sold in the USA: 2015-Present
2020-Present:

Challenger Dark Horse
2023 Indian Road Master Price in the USA: 30,499 $ (2-years warranty with unlimited mileage cover)
The Indian Motorcycle Manufacturing Company launched Roadmaster in 2015, just before the launch of Scout. The Roadmaster is a full-dress tourer and takes you to your destination comfortably, no matter how long the journey is. It has all the necessary features to handle you with style and comfort. The 2021 Indian Roadmaster was introduced with many updates, and it offered a redesigned big cruiser, central lock system, ABS, traction control, heated grips, and much more. The latest Indian Roadmaster comes with the following standard equipment:
Seven-inches touch screen
Heated grips
Adjustable passenger floorboards
Keyless ignition
Cruise control
12 Volt charging port
USB
Tire pressure monitoring
ABS
The present Indian Roadmaster has two model options: the Roadmaster Limited and Roadmaster Dark Horse. The Roadmaster Limited has premium chrome finishes, LED headlights, 19-inches wheels, deep glossy metallic crystal paint, and all other standard equipment. At the same time, the Roadmaster Dark Horse comes with blacked-out finishes, an open fender, rear cylinder deactivation, matte paint, and all standard equipment. The Indian Roadmaster is one of the best options if you are looking for a tourer, but tourers are not everyone's cup of tea. It costs you a lot of bucks, but its luxury and comfort are the best among other rivals.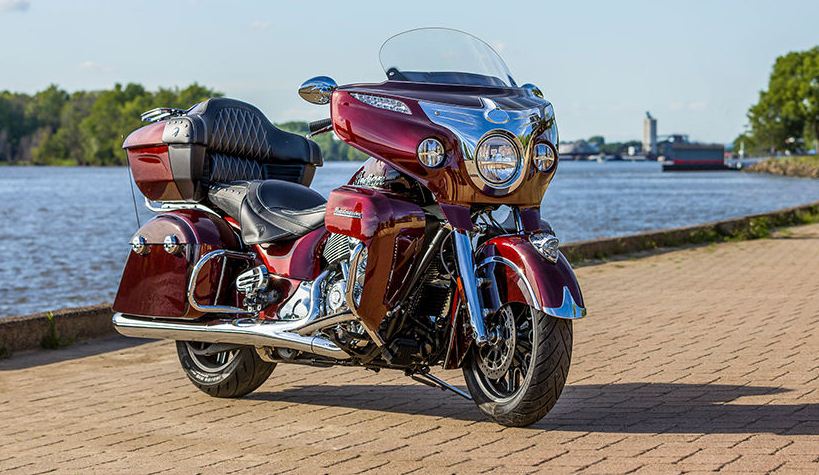 Engine & Performance:
The Indian Roadmaster gets its power from a 1890cc, thunder stroke, air-cooled engine that generates 116 hp of power and 126 lb-ft of torque. The thunder stroke III motor in Roadmaster delivers a great lumpy grunt even more than the Harley, thus giving a sheer performance. It offers a 6-speed transmission, the gears shift with a clean and positive attitude, and the power delivers to the rear through a quiet belt. The Indian Roadmaster has three riding modes: Tour, standard, and sport. The standard mode helps quick passing by offering more pork at low speeds. The Sport riding mode allows an immediate throttle response for more power delivery, and the Tour mode has a smooth throttle response that is opted for relaxed riding. The Roadmaster is a giant bike, but surprisingly it does not feel like a heavy bike when riding because of its appropriate riding position. The bike's weight disappears once rolling the centre of gravity and makes handling easy. It has telescopic fork suspension at the front and a single shock suspension at the rear. The steering response is good, and the bike's control is best when you have mastered it and don't make sudden moves. The bike's handling is excellent at low speeds. The braking system is efficient, stops the motorbike quickly when desired, and has a good feel at an adjustable level and a rear pedal. The Roadmaster comes with rear cylinder deactivation and keeps the rider comfortable by automatically dropping the cylinder at rest with a temperature above 15 degrees. It will generate less heat when starting the bike again.
Mileage, Top Speed & Mileage:
The Indian Roadmaster has a fuel economy of 35.9 miles per gallon. It sprinted from 0 to 60 miles per hour in 13.91 seconds and recorded a top speed of 137 miles per hour. Indian roadmaster with its powerful engine gives a fuel economy of 15-16 kilometers per liter.
Design & Build Quality:
The Indian Roadmaster is a massive bike with an overall length of 104.6 inches, a width of 40.2 inches, and a height of 55.7 inches with a ground clearance of 5.5 inches. This tourer bike comes with a push start windshield that lets you change the size according to your need so you can lower it for wind and raise it when cruising. The plush 2-up seat is much more comfortable and has heating technology that guarantees the rider's comfort while the grip handles are also heated. The lower fairing is complicated and has adjustable vents so the rider can tailor airflow for maximum comfort. There is a 7-inches touch screen in front of the riders that are powered by RIDE COMMAND and has Apple Carplay integration in it that lets you use navigation, Bluetooth connectivity, weather, and traffic updates. It offers a 36-gallon storage compartment with remote locking saddlebags and easy access so you can store your valuables in a weatherproof space. There are speakers with high output installed in the fairings that deliver 200 watts of audio, and the dynamic equalizer adjusts the wind noise, engine noise, and road sound automatically. The keyless entry, central lock system, tire pressure monitoring system, and cruise control. LED headlights and improved ergonomics make it stand out among competitors. It is not so cheap and even more expensive than its rivals, but it is beautifully equipped and has an outstanding build quality. The badging, the detailing, the chrome, and the paint show no prevailing problems to be worried about, and you can't resist choosing it over other tourers.
Pros:
Smooth, responsive engine
Beautifully balanced chassis
Superb all-day comfort
Super comfortable seats
Effortless ride
Looks great
Low-speed control is excellent
Handles well for a big bike
Handles brilliantly
Cons:
Very Expensive
Difficult and Expensive Maintenance
Unbearable heat in choc-a-bloc traffic
Expensive, tiny service network
Major Competitors:
BMW M 1000 RR
Indian Pursuit