2023 Ducati's V4 R Panigale
Sold World wide = 2018-Present
Engine =  desmodromic 90° V4 engine
2023 Ducati V4 R Panigale Price
| | |
| --- | --- |
| Ducati V4 R Panigale | $ 44,995/- |
Unleashing its dominance on the streets, the Ducati Panigale V4 R reigns supreme as the ultimate superbike that balances performance and street legality. Representing Ducati's first venture into the realm of four-cylinder engines, this masterpiece delivers an unrivaled riding experience that can deceive riders into believing they possess extraordinary skills. Enter the Panigale V4 R S, a bike that can transform anyone into a circuit conqueror. However, mastering its exceptional speed is no easy feat. While it effortlessly leaves the 1100 in its wake on the track, the V4 R's compact and formidable nature demands immense strength to tame. The relentless pursuit of harnessing its full potential in braking, acceleration, and cornering can be physically draining.
The engine:
Derived directly from the revered MotoGP Desmosedici engine, the four-cylinder motor powering the Panigale V4 R boasts an identical 81 mm bore size but features a longer 53.5 mm stroke. This meticulous engineering results in a formidable 1,103 cc, 90-degree V4 engine that unleashes an impressive 211 horsepower at 13,000 rpm and a torque of 124 Nm at 10,000 rpm. The Panigale V4 R is equipped with a wide array of cutting-edge technology and electronic rider aids, integrating genuine MotoGP expertise and technology into both its engine and frame.
One notable advantage of the Desmosedici Stradale engine is its extended maintenance intervals. Valve inspections are only required every 24,000 kilometers, significantly reducing the need for frequent servicing. This feature not only enhances convenience for riders but also reflects Ducati's commitment to providing a high-performance machine with greater usability and reduced maintenance demands. With the Panigale V4 R, Ducati seamlessly combines advanced engineering, MotoGP-inspired innovations, and user-friendly maintenance practices, making it a true marvel in the world of superbikes.
Handling and Performance:
With unwavering confidence, the Panigale V4 R S fearlessly attacks every type of corner, be it tight hairpins, sweeping curves, or even the high-speed stretches of long straights. Its cast aluminum front frame ingeniously incorporates the engine as a structural element, drawing inspiration from Ducati's illustrious MotoGP expertise. This design choice optimizes rigidity and responsiveness, ensuring unparalleled precision and control. Aiding in the Panigale V4 R S's remarkable handling prowess are the advanced technological features that grace this superbike. Equipped with a cutting-edge suite of tech gadgets, the bike offers a comfortable and effortless riding experience. Grip is further enhanced by the adoption of the high-performance Pirelli Diablo Supercorsa SP race replica tires, which provide exceptional traction on both road and track surfaces.
In terms of frame construction, the V4 R S stands apart from its V4 R sibling. Employing a monocoque frame, the V4 R S achieves a remarkable balance between weight reduction and enhanced stiffness, making it an ideal choice for competitive racing. Notably, the rear swing arm of the bike is crafted from lightweight aluminum and features an adjustable pivot with four positions spaced 2mm apart. This level of adjustability allows riders to fine-tune the bike's handling characteristics to suit their preferences and the demands of the track. The Panigale V4 R S showcases Ducati's commitment to pushing the boundaries of performance and engineering innovation. With its exceptional handling, state-of-the-art technology, and finely tuned adjustability, this superbike stands as a testament to Ducati's relentless pursuit of motorcycle excellence.
Photos: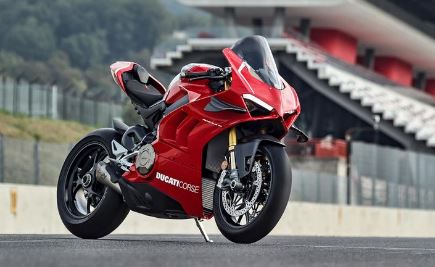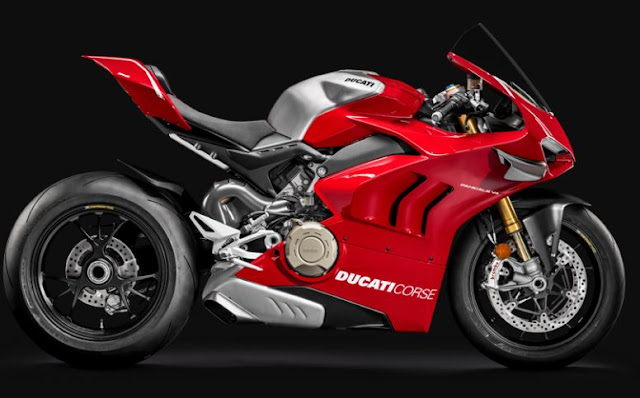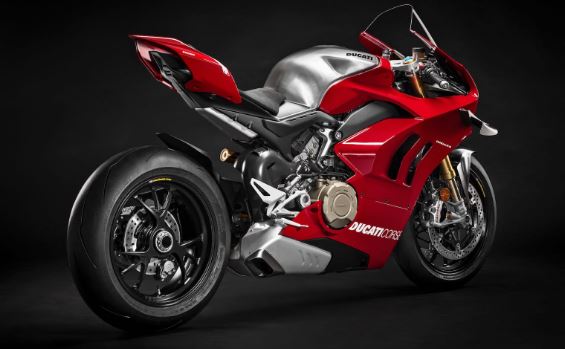 Price:
Ducati says the Panigale V4 R will retail for $40,000, and will be available in dealerships March 2019. The Panigale V4 R is available in one colour – red. The Panigale V4 R variant accompanies electronic Ohlin's suspension, and together with the suspension ceaselessly investigates bike behaviour and modifies in like manner. The base Panigale V4 R) accompanies completely movable Showa front fork and a Sachs monoshock.
Instrumentation's:
The Panigale V4 R S offers a trio of riding modes, namely Street, Sport, and Race, catering to different preferences and riding environments. Accessible through the user-friendly TFT screen and conveniently located flip switches on the left handlebar, these modes provide riders with the flexibility to customize their riding experience. In Sport mode, riders can fully explore the capabilities of the Panigale, indulging in its exhilarating performance. The bike is equipped with advanced rider aids and electronic systems that work seamlessly to enhance safety and optimize performance. The engine brake control allows riders to fine-tune the engine's braking characteristics, while the six-axis Bosch IMU (Inertial Measurement Unit) collaborates with the quick shifter to detect lean angles, ensuring smooth and seamless gear changes while maintaining optimal grip. This integration of cutting-edge technology guarantees precise and controlled transitions during gear shifts.
The IMU serves as the foundation for various rider assistance systems, including Cornering ABS EVO, Ducati Traction Control (DTC) EVO, Ducati Slide Control (DSC), Ducati Wheelie Control (DWC) EVO, Ducati Power Launch (DPL), Ducati Quick Shift (DQS) EVO, and Engine Brake Control (EBC) EVO. These intelligent systems process data within microseconds, enabling them to react swiftly to changing conditions and ensuring a harmonious riding experience. The Panigale V4 R S empowers riders to feel like true legends on the circuit, with the confidence that these advanced technologies provide. Regardless of the riding situation, riders can trust that the bike will respond with utmost precision and fluidity, allowing them to push their limits and revel in the exhilaration of each ride.
Verdict:
The Ducati Panigale V4 R possesses an inherent characteristic that allows even a 200+ horsepower superbike to feel accessible and secure on the racetrack. However, it should be noted that this machine is not intended for inexperienced riders, despite the inclusion of state-of-the-art electronic aids. Even the slightest miscalculation of throttle input can have dire consequences. The immense power and torque, spread across a wide rev range, demand respect and a skilled hand.
Despite its aggressive nature, the Panigale V4 R surprises with its compact dimensions, weighing in at 195 kg (kerb weight) and exhibiting impeccable handling. This gives the rider a sense of maneuverability akin to that of a smaller, middleweight sport bike. However, the V4 R's robust engine delivers a torque curve that remains lively across all revs, providing continuous acceleration that seems never-ending until you run out of track. The Panigale V4 R is undeniably a tremendously fast and capable motorcycle, but it requires the rider to be in tune with their instincts and ride accordingly.
For many riders, the Panigale V4 R delivers the most exhilarating experience they have ever had on a superbike. It confidently stands as the epitome of superbike performance.
Major Competitors:
BMW M 1000 RR
Honda CBR1000RR-R SP
Yamaha R1M