2024 Royal Enfield Himalayan
Sold in the USA = 2016-Present
Engine Technology = 411cc single-cylinder engine using a 4-stroke design, air cooling, and a Single Overhead Cam (SOHC) system
2024 Royal Enfield Himalayan Price in the USA
| | |
| --- | --- |
| Royal Enfield Himalayan | 5,449 $ |
The Royal Enfield Himalayan is a popular adventure touring motorcycle manufactured by Royal Enfield, an iconic Indian motorcycle company. It was introduced in 2016 and has gained a strong following among riders looking for a versatile and capable bike for long-distance journeys, including off-road exploration. It offers spoke wheels with knobby tires for off-road capability and has a long-travel suspension for improved off-road handling. The Royal Enfield Himalayan got a major update in 2021 in places like India, the UK, and Europe. This updated version continues into 2023 onward. The changes mainly focus on the bodywork, which has been improved to enhance comfort and usefulness. This means riders can expect a more comfortable and practical experience with the latest Himalayan model. The Royal Enfield Himalayan is the only adventure-style motorcycle in Royal Enfield's collection. It is designed for adventure riding with special features for handling different kinds of roads. It has a sturdy frame and suspension system that make the ride smooth, even on bumpy surfaces. The way the bike is designed, with a seat height of 31.5 inches, footpegs in a good spot, and handlebars in the right position, lets riders sit comfortably. This helps reduce tiredness on long trips.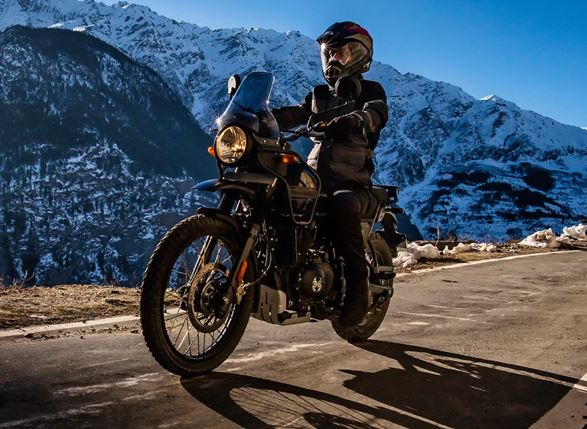 Engine & Performance:
The Royal Enfield Himalayan has a 411cc single-cylinder engine. This engine uses a 4-stroke design and is cooled by air. It operates on a Single Overhead Cam (SOHC) system. It delivers about 24 horsepower and generates a torque of approximately 23 foot-pounds, which indicates the rotational force it produces. This combination of power and torque gives the Himalayan its capability on various terrains. 
The Royal Enfield Himalayan uses a regular wet clutch, which helps connect the engine's power to the five-speed transmission. This transmission operates with a constant-mesh system, and the power is delivered through a chain-type final drive. The Himalayan can reach a top speed of around 87 mph (140 km/h). This speed is more than enough for most types of roads, except the fastest highways. It shows that the bike is well-suited for a range of riding conditions. 
The Himalayan's frame is made of strong tubular steel. It's a special type called a half-duplex split-cradle frame. This frame design includes a bash plate, which is like armor for the engine and lower parts of the frame. It protects them from getting hit by rough terrain. The front has 41mm thick forks, and have covers called bellow gaiters. These protect the inner part of the fork from getting damaged by things like dirt or small rocks. In the back, there's a single shock absorber, which helps handle the bumps. The suspension travel is how much the front and back can move up and down. This is enough for handling rough terrain, even though it's not as much as a dedicated dirt bike. The Himalayan offers laced wheels, which are a popular choice among off-road riders. These wheels have a 17-inch diameter at the back and a 21-inch wheel at the front. They have unique tread pattern tires called "street knobbies." These tires are versatile and work well on regular roads (blacktop) and uneven, off-road terrain (brown). This combination of laced wheels and versatile tires ensures that the Himalayan can handle various riding surfaces effectively. The Himalayan uses a single 300 mm disc brake with a two-piston system to slow down the front wheel. The back has a 240 mm disc with a single-piston system. The bike offers ABS (Anti-lock Braking System) as a standard feature. This ABS has two channels, which means it works on both the front and rear brakes. There are two modes: one for regular use, and another where you can let the back wheel skid a bit. This second mode helps in riding off-road.
Fuel Economy:
The fuel economy or mileage of the Royal Enfield Himalayan is around 30 to 35 kilometers per liter (km/l).
Exterior Design & Build Quality:
Royal Enfield made sure the Himalayan looks just like the kind of bike you'd want for this type of journey. They paid attention to keeping mud and dirt from splashing up onto you. They added a fender close to the tire and another mudguard that moves with the front wheel. The front of the bike has a round headlight and a slim, rally-style windscreen. The turn signals are high to avoid getting damaged, but you need to be cautious of branches and such. The fuel tank itself holds about four gallons of gas. It adds a raised part to the bike's look, and it gets narrower towards the back, where it meets the slim middle part of the bike. The seat on the Himalayan is 31.5 inches tall. This lower seat height is essential to make room for good suspension travel, and the high 8.6 inches of ground clearance helps the bike handle rough terrain. There's also a small rack above the tail light where you can place some luggage. The license plate and its light are attached to a large mudguard, and the rear turn signals are positioned high on either side of the tail light. The Royal Enfield Himalayan has good build quality.
User Reviews:
Many users appreciate the Himalayan for its versatility. It is loved for providing a comfortable experience, especially on extended journeys. Riders value the Himalayan's off-road capabilities. Its suspension system and ground clearance allow for confident handling on rugged terrains. Users often report that the Himalayan is a robust and reliable bike, able to withstand various riding conditions and environments. Few users have mentioned that there can be noticeable vibrations, especially at higher speeds.  Few users have pointed out minor quality control issues or finished imperfections. The availability of spare parts and service centers may be difficult, which can be a consideration for potential buyers.  Few individuals with shorter inseams may find it a bit tall and uneasy.
Pros & Cons:
Pros:
Versatility: The Royal Enfield Himalayan is praised for its versatility, making it suitable for various riding conditions, including long-distance journeys and off-road exploration.
Off-road Capabilities: Designed for adventure riding, the Himalayan comes with features like spoke wheels, knobby tires, and long-travel suspension, making it capable of handling rough terrains confidently.
Comfortable Design: With a well-thought-out design, including a comfortable seat height, footpeg placement, and handlebar positioning, riders can expect reduced fatigue on long trips.
Robust Frame and Suspension: The tubular steel half-duplex split-cradle frame, bash plate, and quality suspension components contribute to the bike's durability, providing protection against rough terrain.
Engine Performance: The 411cc single-cylinder engine delivers a good balance of power and torque, enabling the Himalayan to perform well on various types of roads.
Laced Wheels and Versatile Tires: The combination of laced wheels and versatile "street knobby" tires ensures effective handling on both regular roads and uneven off-road surfaces.
Braking System with ABS: The bike features a disc brake system with ABS, providing effective braking performance and safety on various terrains.
Exterior Design: The design of the Himalayan, with mudguards, a round headlight, slim windscreen, and a raised fuel tank, reflects its purpose as an adventure touring motorcycle.
Build Quality: The Royal Enfield Himalayan is praised for its good build quality, which contributes to its overall durability and reliability.
Cons:
Vibrations at Higher Speeds: Some users have reported noticeable vibrations, especially at higher speeds, which can impact the overall riding experience.
Quality Control Issues: Few users have pointed out minor quality control issues or finished imperfections, suggesting that there may be inconsistencies in manufacturing.
Availability of Spare Parts and Service Centers: Some users have mentioned challenges in obtaining spare parts and accessing service centers, which can be a consideration for potential buyers.
Height Concerns: Individuals with shorter inseams may find the bike's height a bit tall and uncomfortable, which could limit the accessibility of the motorcycle for some riders.
Limited Model Options: The Royal Enfield Himalayan is the only adventure-style motorcycle in the company's collection, limiting options for riders who may be looking for alternative models.
Caution with Turn Signal Placement: While the high positioning of turn signals helps avoid damage, riders need to be cautious of branches and obstacles that may come in contact with them during off-road riding.
Top Speed Limitation: While the top speed of around 87 mph is sufficient for most roads, it may be limiting on the fastest highways, potentially affecting the bike's suitability for high-speed cruising.
Verdict:
The Royal Enfield Himalayan is a popular adventure touring motorcycle known for being comfortable and good for off-road trips. In 2021, they made it even better by improving its design. It has a strong engine that makes it powerful for different kinds of roads. The bike's frame is tough and has special features to protect it during off-road adventures. The wheels are designed for both regular roads and rough paths. People who use it say it's reliable, but some mention that it can vibrate a bit at high speeds and sometimes has small issues in how it's made. The seat is not too high, and the bike is well-designed, making it likable. But, some people worry about getting spare parts and fixing it if something goes wrong, and shorter people might find it a bit tall. In general, the Royal Enfield Himalayan is a good choice for people who want a flexible and strong motorcycle for adventure trips.
Major Competitors:
BMW G 310 GS: This is a compact adventure bike from BMW Motorrad, offering off-road capabilities and a versatile riding experience.
KTM 390 Adventure: Manufactured by KTM, this adventure bike is known for its performance, agility, and off-road prowess.
Honda CRF300L: Honda's CRF300L is a lightweight and capable adventure bike designed for both on and off-road riding.
Suzuki V-Strom 250: Suzuki's V-Strom 250 is a smaller adventure bike offering comfort and practicality for both city and adventure touring.
Kawasaki Versys-X 300: Kawasaki's Versys-X 300 is a compact adventure bike known for its reliability and versatility.
Yamaha Tenere 700: Yamaha's Tenere 700 is a popular adventure bike with a focus on off-road capabilities and long-distance touring.