2023 Super Power SP 70cc Scooty
Sold in Pakistan = 2016-Present
Technology = Self Start, 4 Stroke Air Cooled Engine
2023 Super Power Scooty SP 70cc Price in Pakistan
Super Power SP 70cc Scooty

12,0000/-

PKR
Super Power is a Pakistani motorcycle brand owned by the Pirani Group of Companies. It has been operating in Pakistan for over a decade and has a significant presence in the motorcycle market, offering a range of motorcycles, including commuter bikes, sports bikes, and cruisers. Super Power bikes are known for their affordability and reliability, making them popular among entry-level motorcycle riders in Pakistan.
The trend of scooters in Pakistan has been on the rise in recent years, with more and more people choosing scooters as a convenient and affordable mode of transportation. Super Power has introduced its line of scooters, including the SP Scooty, to compete in this market. The SP Scooty is a lightweight and compact scooter designed for easy maneuverability in crowded city streets. It features a fuel-efficient engine and has a range of up to 80 kilometers on a full tank.
The SP Scooty comes equipped with various features, such as a comfortable seat, storage compartments, and a kick starter. It's designed for both male and female riders and is available in various colors. As with any vehicle purchase, it's important to consider your specific needs and preferences as a rider and evaluate the features and specifications of the scooter to determine if it meets your requirements. Additionally, it's essential to follow all safety guidelines and wear appropriate safety gear, such as a helmet, while riding a scooter.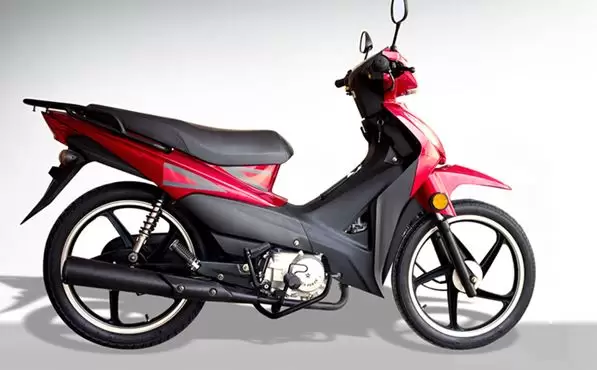 Engine & Performance:
The Super Power SP Scooty comes equipped with a single-cylinder, air-cooled, 4-stroke engine with a displacement of 110cc that generates 4 kW (5.5 hp) horsepower at 7500 RPM and 7.0 Nm torque at 5500 RPM. The engine delivers a balance between performance and fuel efficiency, providing a top speed of around 80 km/h and a fuel economy of up to 50 kilometers per liter.
The engine is paired with a continuously variable transmission (CVT) system that provides the smooth and seamless acceleration, making it ideal for city riding. The scooter's engine is also designed to be low-maintenance, with a simple and reliable design that requires regular oil changes and periodic maintenance.
The Super Power SP Scooty features a telescopic fork suspension system at the front and a hydraulic spring suspension system at the rear. The suspension system provides a comfortable ride and absorbs shocks and bumps on the road, ensuring a smooth ride for the rider and passenger. The Super Power SP Scooty has drum brakes at both the front and rear wheels, which are common braking systems found on many scooters and motorcycles. The drum brakes provide adequate stopping power and are reliable and easy to maintain. However, they may not offer the same level of performance and stopping power as disc brakes found in some higher-end motorcycles and scooters.
The Super Power SP Scooty is designed to be lightweight and compact, making it easy to handle and maneuver in crowded city streets. The scooter has a low seat height, making it easy for riders of all heights to reach the ground and maintain stability at low speeds. The small size and lightweight design make it easy to park and maneuver in tight spaces, making it an ideal choice for commuting and running errands in urban areas. The handlebars provide a comfortable and natural grip, allowing for easy and precise steering control, making it an ideal choice for novice riders or those new to scooters.
Exterior Design & Build Quality:
The Super Power SP Scooty is available in two colors – red and black. It has an overall length of 2680 millimeters, a width of 760 millimeters, and a height of 110 millimeters, giving it a sleek and modern exterior design. Its compact and lightweight body makes it easy to maneuver through congested city streets and park in tight spaces. The bodywork has smooth and flowing lines, with a distinctive front fascia that includes a large headlight and turn indicators. The instrument panel is clear and easy to read, featuring an analog speedometer and fuel gauge, as well as a range of warning lights. The Super Power SP Scooty is built with high-quality materials like steel and high-strength plastic to ensure durability, reliability, and longevity. Its components, including the suspension, brakes, and engine, meet strict quality standards to ensure safe and reliable performance over the long term.
User Reviews:
Riders have praised the Super Power SP Scooty for its fuel efficiency, ease of use, and affordability. The scooter's lightweight and compact design makes it easy to maneuver in traffic and park in tight spaces. It's also known for being reliable and requiring minimal maintenance, making it an ideal choice for those who use it as their primary mode of transportation. However, some users have noted that the scooter's suspension could be improved to provide a more comfortable ride, especially on bumpy roads. Additionally, the seat could be made more comfortable.
Major Competitors: