2023 Super Power Sultan SP 250cc
Sold in Pakistan = 2019-Present
Technology = Self Start 4 Stroke Single Cylinder Oil Cooled Engine
2023 Super Power Sultan Price in Pakistan 
Super Power Sultan

3,87,500/-

PKR
The Sultan SP 250 is a motorcycle model manufactured by Super Power Motorcycles, a Pakistani motorcycle company. The bike has a 250cc engine and is designed to offer a comfortable ride on both urban and rural roads. It has a 250cc single-cylinder engine and offers a 6-speed manual transmission. It also offers an electric start system. The bike comes with front and rear disc brakes, and its suspension system has telescopic front forks and rear mono-shock suspension. The alloy wheels with tubeless tires give it a sporty appearance and comfortable ride. Its key features include the LED headlight and taillight, along with the digital speedometer and fuel gauge. The Super Power Sultan SP 250 is a reliable and sturdy bike suitable for commuting, touring, and adventure riding. However, like with any vehicle, it is important to properly maintain and service the bike to ensure its longevity and optimal performance. It is available in red, black, and white exterior color options. It competes with the Suzuki Inazuma, Suzuki Inazuma Aegis, and Benelli TNT 25 but as compared with 250cc competitors it is underpowered and less expensive as well, a great alternative to expensive bikes.
The Super Power Sultan SP 250cc is a versatile motorcycle designed for multiple uses. With its comfortable seat and smooth engine, the Sultan SP 250cc is ideal for daily commuting in urban and suburban areas. The bike's powerful engine and sturdy build make it suitable for long-distance touring on highways and rough roads. The Sultan SP 250cc's off-road capability, with its durable suspension and tires, makes it a good option for adventure riding and exploring the outdoors. The bike's 6-speed manual transmission and responsive engine make it a fun option for sports riding, including racing and track days.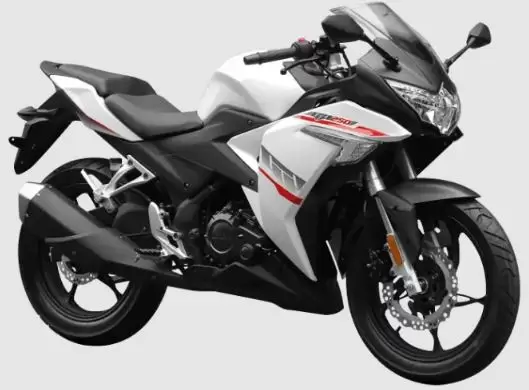 Engine & Performance:
The Super Power Sultan SP 250cc has a single-cylinder, 4-stroke, air-cooled engine with a displacement of 249.6cc. The engine generates a maximum power of 17.7 horsepower at 6,000 RPM and a maximum torque of 17.2 Nm at 6,000 RPM. It uses a 6-speed manual transmission system for smooth and efficient power delivery. The engine features an overhead camshaft (OHC) design, which improves the engine's efficiency by reducing friction and allowing for higher revs. The air-cooled system helps to dissipate heat efficiently and maintain optimal engine temperature, while the engine's electronic fuel injection (EFI) system ensures better fuel economy which is 20-25 kilometers per liter with reduced emissions.
The Super Power Sultan SP 250cc has a reliable suspension system that provides a comfortable and smooth ride, whether on smooth roads or rough terrain. The bike features telescopic front forks and a rear mono-shock suspension. The front and rear suspension systems are adjustable, which allows riders to customize the bike's ride height and stiffness to suit their riding style and preferences. The suspension system is also built to withstand heavy loads and provide stable handling, making the Super Power Sultan SP 250cc suitable for long-distance touring, adventure riding, and other uses.
The Super Power Sultan SP 250cc also features an anti-lock braking system (ABS) as an optional feature. The bike has reliable braking systems that provide efficient stopping power and improved safety. ABS helps to prevent wheel lockup during hard braking, which can cause loss of control and accidents. With ABS, the brake system will modulate the brake pressure to the wheels to maintain traction and prevent lockup, providing more confidence and safety for the rider.
The Super Power Sultan SP 250cc has good handling and stability, thanks to its sturdy frame and suspension system. The bike features a tubular steel frame that is strong and durable, providing a stable platform for suspension and other components. The Super Power Sultan SP 250cc also features wide and durable tires, which provide good grip and stability on different surfaces, including wet roads and rough terrain. The bike's alloy wheels are lightweight and sturdy, helping to reduce unsprung weight and improve handling. It has a fuel average of 25 kilometers per liter and gives a top speed of 120 kilometers per hour.
Exterior Design & Features:
The Super Power Sultan SP 250cc boasts an attractive and sporty design, combining modern styling with classic motorcycle aesthetics. The bike's sharp and aerodynamic front fairing, with a twin headlamp setup, gives it an aggressive and muscular look. The fuel tank has a sleek and streamlined design, with a capacity of 16 liters, providing ample fuel for long-distance touring and adventure riding. The tank is adorned with sporty decals and graphics, giving the bike a distinct and stylish appearance.
The Super Power Sultan SP 250cc has a spacious and comfortable seat that provides excellent support and comfort, even on long rides. The seat accommodates both the rider and passenger, making it suitable for touring and other uses. The bike's rear section features a sporty LED taillight and turn indicators, integrated into the bike's bodywork, giving it a clean and modern look. The exhaust system is also stylish and designed to enhance the bike's performance and sound.
The Super Power Sultan SP 250cc is built to a high standard of quality, with attention paid to the bike's performance and durability. The bike features a sturdy and robust tubular steel frame, providing a stable and reliable platform for the bike's suspension, engine, and other components.
User Reviews:
The user reviews for the Super Power Sultan SP 250cc are generally positive, with many riders praising the bike's performance, reliability, and design. Most riders appreciate the bike's powerful engine and smooth ride, with some noting that the bike is capable of high speeds and easy handling on highways and off-road terrain. The bike's brakes and suspension are also well-regarded, with many riders noting that they provide the good stopping power and comfortable handling, even on rough terrain. A few riders have said that the bike's build quality and materials could be improved, with some parts feeling cheap or prone to wear and tear over time. Additionally, some riders have noted that the bike's fuel economy could be better, although this is not uncommon for a bike with a powerful engine.
Pros & Cons:
Pros:
Anti-Lock Braking System
Self Start
Led Lights
Cons:
Underpowered
Expensive to Maintain
Low Mileage
Major Competitors: