2023 United Bullet Electric Motorcycle
Sold in Pakistan = 2023-Present
Technology = Electric Lithium-ion Battery
2023 United Bullet Electric Motorcycle Price in Pakistan 
| | |
| --- | --- |
| United Bullet | 288,000/- PKR |
| United Spark | 265,000/- PKR |
| United Revolt | 253,000/- PKR |
United Motorcycles is a well-known motorcycle brand in Pakistan, renowned for its reliability and affordability. Established in 1999, the company has rapidly grown to become one of the largest motorcycle manufacturers in the country. With a diverse lineup of models, including 70cc, 100cc, 125cc, and 150cc motorcycles, United Motorcycles has been instrumental in providing millions of people in Pakistan with accessible and dependable transportation options. Among their popular models, the United Motorcycle's Bullet stands out as a stylish and powerful choice designed for urban commuting and comfortable rides. Recently, United introduced the Bullet as an electric bike, further expanding its range of offerings. The Bullet showcases attractive features such as a front disc brake, a rear drum brake, alloy rims, and a digital speedometer, enhancing both safety and convenience for riders.
The latest iteration of the United Bullet is a high-end variant in their electric motorbike lineup. Equipped with a 2000-watt electric motor, this model is powered by a 72V, 25Ah lithium-ion battery, providing an eco-friendly and efficient mode of transportation. The United Bullet excels in cost-effectiveness without compromising on style, making it an ideal choice for those seeking a budget-friendly motorcycle option. In addition to its impressive range of motorcycles, United Motorcycles boasts an extensive network of dealerships and service centers throughout Pakistan. This widespread presence ensures that customers have convenient access to purchase their preferred models and maintain their motorcycles with ease.
United Motorcycles continues to solidify its reputation as a leading brand in Pakistan's motorcycle industry. With their commitment to quality, affordability, and a wide range of offerings, they have successfully provided reliable transportation solutions to a diverse range of customers across the country.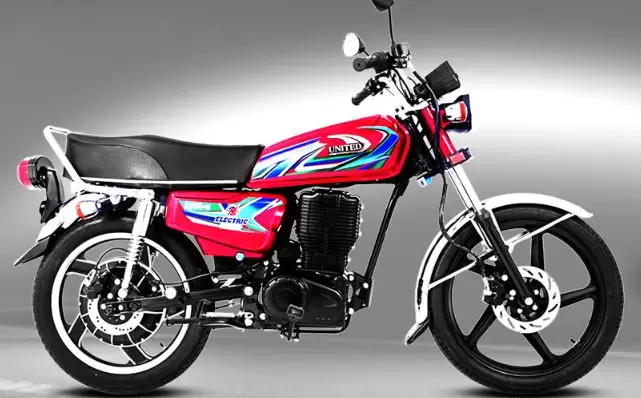 United Electric Motorcycles Models:
| | | | |
| --- | --- | --- | --- |
| | United Revolt Electric | United Spark Electric | United Bullet Electric |
| Electric Motor | 1,500W | 2,000W | 2,000W |
| Battery | 48V – 40Ah Lithium | 48V – 50Ah Lithium | 72V – 25Ah Lithium |
| Top Speed | 80 Km | 90 Km | 100 Km |
| Range | 75 Km | 85 Km | 95 Km |
| Charging Time | 4 – 5 Hours | 4 – 5 Hours | 4 – 5 Hours |
Performance & Battery:
The United Bullet is an electric bike powered by a robust 2000-watt electric motor, complemented by a 25Ah lithium-ion battery. This eco-friendly bike offers the convenience of a self-start mechanism, allowing riders to effortlessly kickstart their journeys. Moreover, the battery charges quickly, taking just four hours to reach full capacity. With a top speed of 100 kilometers per hour and an impressive range of up to 95 kilometers, the United Bullet provides both speed and endurance for riders. When it comes to braking systems, the United Bullet is equipped with a disc brake on the front wheel and a drum brake on the rear wheel. The front disc brake employs either a hydraulic or mechanical system, utilizing a caliper to grasp a rotor that is attached to the wheel. By applying force to the caliper, friction is generated, effectively slowing down the wheel and bringing the motorcycle to a controlled stop. On the other hand, the rear wheel utilizes a drum brake mechanism. This system comprises a set of curved brake shoes that press against the inside of a drum linked to the wheel. When the rider engages the brakes, the brake shoes expand outward, creating friction against the drum and reducing the wheel's rotational speed.
To ensure a smooth and comfortable ride, the United Bullet incorporates twin shock absorbers at the rear of the bike. These shock absorbers are specifically designed to absorb shocks and vibrations encountered on the road, providing enhanced stability and minimizing rider discomfort. Attached to the motorcycle's frame and swing arm, which connects the rear wheel to the frame, this twin shock absorber system is renowned for its simplicity and reliability, offering riders a reliable and enjoyable riding experience.
The handling characteristics of the United Bullet are influenced by its weight, which tends to be on the heavier side, and its long wheelbase, contributing to stability during high-speed rides. While this configuration enhances stability, it may make the motorcycle feel slightly less agile during tight cornering or low-speed maneuvers. However, the United Bullet compensates for this by delivering a relaxed and comfortable ride, making it a suitable choice for navigating through traffic or exploring scenic back roads. Riders seeking a bike that excels in comfortable performance within city traffic will find the United Bullet an ideal option
Exterior Design & Build Quality:
The United Bullet motorcycle embodies the timeless allure of vintage British motorcycles, capturing the essence of classic design with a touch of modernity. Drawing inspiration from iconic models like the Royal Enfield Bullet, the United Bullet showcases a retro aesthetic coupled with contemporary elements. Its exterior design is characterized by a prominent, round headlight at the front, boasting a sleek chrome or black finish and a clean, uncluttered appearance. The fuel tank of the United Bullet motorcycle takes on a distinctively large, teardrop shape, extending down to cover the engine. Adorned with chrome or painted accents and eye-catching graphics, the fuel tank contributes to the motorcycle's distinctive and stylish appeal. The seating arrangement typically consists of a long, single-piece seat that extends seamlessly toward the rear fender. Designed with classic pleating, the seat not only exudes a timeless charm but also ensures rider comfort during long journeys.
In terms of fenders, the United Bullet motorcycle exhibits a minimalistic rear fender that provides modest coverage for the rear wheel. On the other hand, the front fender tends to be more substantial, offering additional protection against road debris. The motorcycle features exquisite chrome or polished metal accents throughout, including the exhaust system, handlebars, and mirrors, further enhancing its vintage aesthetic. Additionally, the United Bullet boasts sleek alloy wheels and is available in a captivating red exterior color option.
Underneath its captivating exterior, the United Bullet motorcycle boasts a robust steel frame renowned for its strength, durability, and well-crafted welds. The frame incorporates strategic reinforcements in critical areas, ensuring stability and rider safety. Owners of the United Bullet motorcycle often report solid performance and reliable operation, with many expressing long-term satisfaction with their motorcycles. Regular maintenance and servicing are crucial to uphold the motorcycle's performance and longevity, but with proper care and attention, the United Bullet is poised to deliver many years of trouble-free riding pleasure.
The United Bullet motorcycle pays homage to the timeless charm of vintage British motorcycles while incorporating modern engineering advancements. Its captivating design, dependable performance, and potential for long-term satisfaction make it an appealing choice for riders seeking a classic-style motorcycle with enduring appeal.
User Reviews:
Being a recently launched electric bike by United Motorcycles, the United Bullet is yet to accumulate a substantial number of user reviews. However, one notable aspect that sets the United Bullet apart is its cost-effectiveness, which is particularly valuable in the current era of soaring inflation and rising petrol rates. With the shift towards electric vehicles, the United Bullet presents an appealing alternative that not only addresses environmental concerns but also offers potential long-term savings. While specific details regarding user experiences and feedback are limited at this early stage, United Motorcycles has a reputation for delivering reliable and affordable motorcycles. This track record instills confidence that the United Bullet will maintain its reliability and be a cost-effective option not only in terms of the initial purchase but also regarding maintenance and servicing requirements.
As the United Bullet gains popularity and more users share their experiences, a clearer picture will emerge regarding its overall performance, reliability, and cost-effectiveness. United Motorcycles, being a well-established brand, is likely to prioritize providing reliable and efficient service for their electric bike, further enhancing the overall ownership experience. Considering the prevailing economic landscape and the growing demand for eco-friendly transportation, the United Bullet's cost-effectiveness and reliability make it an attractive choice for riders seeking an electric bike that aligns with their budgetary and environmental considerations.
Major Competitors: