United US 150 Ultimate Thrill
Sold in Pakistan = 2016-2022
Status =

DISCONTINUED

Technology = Euro-II
United US 150 Ultimate Thrill Last Price in Pakistan in 2022 =

142,000/- PKR
United Motorcycles launched a thrilling bike, 150 Ultimate Thrill, to compete against Honda CB150F. It is a 4-stroke, 150cc engine bike that offers 5-speed transmission and electric-start technology. Although it is not a heavy bike, it does give a vibe of an attractive heavy motorcycle. The United US 150 Ultimate Thrill gives you a powerful performance, making your journeys thrilling with its high specs and features. It takes you through the long routes conveniently with its large fuel tank that carries thirteen liters of fuel, and you don't have to refuel the tank shortly. Another feature that makes it a perfect bike for touring is the larger wheelbase of 1320 millimeters and a ground clearance of 168 millimeters, making your off-road adventures safe and convenient. United US 150 Ultimate Thrill is available in red and black exterior colors. It is available at a cheaper rate compared to its competitors, and its competitors other than Honda CB150F include; Suzuki GS 150, Road Prince Wego 150, Road Prince Robinson 150, and Suzuki GS150SE. The quality of the United US 150 Ultimate Thrill is appreciated, and it comes among one of the best bikes delivered by United Motorcycles.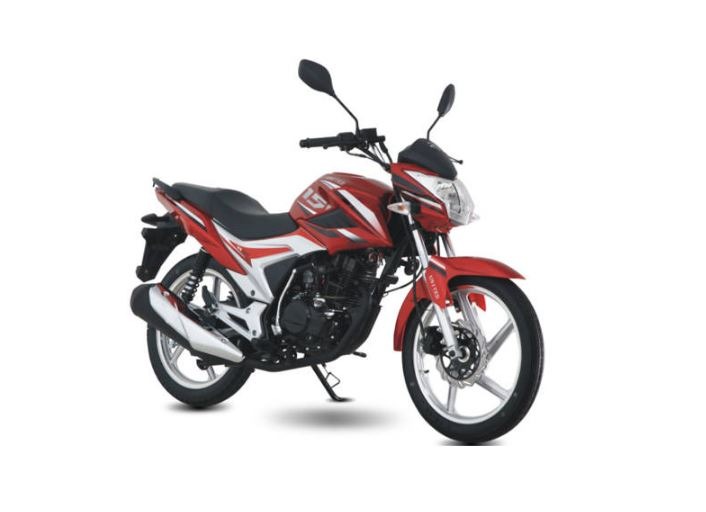 Performance & Ride:
The United US 150 Ultimate Thrill gets its power from a 4-stroke, 150cc, air-cooled, single-cylinder engine that generates a 9 kW of horsepower at 8000 RPM and 11.8 Nm of torque at 6000 RPM. It offers 5-speed linear transmission operated by a hand clutch that is easy to use, and it changes gear quite smoothly. The United 150cc comes with double starter alternatives that offer you both self-start technology and kick-start technology, among which the self-start is the easier way to start the engine. Still, kick-start is also not very bad but takes more time than a self-start button. The braking system of United 150cc Ultimate Thrill has improved by introducing a soldiery disc brake at the front, and the rear has the conventional drum brake. Both the brakes work together efficiently to apply the brake smoothly without giving any jerks or disturbing traffic flow. As already mentioned above, it comes with more ground clearance that lets you move over bumps and breakers comfortably and produces fewer jerks. The front and rear tires give enough road grip so you can ride safely and confidently.
Mileage & Top Speed:
The United US 150 Ultimate Thrill comes with a fuel tank capacity of 13 liters, making it a good option for a touring bike. It does not give a good fuel economy, and you may get 30 to 40 kilometers per liter only if drive at an economical speed while it may give you a top speed of up to 140 kilometers per hour.
Exterior Design & Build Quality:
The United US 150 Ultimate Thrill comes with 2060 millimeters of total length, a height of 760 millimeters, and a width of 1080 millimeters. The overall looks of the bike are much appreciated and give a feel of a heavy bike. The front end has a powerful and eye-catching headlight that offers a bright light to illuminate the roads at night. The speedometer is also striking, giving the vehicle's information in clear graphics. The handlebars are good in quality, and the side mirrors are also solid. The fuel tank has a cowling aerodynamic design with a larger capacity, and the rear seat has been designed ergonomically so the rider can sit appropriately and ride the bike comfortably. The bike comes with alloy wheels that look sporty and attractive, but the tires look thin. The Build Quality of United 150cc is excellent and makes it one of the best bikes introduced by United.
User Reviews:
The customers love the style and looks of United US 150 Ultimate thrill. They love its performance too, but they are not satisfied by the fuel economy of the bike. It consumes a large amount of fuel and gives less mileage than expected, which makes it a costly bike to run. Secondly, the resale value of United US 150 Ultimate Thrill is also not very high. You buy it at a price of more than one lacs Pakistani rupees, and you get around 90 thousand Pakistani rupees when you resale your bike. You should buy it if you are planning to run for a longer time only.
Major Competitors:
Aprilia RS 150
Benelli TNT 150i
Benelli 180S
Super Power SP 150 Archi
Sigma VALENTINO 150cc
ZXMCO KPR 200 Cruise