2023 Hi-Speed Infinity 150
Sold in Pakistan = 2018-Present
2023 Hi-Speed Infinity 150 Price in Pakistan = 350,000 PKR 
Hi-Speed Infinity 150 is a Chinese bike introduced by Zongshen, exporting its vehicles to other countries. The Hi-Speed Infinity 150 is a cafe racer bike with a 4-stroke engine. There are fewer options for cafe racer bikes in Pakistan, and only Suzuki GS-150 and Honda CG-125 were available. Yamaha introduced their dual sport bikes too, but Hi-Speed Infinity 150 is different from all. It is a lightweight bike optimized for speed and excellent handling maneuvers rather than comfort. It has low-mounted handlebars and an enhanced seat cowling. It is a cafe racer bike, which was previously not very common in Pakistan. It is also exported to the United States market. The Hi-Speed Infinity 150 can be purchased from the Daraz website and otherwise from different dealers in the country. It comes with an electric start system and a 5-speed transmission.
One of the reasons that made it famous among people is that it is affordable compared to Honda and Yamaha sports bikes. The design of the Hi-Speed Infinity 150 is also different from traditional bikes, and you will find innovation in its styling. The Hi-Speed Infinity 150's fuel efficiency is also admirable, making it affordable for customers. The fuel tank design is unique, and the seat cowl is very prominent, while the headlight design is different from the tail light design. It competes with the Suzuki GS150, Road Prince Robinson 150, and Road Prince Wego 150 in Pakistan. This bike has a different feel from other bikes because of the different posture while driving it and it is comfortable to ride. It is the best companion on your long journeys, delivering excellent power and comfort. One of the significant issues faced by customers is the problem of finding spare parts. The Hi-Speed Infinity 150's surplus parts are not easily available in the country, and you may found costly, making the maintenance cost very high. The resale of Infinity 150 is also not good compared to the big brands running in Pakistan, but if you are looking for it for personal use, then it's a yes for it.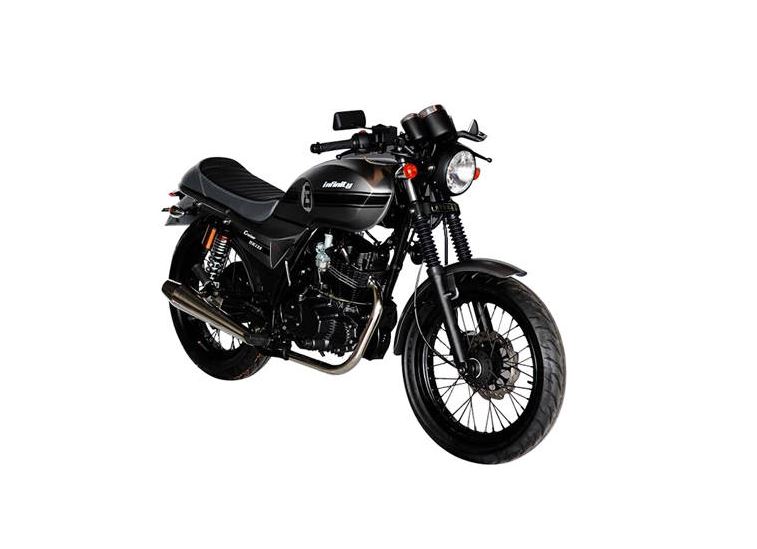 Engine & Drive:
The Hi-Speed Infinity 150 comes with a single-cylinder, 4-stroke, air-cooled, 149cc engine, and it generates 8.5 kW of power at 8000 RPM and 10.0 Nm of torque at 7500 RPM. It has a compression ratio of 9:2:1. The engine is powerful enough to make your long journeys thrilling, taking you through rough roads comfortably. The 5-speed transmission works fine with optimized gear changes, and the overall quality of the ride is kept smooth. The suspension system is tuned well, so the bumps and breakers do not disturb the quality of the ride. You can take this bike through the city's narrow streets or wide and open tracks. The braking system consists of disc brakes at the front and drum brakes at the rear, applying brakes smoothly. The front and rear tires are strong, providing a good grip on the roads and keeping the ride safe. The Hi-Speed Infinity 150's handling maneuver is excellent, mainly because of the unique handlebar design that helps you to have firm steering control and makes the turning easy. The rearview mirror is height-adjustable and can be adjusted according to your requirement for comfort and ease. The headlight and taillight have bright light and work efficiently at night, making your way bright and visible, reducing the risk of accidents. The electric-start technology does not delay starting bikes again at signals and stops without disturbing traffic flow. The kick-start technology is also available to choose from according to your requirement.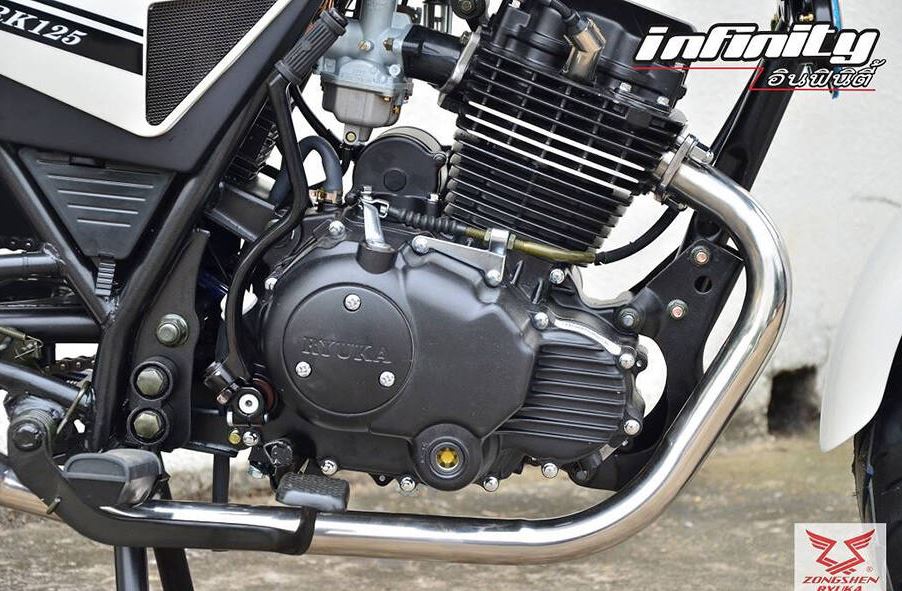 Mileage & Top Speed:
The Hi-Speed Infinity 150 comes with a CDI ignition system and a Carburetor fuel system. It has a retro-style fuel tank with a capacity of 15 liters. The fuel efficiency of the Hi-Speed Infinity 150 is not bad, and it consumes 2.5 liters of fuel in traveling 100 kilometers of distance. It gives a top speed of 110 kilometers per hour.
Exterior Design & Build Quality:
The Hi-Speed Infinity 150 has a unique style, differentiating it from other bikes. It comes with a length of 1920 millimeters, 770 millimeters width, and a height of 1080 millimeters. It has a ground clearance of 160 millimeters. The seat design is retro-style and has a unique U-shaped elbow. It is long, has a prominent cowling, and is comfortable enough to make your long journeys comfortable. The fuel tank design is also unique and has beautiful stickers on it. There are three split instrument panels in the front, having round meters showing clear graphics. The handlebars are long and have a height-adjustable mirror fixed on them. The stainless steel muffler looks aggressive and adds thrill to your ride by making vigorous sounds. The build quality of the Hi-Speed Infinity 150 is good.
Pros & Cons:
Pros:
High Speed
Good Quality
Light Weight
Cons:
Major Competitors: