Yamaha YD100 Junoon
Sold in Pakistan = 2005-2012
Status =

Discontinued

Yamaha Junoon YD100 Last Price in Pakistan in 2011 =

75,000 PKR
Yamaha YD100 Junoon has been a stylish yet sophisticated bike by Yamaha DYL motors upto 2012. The DYL Motors in Pakistan has been producing quality products in Pakistan, and Yamaha YD100 Junoon has never disappointed us. The Yamaha YD100 Junoon is a 4-stroke, air-cooled engine that gives a smooth ride even at high speeds. The ride is equally good on metal roads and unpaved roads, so it travels on village roads. Yamaha has stopped the manufacturing of Yamaha YD100 Junoon, and now only used Yamaha YD100 Junoon are available in markets. One of the reasons for the discontinuation of YD100 Junoon is the poor marketing strategies of Yamaha that do not create proper awareness and marketing of Yamaha YD100 Junoon in the market. Secondly, the demand for 100cc bikes has decreased because people prefer 125cc bikes more in Pakistan. The durability and performance of the Yamaha YD100 Junoon are some of the best features loved by the customers, but its resale value is very less than the Honda and Suzuki bikes. The Yamaha YD100 Junoon comes with a kick start technology and provides a pleasant ride. It is available in a two-stroke engine variant called Yamaha Royal, but the 4-stroke Yamaha YD100 Junoon is more prevalent among customers. It is a good-looking bike with beautiful graphics, and the design frame is unique. The price of Yamaha YD100 Junoon is affordable among other bikes, but its running cost is high due to more fuel consumption. It competes with Honda CD 100 Euro 2, Crown CRLF Deluxe 100cc, United US 100, and Honda Pridor. The maintenance of the Yamaha YD100 Junoon is easy because its spare parts are readily available, but its resale value is not very high compared to the Honda bikes, which have more resale value.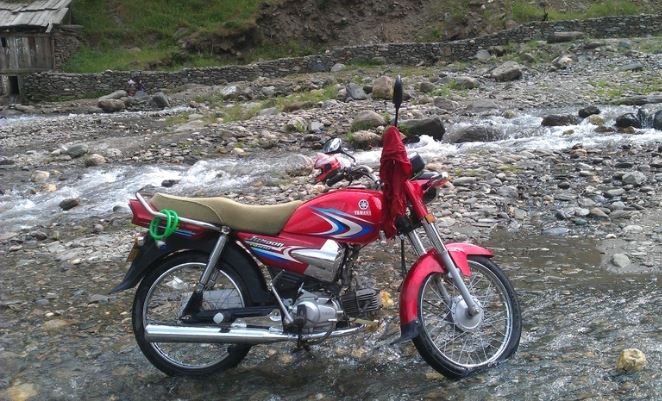 Engine & Drive:
The Yamaha YD100 Junoon comes with a 4-stroke, SOHC, air-cooled, 100cc engine with a 12V/ DC CDI ignition system. It generates a torque of 8.4 Nm at 6500 RPM and has a compression ratio of 9:0:1. It comes with a kick-start technology, and electric-start is not available yet, but it works fine and starts the bike with a single kick. It comes with a 4-speed transmission system, and the gears change precisely, keeping the quality of the ride smooth. One of the best features of the Yamaha YD100 Junoon is its 4-stroke engine that guarantees you an efficient performance without producing emissions or engine noise. Dawood Yamaha Limited claimed that they manufacture their bikes in collaboration with Japanese Yamaha, but some people said their bikes are like China-made bikes. If we talk about the Yamaha YD100 Junoon's performance and efficiency, it does not look like a China-made bike. It delivers exceptionally smooth performance, even when you are moving through uneven roads of the village and bumpy city streets. The travelling seat is comfortable and long so that it can be used for family use. It comes with a ground clearance of 160 millimeters that makes traveling over bumps and uneven roads smooth and keeps the quality of the ride sound. Another feature that contributes to the excellent and smooth performance of the Yamaha YD100 Junoon is its efficient suspension system and brakes. It comes with good handling manoeuvres, and you can turn the bike smoothly through twists and curves of the road. The overall ride of Yamaha YD100 is planted because of the weight that helps it to remain planted even at high speed.
Mileage & Top Speed:
The Yamaha YD100 Junoon has a fuel tank capacity of 11-liters with a reserve capacity of 1.5-liters. It gives you a top speed of 100-kilometers per hour. It has a fuel consumption of 50 to 55-kilometers per liter. The ride's comfort is not compromised even when riding it at higher speeds.
Exterior Design & Build Quality:
Yamaha YD100 Junoon wins over its competitors because of its design with desirable and the beautiful graphic stickers that appeal to every customer. It has an overall length of 1915 millimeters, an overall width of 745 millimeters, and an overall height of 1015 millimeters. It is available in black, blue, and red colors. A square-shaped power front light brightens your dark roads and a stylish speedometer with beautiful graphics. There are attractive graphics on it, like the beautiful Yamaha sticker on the fuel tank looks eye-catching. A long and wide seat is comfortable enough for journeys, and one to two passengers can sit comfortably behind the rider. It has a dry weight of 99 kilograms and is easy to handle. The seat height is designed sufficient so the rider can ride the bike comfortably and rest the feet on the road when he has to take a break. The 18-4PR tires at the front and the rear provide good road grip and come with beautiful wheels. The road grip of Yamaha tires is good, but not good enough compared to the Honda bikes tires. The only thing that decreases its overall beauty is the rear slim tire that doesn't suit its bulky body design.
Major Competitors: