2023 Zongshen RX1 ZS200
Sold in Pakistan = 2018-Present
Technology = Four Stroke, Water Cooled Single Cylinder, Engine
2023 Zongshen RX1 price in Pakistan 
Zongshen RX1 200cc

4,30,000/-

PKR
Zongshen, a Chinese motorcycle manufacturer, has been operating in Pakistan for several years now, offering a range of motorcycles in the Pakistani market. These include sports, street, and off-road bikes, which are competitively priced compared to other international brands, making them a popular choice for many riders. One of their off-road bikes is the Zongshen RX1, which features a 204cc, single-cylinder, air-cooled engine with a 6-speed manual transmission and an electric starter. The bike is designed for off-road use, featuring a high ground clearance, long-travel suspension, and knobby tires for improved traction on rough terrain. Moreover, it has a lightweight chassis and a comfortable seat, making it suitable for longer rides.
Other notable features of the Zongshen RX1 include front and rear disc brakes, a digital instrument cluster, and LED lighting. With a fuel tank capacity of 14 liters and weighing around 145 kg, it is an excellent choice for motocross, trail riding, and dirt biking. Its high ground clearance, long-travel suspension, and knobby tires make it ideal for navigating rough terrain, including dirt, sand, and rocks. The lightweight chassis and comfortable seat make it efficient for longer rides, while its off-road capabilities allow riders to explore areas that are not accessible by conventional motorcycles. The Zongshen RX1 competes with other popular models in the market such as Super Power Leo 200, Lifan KPR 200, and KEEWAY K-Light.
In summary, the Zongshen RX1 is a reliable off-road bike with features that make it suitable for rough terrains. Its affordability, performance, and quality compete with other international brands in the market, making it an ideal choice for motorcycle enthusiasts.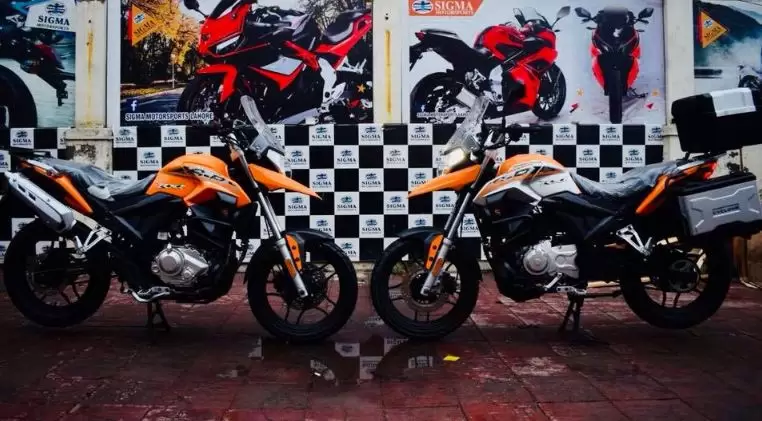 Engine & Performance:
The Zongshen RX1 boasts a powerful 204cc, single-cylinder, air-cooled, 4-stroke engine that delivers a maximum power of 21.0 horsepower at 7500 RPM and a maximum torque of 16 Nm at 5500 RPM. It features a six-speed manual transmission, electric start technology, and kick-start technology. The engine is specifically designed for off-road use and is tuned to deliver optimal power and torque at lower RPMs, making it ideal for navigating rough terrain. Additionally, it features a counterbalancer that reduces vibration and improves rider comfort.
The Zongshen RX1 has a fuel tank capacity of 14 liters, which provides a decent range for off-road use, with a fuel average of 25 kilometers per liter and a top speed of 120 kilometers per hour. The bike has a long-travel suspension system that ensures a smooth and comfortable ride on rough terrain. It has a front telescopic fork with 245mm of travel and a rear mono-shock with 200mm of travel. The long-travel suspension allows the bike to absorb bumps and shocks on uneven surfaces, which helps to improve rider comfort and control. The suspension is also adjustable, which allows riders to customize the settings to suit their riding style and terrain.
Regarding braking performance, the Zongshen RX1 features front and rear disc brakes, which are hydraulic and provide precise and consistent braking, even in wet or muddy conditions. The brake levers are adjustable, enabling riders to customize the feel and response of the brakes to their liking. Additionally, the bike is equipped with a rear drum brake that provides additional stopping power and helps to balance the braking forces between the front and rear wheels. The combination of front and rear disc brakes and a rear drum brake provides reliable and responsive braking performance.
Lastly, the Zongshen RX1 has knobby tires that provide excellent traction and control on loose surfaces, such as dirt, gravel, and sand. The tires are durable and can confidently tackle challenging terrain without worrying about punctures or wear. In conclusion, the Zongshen RX1 is an off-road bike that features a powerful engine, long-travel suspension, precise braking, and durable tires, making it an excellent choice for riders who want to explore rough terrain with ease and comfort.
Exterior Design & Build Quality:
The Zongshen RX1 boasts a unique and contemporary exterior design, taking inspiration from off-road motorcycles. Its sleek and fierce bodywork, with a high front fender and a slender rear end, give it an unmistakable look on the road. The front of the bike features a compact headlight that delivers excellent visibility in low-light conditions. It is surrounded by a stylish and aerodynamic fairing that not only enhances the bike's aesthetics but also improves its overall performance by reducing drag and increasing airflow to the engine.
The fuel tank of the Zongshen RX1 is slim and narrow, contributing to better rider ergonomics and a comfortable grip for the knees. The seat is flat and narrow, allowing riders to shift their weight easily and maintain control when maneuvering through tight trails or obstacles. The Zongshen RX1 has a high ground clearance of 170mm, enhancing its off-road performance and allowing the bike to clear obstacles without bottoming out. It is available in a range of striking color options including red, black, orange, blue, and silver-orange.
The Zongshen RX1 is manufactured with a high level of quality and attention to detail. It delivers reliable and durable performance in diverse off-road conditions, and riders can rely on its ability to withstand the challenges of off-road riding.
User Reviews:
The Zongshen RX1 has garnered a range of reviews from its users. While some riders have lauded the bike for its off-road prowess and performance, others have expressed doubts about its quality and dependability. Those who have appreciated the bike have praised its lightweight build and efficient handling, which makes it easy to navigate through tight spaces and challenging terrain. The bike's long-travel suspension and high ground clearance have also been applauded for their ability to deliver a smooth and comfortable ride, even on bumpy trails.
However, there have been concerns raised by some riders about the quality and reliability of the bike. These issues have included concerns about parts failing or breaking down, as well as difficulties with repairs and servicing. Overall, while the Zongshen RX1 has received mixed reviews, it remains a capable and affordable option for those looking for an off-road bike with good handling and suspension. Riders should do their research and consider their own needs and preferences before making a decision on whether or not to purchase the bike.
Pros & Cons:
Pros:
Comfort
Good Quality
Powerful Engine
Stylish Design
Cons:
Major Competitors: