BAIC EX3, EX360 & EX5 EV's
The Chinese government had made it a compulsion for the automobile companies in China to manufacture electric vehicles, so they play a role in cutting down environmental pollution and reducing fuel consumption. So, in this initiative, all automobile companies started to produce their electric vehicles, and BAIC introduced their EX3 as a concept car in 2018 at the Auto Show held in Beijing. The BAIC Motor electric vehicle company limited launched their all-electric subcompact 5-door hatchback, EX3, in 2020 in Beijing. It is a front-wheel-drive car with an electronic single-speed transmission. It comes with an electronic control system that monitors the vehicles' battery life, acceleration, and driver control. The design of the BAIC EX3 is similar to Chevrolet Bolt EV. The EX Series by BAIC became one of the best all-electric SUVs in China and managed to sell 45,307 units in 2021. Other cars included in the BAIC EX series are EX360 and EX5. The EX5 is an electric SUV that delivers a range of 415 kilometers. The concept model was introduced in 2016. The BAIC EX360 is the electric version of Senova X25. The tested NDEC range of BAIC EX360 is 403 kilometers, and it is run by an 80 kW of electric motor. All of the EX Series come among the best-selling electric cars in China. We will briefly discuss the features and specs of all EX Series of BAIC available in China.
BAIC EX3
BAIC EX3 is available in five trim levels, whose powertrains are similar, but they differ in their features. All BIC EX3 get their power from an electric motor run by a 52.56 kWh lithium-ion battery. It generates a maximum capacity of 215 hp and maximum torque of 221.0 lb-ft. The suspension system of BAIC EX3 is well-tuned with Macpherson independent axles on the front and torsion beam axles on the rear. It provides a smooth ride by absorbing all shocks. The car's acceleration is quick, takes 7.9 seconds to sprint from 0 to 100 kilometers per hour, and has a top speed of 150 kilometers per hour. Charging its battery is very convenient and takes 10 hours to charge the battery by 100 percent, while fast-charging takes 30 minutes to charge it up by eighty percent. It gives you a mileage of 263 miles with an estimated driving range of four hundred and twenty-one kilometers.
Exterior and interior
The exterior design of BAIC EX3 is simple with a U-shaped front end, and the rear has bar taillights. The 17-inches 5-spoke alloy wheels look beautiful. The inside of BAIC EX3 is decent and attractive. There is a 12.3-inches touch screen mounted on the dashboard that gives infotainment. The infotainment system has an i-link 2.0 networking system. The base variant comes with fabric upholstery and seating capacity for 4-adults. The cargo space is also generous, and it can be increased when rear seats are folded. Some of the safety features of BAIC EX3 are child locks, airbags, brake force distribution, and forward-collision warning alarms.
BAIC EX360
The EX360 by BAIC is available in three trim levels that differ in their features. It was debuted in 2019 at the Shanghai Auto Show, and the deliveries started in July 2019. It is equipped with an electric motor connected to a 48.14 kWh battery pack and generates a maximum power of 107 hp and a torque of 230 Nm. It gives NEDC tested range of 403 kilometers. It offers a single-speed transmission that delivers a smooth ride and only comes with front-wheel drive. The suspension system is the same as in BAIC EX3 and gives a smooth ride, so the passengers are comfortable throughout the journey. The braking system is also efficient with ventilated disc brakes at the front and disc brakes at the rear and applies smooth brakes. It is an energy-efficient car, and 16.4 kWh of the battery gives you a mileage of 100 kilometers. It gives you a maximum speed of 125 kilometers per hour.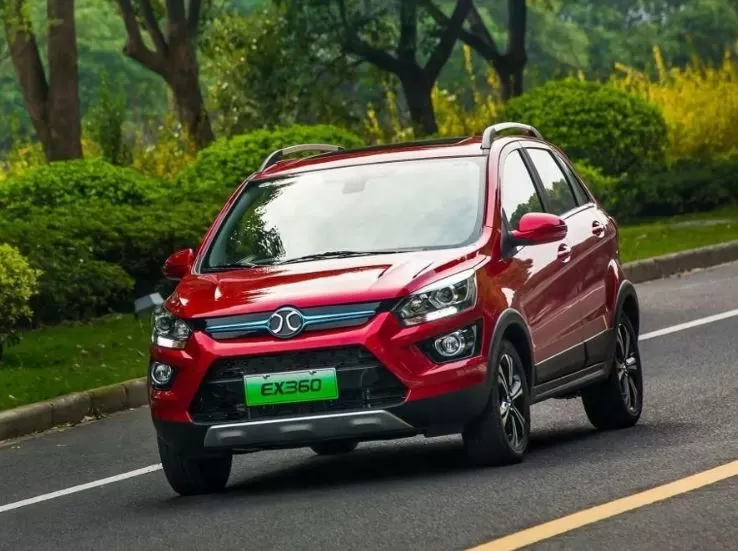 Exterior and interior
It is a five-door SUV with a total length of 4110 millimeters, 1750 millimeters in width, and 1543 millimeters in height. Its design is similar to Senova X25 except, having X360 has blue trim pieces added to the exterior. The front end has sleek LED headlights flanked by a central two-piece chrome Grille, having the BAIC logo encrypted. The rear has a typical SUV style with a big tailgate and sleek LED tail lamps. The inside of EX360 is stylish, and it has a 10.25-inches LCD mounted on the dashboard, giving infotainment. You will get the latest features like keyless entry, cruise control, Bluetooth connection, ventilated and heated seats, multi-function steering wheel, power windows, and rearview mirror heating. In addition, the BAIC EX360 comes with up-to-date safety features like an Anti-lock Braking system, rearview camera, Hill-Start Assist, Electronic Brake Force Distribution, and automatic headlights.
BAIC EX5
The EX5 by BAIC was introduced in 2019. It is an electric SUV assembled in China whose concept model was introduced in 2017. It is available in 4-trim levels, and all the variants are equipped with an e-Motion Drive 3.0 Intelligent Electronic control system. The V2V and V2L bidirectional chargers can connect the EX5 battery with any vehicle or appliance and charge the battery quickly. It is run by an electric motor powered by a 62 kWh battery, and it gives maximum power of 215 hp and torque of 221 lb-ft. The fast charging takes just thirty minutes to charge the battery by 80 percent, and a wall box sized to onboard charger charges the battery to 100 percent in 10.5 hours. The energy consumption in BAIC EX5 is efficient and consumes 16.2 kWh of energy to give a mileage of 100 kilometers. It comes with a top speed of 100 kilometers per hour and provides an NEDC range of 259 miles.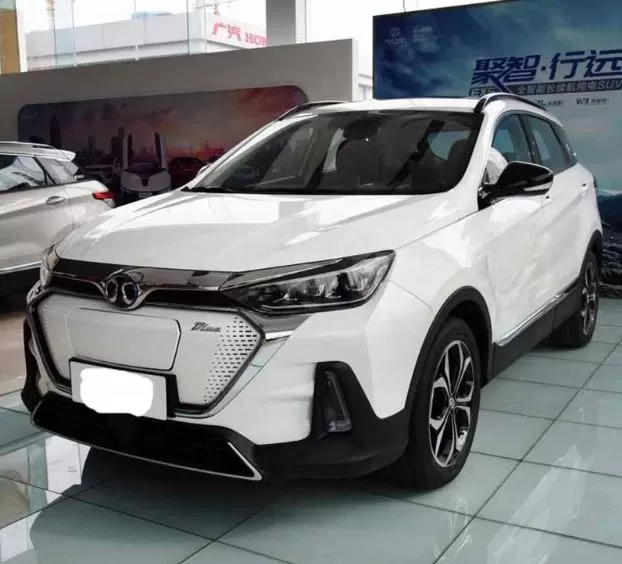 Exterior and interior
The BAIC EX5 has a total length of 176.2 inches and a width of 72.3 inches. There is a block-style grille in the front with thick chrome trims, and this chrome trim connects both LED headlights. It has a sporty look, and chrome trim connects LED taillights. There is a 4-spoke multifunctional steering wheel in the cabin, and the e-Motion 3.0 electronic control system helps the driver control the car more accurately. In addition, it offers safety features like automatic headlights, airbags for the passengers, child locks, rain sensors, rearview heating, parking radar, a rearview camera, cruise control, Anti-Lock Braking System, Hill-Start Assist, and Electronic Brake Force Distribution.
Major competitors
BYD Yuan EV 360
Chery Tiggo 3xe EV
Han Teng X5 EV
Changan CS15 350e
Price:
The price for EX360 ranges from 183,900 yuan to 202,900 yuan.
The price for EX5 ranges from 169,900 yuan to 199,900 yuan.
The starting price of EX3 is 119,900 yuan.