2022 Tesla Model Y 
Sold in USA = 2020-Present
Generation = 1st
2022 Tesla Model Y price in the USA:
Tesla Model Y Long Range =

53,940 $

Tesla Model Y Performance =

58,940 $
Model Y is Tesla's electric compact crossover utility vehicle that was unveiled in the United States of America in March 2019, and then its deliveries started in March 2020. It is a rear motor car with a rear-wheel-drive option, and an all-wheel driving feature offered in all of its trims. Tesla Model Y was also approved by the ministry of China, and its production has started, but the deliveries of this CUV will begin in 2021. Similarly, Tesla Model Y is also expected to be launched in the United Kingdom, but it will take a bit of time, and we will see its official launch in 2022. The 2021 Tesla Model Y has been rated number 7 among other electric cars in the United States of America. It uses a similar chassis as that of Tesla Model 3, but some additional features are added in Model Y as compared to Model 3. Model Y was introduced with three rows of seats and SUV styling. The electric power of the Tesla Model Y is peppy, and it gives you cutting-edge technology that attracts more customers. Lastly, its spacious cargo is also another high point in its features. The 2021 version of Model 3 was upgraded with two pop-up third rows of seats, but on the whole, the overall design and features are not changed much from the previous year's model.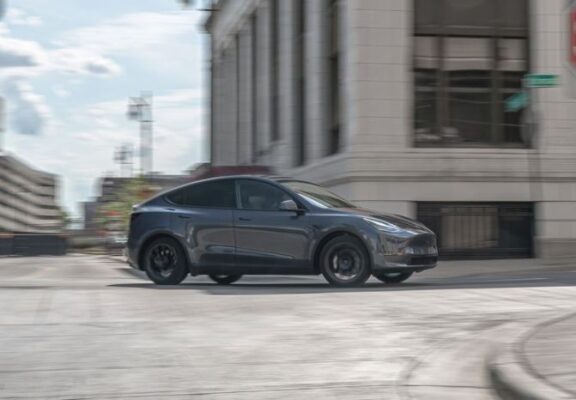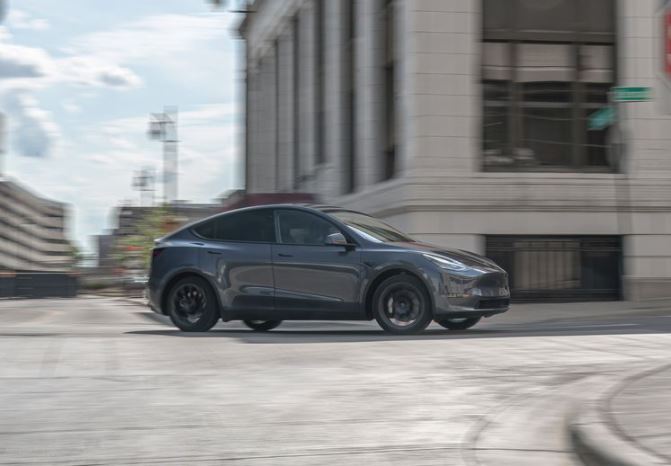 Trims & Versions:
Two trim levels are available for the 2021 Tesla Model Y that includes the-Long-Range trim and Performance trim. All-wheel drive is standard in both. 
The Long Range trim gives a better mileage of 326 miles, and it is equipped with nineteen inches wheels, fifteen inches touchscreen display, fourteen speakers, and four USB ports.
 The Performance-trim gives a mileage of 306 miles, and it features self-driving capability, large-sized twenty-one inches wheels, tow hitch, and spot-tuned suspension.
Electric Powertrain:
The all-wheel-drive Tesla Model Y is powered by two independent electric motors that control the torque to both front and rear wheels. The electric motors are powered by a 50 kWh battery pack that produces a maximum power of 384 hp and torque of 376 pounds-feet. The battery pack can be charged by a 240-volt level 2 charger to give a mileage of 42 miles per hour, while the 120 volts Level 1 charger charges the battery with 7 miles of mileage per hour.
Performance & Drive:
The 2021 Tesla Model Y is a fully electric vehicle, and the driving is more fun now as you do not need to go to the gas station. You can charge your car's battery overnight at home or any Tesla charging point as Tesla has a network of more than 20,000 points worldwide. The all-wheel driving feature is standard now, and the torque is fully controlled by its dual motors that provide improved handling, traction, and better stability control. Driving Model Y is easier than before in all the conditions like rain, snow, muddy pathway, and off-road conditions, so now the weather conditions do not ruin your trips. The steering response is better than before because of its light-weight, and it gives you full control while turning the car around corners with minimal body roll. The acceleration of Tesla Model Y performance trim is rapid enough to sprint from zero to sixty miles per hour in only 3.7 seconds, and the braking system is also remarkable-stopping the car from sixty miles per hour in just 108 feet. The Long Range trim of Model Y accelerates from zero to sixty miles per hour in 4.8 seconds, and it gives you a mileage of 326 miles, while the Performance trim gives you a driving range of 306 miles. There has given options-for different driving modes including; Comfort, Normal, and Sport driving mode. The Sport-mode tightens the wheels for providing more precision, so you do not need to tweak the wheel. Comfort driving mode comes with adaptive dampers that soften the overall ride quality. The future of driving starts with Tesla Model Y and its full self-driving capability. It enables fully automatic driving on city streets and on highways which even park the car automatically. 
Exterior design and features:
Tesla Model Y is similar to Model 3 in terms of its exterior design which includes; a grill-less front and distinctive headlamps, whereas some of the features also differentiate it. The tall roof and pronounced character lines in Model Y and its coupe-like shape distinguish it as an SUV. There is a lack of chrome in Model Y, but matte black trim pieces around its windows and door handles are striking. The Performance model is equipped with large-sized twenty-one inches wheels that give it a real sporty look. It is available in various exterior color options that include pearl white, black, silver metallic, blue metallic, and red multi-coat.
Interior design and features:
The Interior of Model Y is known for its luxury and space that can accommodate five passengers with a larger headroom, and legroom. The wide-opening doors and taller roof makes getting in and out of the vehicle easier. The wide windshield and short-sized hood make forward visibility quite impressive, and rear visibility is similar to a sports coupe. The front seats feature a twelve-way power adjustment and a heating system in both front and rear seats. It provides you 68 cubic feet of cargo space that is massive enough to carry your luggage, and the back seats don't fold in Model Y, so the cargo space is fixed. Every function inside the cabin is controlled through a slim fifteen-inches infotainment display screen that is mounted in the middle of the dashboard. Climate control, speedometer, navigation, and smartphone interface are controlled through this infotainment system, and it offers Netflix, Hulu, and Youtube. A left third of the screen shows the instrument cluster, driving range, battery charge percentage, and driver's assistance programs.
Safety features:
Tesla Model Y has not been rated yet by NHTSA and IIHS, but it has all the features that let Model 3 get a 9 out of 10 ratings in safety tests. These features include blind-spot detection, automatic emergency brakes with pedestrian detection, active lane control system, adaptive cruise control, airbags, and future self-driving feature.
Major competitors:
Verdict:
Tesla Model Y is the latest all-electric vehicle that went on sale by Tesla in 2020. It comes with two rows of seats, cutting-edge technology, an electric powertrain, zero emissions, and a self-driving fully automatic driving feature. We expect the 2021 model to give more driving range and more frequent supercharger access, as well as 3rd row so it may compete with its rivals powerfully and enjoy a top-rated position in 2021 too.