2022 BAIC EC3 EV
Sold in China = 2018-Present
Generation = 1st Facelifted
2022 BAIC EC3 EV price in China =
| Product configuration | Smart version | Lingxiu Edition |
| --- | --- | --- |
| Terminal price after subsidy | 73,800 yuan | 79,800 yuan |
Chinese Automobile company BAIC introduced its all-electric vehicle BJEV EC3 in 2016. it was introduced as, an electric car-based hatchback that is the updated version of EC180 NEV. The Chinese government demanded automobile companies in China to cut down the average fuel consumption of their vehicles which is why many companies started making electric versions of their vehicles in this regard. BAIC also bring up its Evs, and EC180 was its first electric vehicle in the lineup that was launched at the Guangzhou Auto Show in 2016. EC180 was facelifted and given some minor changes under the nameplate EC3. 2020 version of EC3 is updated with more technological features like remote control app that check the charging time of the battery, vehicle mileage, and other conditions of the car. The ternary lithium battery is certified with more than thirty international tests that ensure the safety of the battery in all directions. The powertrain is also made more efficient with a highly efficient water-cooled electric motor that delivers better cooling performance with high efficiency and faster acceleration. The interior design of EC3 has now been made more attractive with full of curvature and blue lightings giving a calm view.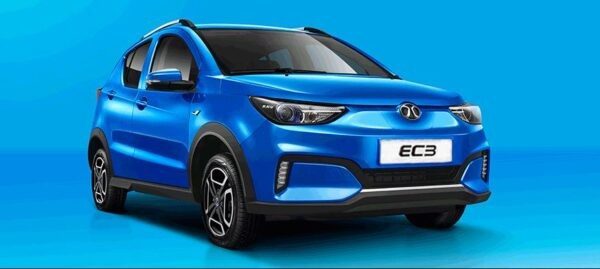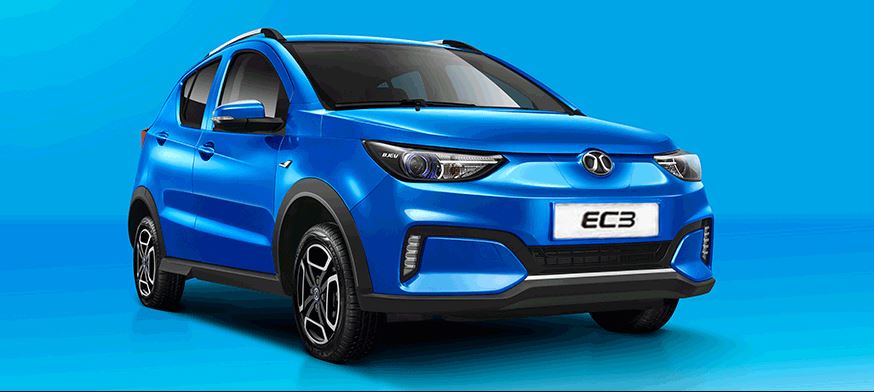 Trims and Versions:
Two trims are available in the 2020 version of BJEV EC3 that are either Basic trim or Comfort trim. The powertrain is similar in both trims, but they differ in some basic features. Basic-trim is not equipped with a reverse parking camera, frameless wipers, interior rear-view mirror, GPS navigation system, and Baidu CarLife APP, however, the Comfort trim is upgraded with all the features of Basic-trim plus the features mentioned above. The basic trim is equipped with seven inches display screen for infotainment but does not have smartphone connectivity available, and the comfort trim features eight inches enlarged screen for infotainment with smartphone connectivity.
Engine & Power:
BAIC BJEV EC3 is equipped with a 45 kW electric motor powered by a 30.66 kWh ternary lithium battery generating maximum power of 45 kW and torque of 150 Nm. The battery can be charged from thirty to eighty percent by a DC charger in just thirty-six minutes while the AC charger takes less than nine hours to fully charge the battery to a hundred percent of its capacity. The front suspension of EC3 features Macpherson independent axles, while the rear suspension features trailing arm non-independent axles. Similarly, the front brakes are disc brakes, and the rear brakes are drum brakes in EC3.
Performance & Drive:
The driving performance of EC3 is highly efficient with its water-cooled battery that not only gives higher efficiency but also helps in gaining faster acceleration and a maximum speed of 120 kilometers per hour. The battery is made durable with a management system and cryogenic preheating technology of charging that charges the battery rapidly without any hassle. The N-booster increases endurance and decreases energy consumption by achieving 99.99 percent of braking energy recovery. The power-assisted steering wheel response is quite efficient, controlling the car delightedly and making the turns with the least effort. Handling of EC3 is also made easy with minimum body roll and makes the turns and twists quite easy. The acceleration is made quick and rapid with the high efficiency of electric motors, and now you can drive the car rapidly at 120 kilometers per hour that making it take only 9 seconds to accelerate from zero to hundred kilometers per hour. The barking system is also improved with updated disc brakes, and it let the drivers apply emergency brakes without any jerky movements. The automatic emergency braking system automatically applies the brakes whenever any vehicle comes near the car. EC3 also gives an impressive mileage range that was tested by NEDC, and a tested range of 261 kilometers was achieved. An anti-lock braking system now ensures a safe braking system by preventing the wheels from locking up when applying brakes and the electronic brake force distribution controls the brakes by electric means. Driving EC3 is also made easier in hilly areas when climbing up on the slopes is assisted with a hill-hold function that makes it easier to drive up the hills from a stop. It makes the drivers more attentive while driving by giving certain warning alarms like low-speed warning alarms when pedestrians are moving by. These features will make the drive safe and reduce the risks of accidents. It offers you only a front-wheel driving feature, but the electric motor generates enough power to run the front wheels efficiently.
Exterior designs and features:
This hatchback is 3684 millimeters in length and 1630 millimeters wide, having a height of 1518 millimeters. The beautiful design of EC3 features sleek halogen headlamps on the front that are given with daytime running lights and foglights. The trapezoidal chrome grille on the front gives a stunning appearance, and the side view is even sleeker having metallic door handles that shine from all angles. The side mirrors are given with turn signals and a shark fin-shaped antenna is also given. The rear end features equally beautiful LED taillights and the BAIC logo is embossed above the number plate.
Interior design and features:
The interior end of BAIC BJEV EC3 is loaded with modern technology and elegant style. The central console is full of curvature that has an eight inches display screen for infotainment which also features Android Auto and Apple Carplay interface. The steering wheel has wrapped with leather upholstery, and the sporty seats are fabric-covered that comes with four-direction adjustment. The driver's seat is also adjustable in four directions, and it gives the driver maximum support and comfort. The 2nd-row can be bend to increase the overall cargo area, and it lets you carry enough amount of luggage with you. The cabin is further equipped with a GPS intelligent navigation system, Baidu CarLife APP intelligent interconnection, Bluetooth connectivity, USB ports, Aux input interface, and cigar lighter.
Safety features:
EC3 ensures a safe drive with its balanced ratio between front and rear axle load and uniform force distribution between all four wheels. More stable and safe-manipulation is achieved when the car accelerates and decelerates rapidly. Some of the safety features added in it are; "airbags, automatic door unlocking, reverse camera parking, low-temperature battery preheating system, hill hold function, ABS, EBD, vehicle body anti-theft alarm, and central locking system."
Major competitors:
Verdict:
BAIC EC3 has improved range and driving performance as compared to its predecessor EC180. There have also been added more technological features in the car. One of the major plus points of EC3 is its battery management system that operates even in low temperatures of up to minus 30 degrees. Lastly, it is an all-electric car that not only fulfills the Chinese automobile fuel consumption demands but is also known as an environment-friendly vehicle.