2023 Nissan Ghandhara JAC X200
Sold in Pakistan = 2020-Present
1st Generation
2023 Nissan JAC X200 Price in Pakistan
Jac X200 (non AC)
PKR

3,290,000

Jac X200 (With AC)
PKR

3,375,000
Gandhara Nissan Motors launched the X200 pickup truck on 2nd April 2018. This pickup series is a collaboration product of Gandhara Nisan Motors with JAC Motors China. Initially, Gandhara Nissan imported six hundred units of JAC X200, which gave a very favorable response to the sales of Nissan Ghandhara, and then the company decided to produce locally assembled units of JAC X200. Locally Assembled units of JAC X200 were officially launched in 2018 that not only boost the development of Pakistani automobile company Nissan Ghandhara, but it also introduced world-class Japanese technology in our country. The local production of Gandhara Nissan vehicles creates job opportunities for more than 1800 people. The latest model of JAC X200 is available in 2.8 liters diesel engine, and it carries more weight than its competitor Suzuki Mega Carry that produces more power and lesser torque. It gives you a payload capacity of 1150 kilograms which is somehow lesser than its competitor Isuzu NHR which has a loading capacity of 1850 kilograms but is more than Suzuki Mega Carry Extra's loading capacity that is 750 kilograms. One of the most beautiful features of the cabin of JAC X200 is its attractive blue speedometer, and the quality radio is also there for entertainment on long trips.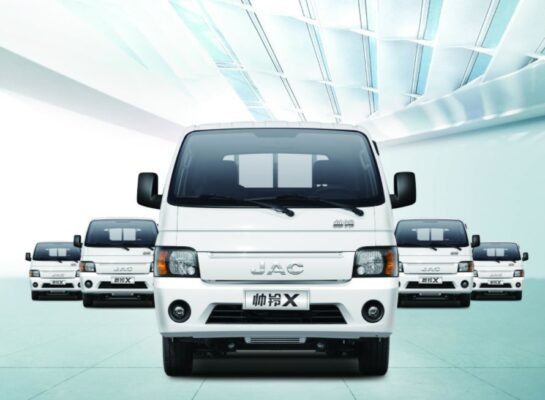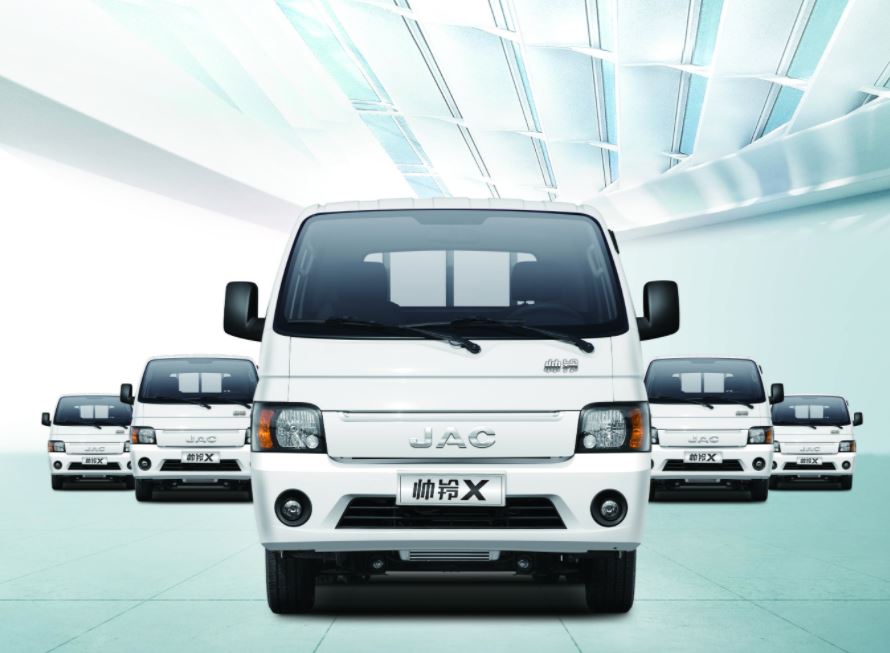 Trims & Versions:
The imported JAC X200 is available in three trim levels that include, X200 single cabin, King cabin, and X200 Double cabin. The X200 single cabin has a total length of 5235 millimeters and offers a payload of 1710 kilograms. The X200 King cabin with a length of 5165 millimeters gives a loading capacity of 1695 kilograms. Lastly, the X200 Double cabin has a total length of 5190 millimeters and offers a loading capacity of 1502 kilograms. The CKD unit of Nissan Ghandara JAC X200 is available in only one trim which has a total length of 4850 millimeters, and it gives a loading capacity of 1150 kilograms.
Engine & Power:
Nissan Gandhara JAC X200 powered by 2.8 liters (2771 cc) HFC4DAI inline four-cylinder diesel engine that generates a maximum power of 77 hp (57 kW) at 3600 RPM and torque of 174 Nm at 2000 to 2200 RPM. It offers a five-speed manual transmission that is smooth. It does not give you a higher top speed as compared to the Suzuki Mega Carry that produces more power and less torque. This powerful engine of JAC X200 has filled the space of Hyundai Shezore left in Pakistani automobile markets.
Performance & Drive:
The Nissan Gandhara JAC X200 powerful engine features strong chassis that delivers excellent driving performance. Driving is made easier with an all-new truck steering system and a turning radius smaller than 5.5 meters. The improved suspension system has given with a double-wishbone and torsion bar spring that acts as an excellent shock absorber. It delivers a cushioning effect and provides stable driving even while carrying heavy loads. The steering wheel is a bit lighter but still somehow a bit heavy as like towing vehicle, but it does not affect the driving performance. You can turn around the pickup truck effortlessly while carrying heavy cargo in its deck which defines how easy is the handling of the Nissan Jack X200. The fog lamps on the front enlighten the road in extreme foggy weather and make the drive even easier in all types of weather conditions. The anti-glare rear-view mirrors and the electric side mirrors give wide-field vision during driving that gives enough confidence to drivers while driving the loaded pickup. The deck clearance of Gandhara JAC X200 is 785 millimeters, which is thirty percent lower than the light truck and it saves twenty percent of more energy as compared to its competitors. It offers you a five-speed manual transmission with smooth and balanced gear changes ensuring you to have a comfortable ride. The hydraulic brake type is efficient enough to apply the brakes firmly whenever required, even with the cargo loaded in its deck but it works more efficiently at lower speeds as compared to higher speeds. The fuel economy of Nissan Gandhara JAC X200 is impressive in its heavy pickup truck as it consumes nine liters of fuel in giving you a mileage of hundred kilometers with a fuel tank capacity of 65 liters.
Exterior Design & Features:
The Gandhara Nissan JAC X200 is overall 4800 millimeters in length with a cargo deck length of 9.2 feet and ground clearance of 170 millimeters. The exterior looks of the Gandhara JAC X200 are similar to all other local commercial trucks but differ from others with some minor changes. These changes include a larger-sized front screen that gives it a bold look, and it comes with two large-sized wheels at the front and four smaller wheels at the rear. The height of the deck is reduced to 78.5 centimetres and it can carry heavy loads up to 1150 kilograms. The reduced deck height saves more energy about twenty to thirty percent and results in high fuel economy.
Interior Design & Features:
Gandhara Nissan JAC X200 features a premium cabin, unlike other locally produced commercial pickup trucks. The dashboard layout is simple, and everything made with plastic trims pieces, but everything inside the driver's cabin is oriented in a way that makes it easy to use by the drivers. The Seats are covered with fabric and cabin is equipped with features including; vanity mirrors, a radio, a USB port, and a striking speedometer showing RPM, fuel consumption, and speed. The driver seat is easily adjustable, and room for light luggage is also given behind the front seats to carry a bit of Important luggage. The quality of materials used inside the driver's cabin is cheap, but it is not bad in such a price range.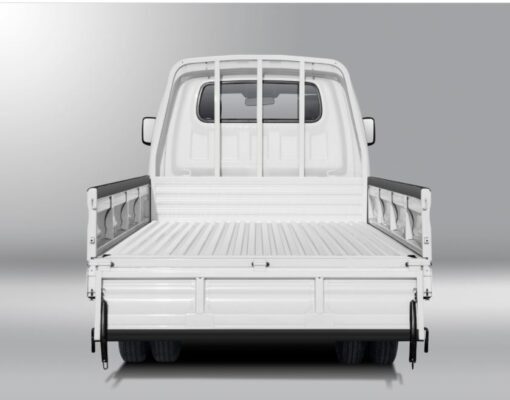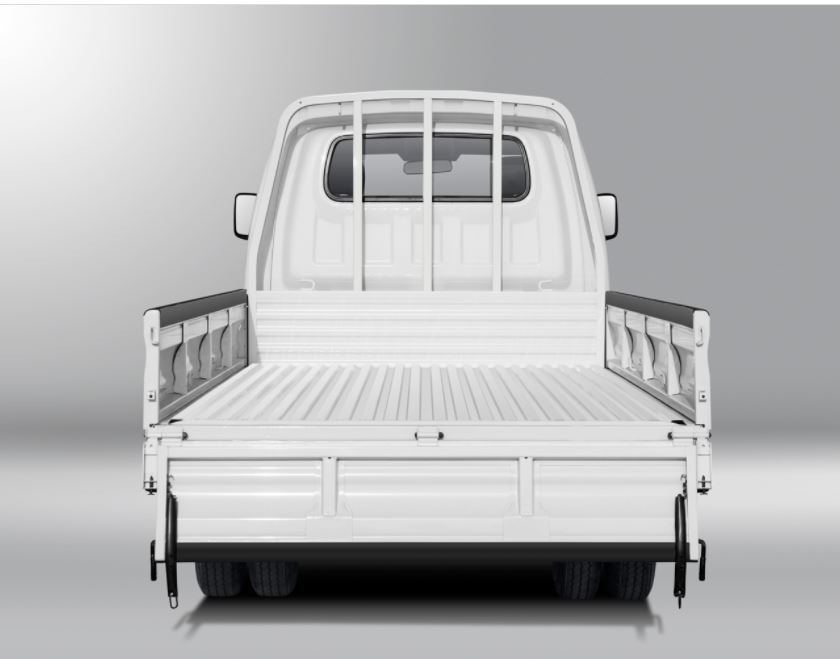 Safety & Features:
Gandhara Nissan JAC X200 is built on a four-star crash test-approved vehicle design that is equipped with improved safety features. It does not have an anti-lock braking feature and airbags, but as it is built on a fifteen percent stronger chassis that not only makes it safe but also makes it twenty percent lighter than before. The disc brakes perform better in JAC X200 as compared to the drum brakes used in a similar commercial truck. On the whole, it is comparatively a safe truck as compared to its rivals, but if driven efficiently.
Major Competitors:
Warranty:
 It comes with a warranty of two years or a hundred thousand kilometers driven.
Final Verdict:
There was no competition for a long time in the Pakistani market of commercial loading-trucks, which with the entry of Nissan Ghandara JAC X200 has made, that not only filled the space of Hyundai Shehzore but also gives a good option in this lineup. The price of the Nissan Ghandara JAC X200 is a bit higher than its competitors, but it delivers comparatively better driving performance from others as well.