Hyundai Shahzore & Porter H-100 (4th Generation)
Hyundai Shahzore has an old history in Pakistan where Dewan Farooque Motors Limited set an assembly plant in Sujawal in partnership with Hyundai Korean brand in 2000. The company received a wonderful-response from the Hyundai Shahzore models they produced. Their sales grew until 2008, and unfortunately, they have to stop their production afterwards. Dewan Farooque Motors again started production-of their popular Shahzore truck in 2018 in collaboration with Daehan Motors in Vietnam. The-actual Hyundai Shahzore again-made an entry into the Pakistani automobile market when Hyundai Nishat Motors made a joint venture with Nishat Mills Pakistan in 2017. Their assembly plant was set-in Faisalabad. The local-assembly of Hyundai Shahzore also-known-as Hyundai H100, was-started after the green status was received-under Automotive-Development Policy 2016 to 2021. Hyundai H-100 was officially-launched in Pakistan on 3rd December 2019, and its delivery started in 2020. The Hyundai H-100 available in 2021 remains unchanged, and you will receive the 2019 model of Hyundai H-100. It is a legendary pickup brought again to Pakistan, and it delivers you enhanced safety features and modern styling details. This is a versatile pickup truck meeting your everyday transport challenges and best suited for your small businesses.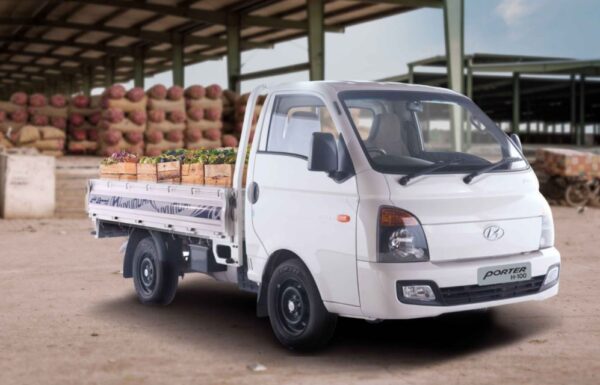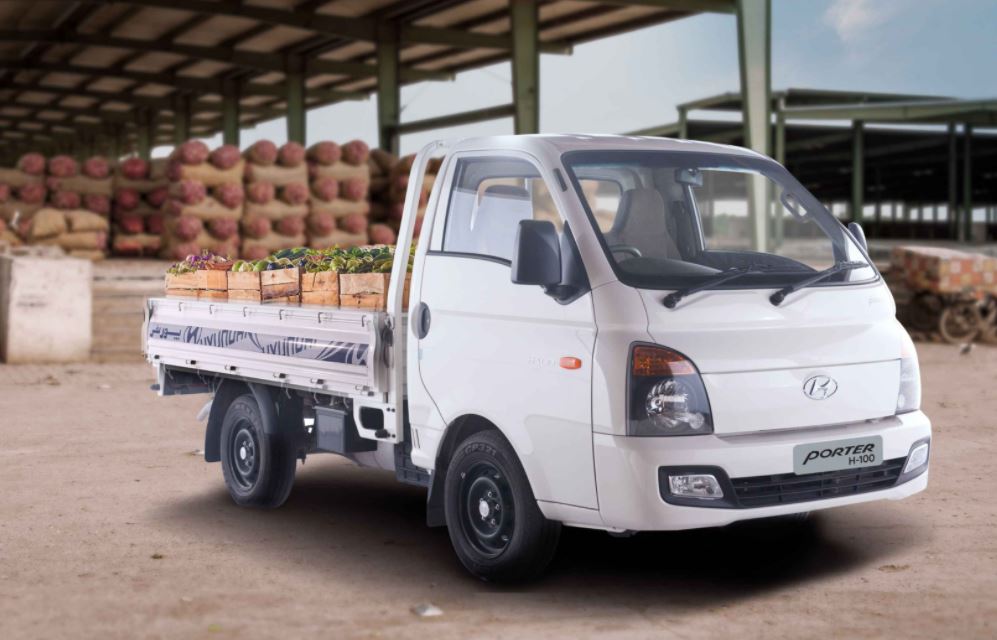 Variants:
Three variants of Hyundai H-100 are available in markets that include High-deck, flat-deck and deckless. You can customize it according to your requirement. You may opt for a simple flat deck at its rear, or the-rear can be-converted-into an ambulance van. You may also customize the rear-flat deck into a security van or even a simple delivery van. The-rear can also be customized-into a refrigerator van to deliver fresh food to the customer's doorstep. Thus the versatility of the Hyundai H-100 is vast, which made its popularity and demand high.
Engine & Power:
It is-powered-by 2.6 liters Euro II naturally aspirated diesel engine that generates a maximum power of 79 Ps at 4000 RPM and torque of 167 Nm at 2200 RPM. It has a single overhead cram-shaft with two-valves and the fuel system is-having a bosch type injection pump. It offers you a five-speed manual transmission, and automatic transmission is not available till now in Pakistan. The hood of H-100 has been designed in-a-way, so it can-be-opened easily for maintenance and easy access in case of emergencies.
Performance & Drive:
Hyundai H-100 is n exceptional dynamic performer that meets every challenge put on you during your everyday transports. You can now easily transport the goods for commercial purposes with exceptional-driving performance. The pickup braking performance has now made improved-with 15-inches disc brakes instead of the previously-used fourteen-inches disc brakes, and the brake-boosters are also enhanced-to nine instead-of eight-inches. These upgrades have made the braking system even better than before. The five-speed manual transmission is remarkably smooth, and the gear shifts efficiently with exceptional durability. It produces minimum engine noise, so the cabin is free from engine noises even at high-speeds. It is-highly-appreciated because of its lightweight, which makes it handling and control easy. The improved suspension system introduced in H-100 offers you a satisfactory-ride by giving you a smooth performance over breakers and potholes. The power steering also works efficiently, letting you turn the vehicle over corners confidently, and the tight turning radius makes H-100 a little agile. The acceleration of H-100 is not very impressive because of the weak engine because the pickup may feel underpowered sometimes, and you will have to push it hard to get maximum power at higher RPMs. Driving it on hills and slopes is also not appealing, and you may-get-annoyed when you have to rev it hard to drive-on the-slope. The engine does not offer remarkable pulling power. Still, it does not affect the vehicle's performance, and the actual purpose of the car is fully-achieved by transporting cargo efficiently from one place to another. The fuel economy of the Hyundai H-100 is just average, and it gives you an average mileage of 8 kilometers per liter and an estimated driving range of about 480 kilometers with a fuel tank capacity of sixty liters.
Exterior design and features:
The exterior design of the Hyundai H-100 is attractive in every variant you are purchasing. It features a unique combination of deck height and cargo capacity. The front end is boxy-with large-sized headlights having round headlamps and foglights underneath on the bumper. Hyundai logo is encrypted-on the center of its front fascia, and the rear-end features a flatbed-deck. The rear cargo area is secured with a tailgate bolt so you can load and unload the cargo quickly. There is a side step under the tailgate bolt that makes access into the cargo area easy and eases the workload at every step. The wide-angled outside side mirrors equipped in H-100 give a clear outside-view to the drivers that assure a safe and convenient driving experience. It features fifteen-inches steel wheels with 195/70 R15C tires fitted in them, giving a superior road grip. The rear flatbed deck is 2785 millimeters in length and 1630 millimeters wide, which has a total area of 4539 mm2 and can carry a large amount of cargo in it. It also has a towing capacity of one ton. The flatbed deck can be-converted-into an ambulance, security van, refrigerator van, and delivery van. It is available in only one exterior color Snow White.
Interior design and features:
Hyundai H-100 not only gives you remarkable driving performance and versatility in its applications, and it can accommodate three adults. The seats are well cushioned and comfortable with making your journey relaxing, and the layout of the dashboard and instruments is quite intuitive. You will find high quality trims pieces inside the cabin, giving a masterpiece of intelligent design. There is a centrally mounted climate control system and FM/AM radio for entertainment. The climate control system comes with easy to use dial that keeps the temperature inside the cabin perfect, and the air conditioning system also works well. A USB port has also been given so that you can play your selected music list. The gauge cluster design is also straightforward and modern at the-same-time that features a speedometer, and tachometer dials are easy to read. There will also be an LCD odometer and trip computer in it. Overall the cabin is designed in a-way, so all day long transporting of goods does not fatigue the drivers and the passengers.
Major competitors:
Price:
The high-deck Hyundai H-100 has a starting price of 24.9 lacs Pakistani rupees, and the flat-deck H-100 is priced at 24.79 lacs Pakistani rupees. The deckless H-100 has a starting price of 24.59 lacs Pakistani rupees.