Suzuki Baleno Sedan 
Sold Years in Pakistan: 1999-2005
Generation: 1st Facelifted
Status:

Discontinued

(2005 to onward)
Last Price:

70,000,0/- PKR
Suzuki Baleno made its entry-in Pakistan by replacing the Suzuki Margalla in 1998 and empowered the automobile market in Pakistan till 2005. It was-succeeded by Suzuki Liana in 2006, but unfortunately, Liana was also discontinued soon. Production of all-new Suzuki Baleno was stoped from 2005 to onwards in Pakistan. The used version of Baleno is still selling and popular among used cars in the Pakistani market of second-hand vehicles. Among others, this is also one of the most common reasons that this sedan is still seen on the roads of our country. The other reasons for its popularity were its budget-friendly price, and then its spacious cabin, best-suited for a family of five members. Middle-class Pakistani families still prefer Baleno over small cars like Mehran and Alto because it somehow gives you a feeling of a big vehicle and lets you enjoy the spacious cabin at an almost equal price as of Mehran. Some of the other attractions that force you to purchase a used Baleno 2005 version are the easy availability of its spare parts and low maintenance value of Suzuki cars that is always the priority when we plan to purchase a second-hand car. Lastly, the fuel economy of Baleno is also not bad and gives you around 12-15 kilometers per liter in the city. Let us discuss the specs and features of a 2005 model of Suzuki Baleno in detail.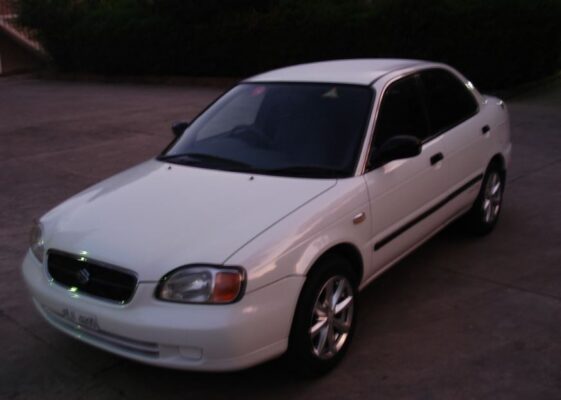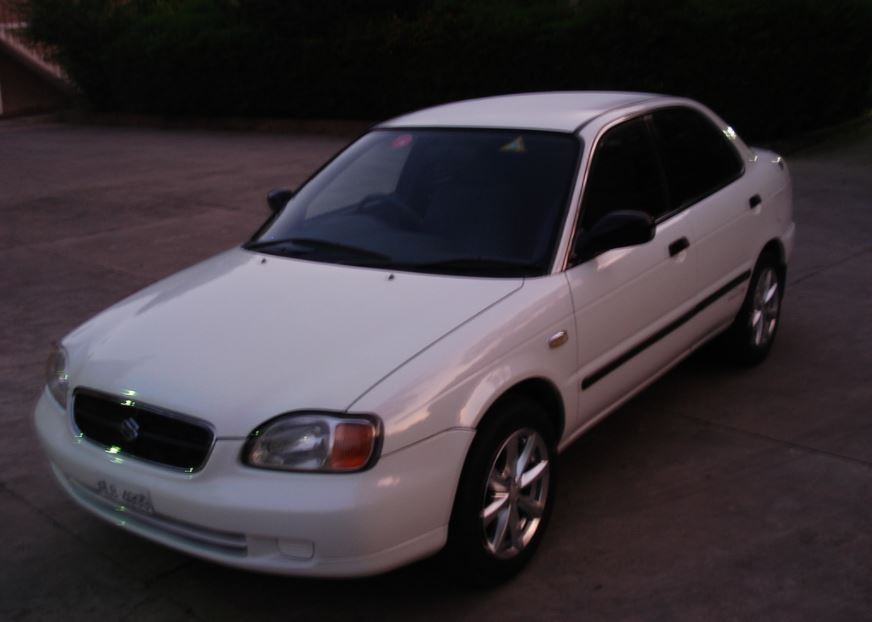 Trims & Versions:
Gli 

features an air conditioner, child lock, cup holders, front speakers, power door locks, and remote boot.

Gxi

 features hydraulic power steering, all above features plus cassette player, defogger, fog lights, and steering adjustment.

JXR

is upgraded with a CD player, central locking feature, immobilizer, keyless entry, rear folding seats, and tachometer.

JXL

 features alloy wheels, a CD player, child locks, central locking, defogger, immobilizer, power windows, rear folding seats, and remote boot.

Sport 

trim is upgraded with power mirrors, power windows, power door locks, power steering, tachometer, defogger, and steering adjustment.

Gli P

 features a child lock, cassette player, defogger, fog lights, power windows, power door locks, and manual transmission.

GTi-trim 1.6

is upgraded with hydraulic power steering, alloy wheels, rear folding seats, remote boot, power windows, power door locks, and steering adjustment.

GL 

features steel wheels, power steering, tachometer, manually controlled door locks and windows, defogger, and manual transmission.
Engine & Power:
The Gti 1.6 is available in a 1590 cc displacement engine, while all other trims are equipped with a 1298 cc displacement petrol engine. The 1.6 litres SOHC, 16 valve MPFI engine produces engine power of 114-hp, and torque of 144 Nm. The 1.3 litres DOHC, 16 valve petrol engine generates 84 horsepower and torque of 111 Nm. Originally all trims come with a five-speed manual transmission, but automatic transmission options are also available in the new Suzuki Baleno.
Performance & Drive:
For an outdated sedan like Baleno, the driving performance is a much-appreciated point when going to have it on your list. The road handling and suspension of Baleno are quite good for a car at such a low price. Hydraulic power steering is lighter than any other vehicle from the year 2005, and it let you drive with less effort and more confidence. Pickup of Baleno is also great, and it works best in city drives where the speed is moderate while moving from one town to another. Driving it at higher speeds on highways is also not a bad option, but it sometimes gives jerky movements at a higher Speed especially when you have not checked up your car at a workshop in recent times. It comes with a five-speed manual transmission, and the gear changes are smooth even in heavy traffic. Potholes of the city streets also don't bother you in the drives, and Baleno never refuses to move through it smoothly. The braking system of Baleno is just average, and it could have been improved, but on the whole, it gives you more than you pay for it. Road holding/grip of Baleno is just ok with its originally small tires, but you can change them with 175/70/ R13 which provides better road grip and shows a clear difference. Another worthy property of the Suzuki Baleno is its fuel economy that is pretty good for a 1300cc car. It gives you approximately thirteen kilometers per liter of mileage in city drive and around sixteen kilometers per hour on highways. You can also purchase a Baleno with factory fitted CNG kit that also gives you even good mileage. If you keep your Baleno well maintained there might not be any trouble while driving it either in the city or on the highway and you will enjoy a balanced ride.
Exterior designs and features:
The Suzuki Baleno 2005 model holds on a restrained body that features a decent front end and a typical rear-end design. The front end features trapezium-shaped headlights on the sides of a rectangular grille, and two air intakes also designed on its front bumpers. The rear end is pronounced by an outward sticking bumper and angular taillights. Some of the variants come with steel wheels, and some are equipped with thirteen inches alloy wheels that are a pretty good option.
Interior design and features:
Suzuki Baleno's interior looks somehow cheap with dark grey plastic trim pieces and fabric-covered seats, but again, this is more than what you have paid. You can upgrade your Baleno with leather coverings on seats by investing some amount of money. The cabin of Baleno is fitted with all the standard features you need to enjoy a comfortable ride. Some of the features include air conditioning, heating, AM/FM radio, cassette player, CD player, child locks, central locking, defogger, folding rear seats, front speakers, power door locks, power windows, and power steering. The cabin is spacious with large-sized legroom and headroom to accommodate even six feet taller passengers. The-rear-seats can are foldable to increase the total cargo area to carry enough amount of luggage.
Major competitors:
Verdict:
There are mixed views about Suzuki Baleno; Some people are concerned about its resale value while some think about its maintenance cost, but those who already own it are mostly satisfied with its performance. On the whole, the maintenance cost of Suzuki Baleno is low, and the spare parts are readily available which is a plus point for it. The demand for Baleno is still present in the market, so its resale is also not an issue, and you can get the price you demand as per the condition. You can thus get your Balenon at such an economical price, and adding some more money can further upgrade it with your desired features.