2023 United Alpha 
Sold in Pakistan = 2020-Present
1st Generation Facelifted
2023 United Alpha Price in Pakistan

| | |
| --- | --- |
| United Alpha | 1,769,000 PKR |
Chery QQ was launched by the Chinese automobile Company "Chery" in 2003 and was redesigned from time to time under different badge names and models, now its second generation is available all over the world. The second generation of QQ is now called QQ3 because the 1st generation is restyled into different ranges which makes difficult the classification. The second generation of QQ is sold in Italy under the name of DR zero by DR automobiles. QQ was launched in Pakistan by Chery Automobile Private limited in 2005, but unfortunately, it could not gain much success here against the highly populated Suzuki cars.
The 2021 version of Chery QQ is a compact hatchback entitled a CITY CAR and available in one engine option only providing you with both manual and semi-automatic transmission. It was launched in March 2020 in China but no major revolutionary changes are done to its design leaving the changes made to its dimensions. The updated model of Chery QQ is quite attractive with a beautiful exterior and good-looking interior while the cage steel body is strong enough to have decent height and light body weight and gives the passengers ultimate protection and safety on their journeys. 2020 Chery QQ is mainly known for its dynamic appearance, super large space providing enough comfort to the passengers, and individual interior trim option.
Trims & versions:
2020 Chery QQ3 is available in only one trim with is 1.0 L engine having Manual Transmission, previously it was available with three engine options that include 0.8 liters DOHC twelve-valve inline-three cylinder engine, 1.0 liters SOHC sixteen valve inline-four-cylinder engine, and 1.1 liters DOHC sixteen valve inline-four engine. The 1.0 Liter gasoline engine is offered with both five-speed manual transmission and with automatic transmission.
Engine & Power: 
United Alpha 1.0 MT 998 cc gasoline engine has twelve valves with an inline four-cylinder that produces the maximum power of 51 KW  (68HP)at 6000 rpm with a torque of 93 Nm at 3500 to 4500 rpm. It offers you a five-speed manual transmission with smooth throttle changes. The roller arm of the engine is lightly weighted produces no noise and works well even without lubrication while the plastic inlet manifold increases volumetric efficiency at higher speeds as well and the DOHC makes it more accurate in air distribution and gives a more efficient fuel utilization.
Performance & Drive:
United Alpha delivers a good ride quality by giving you a smooth drive; the Macpherson suspension system gives quality response even at high speed and absorbs bumps and Jerks negotiable. The 2nd Generation Chery QQ offers you both automatic and manual transmission maintaining high efficiency and reducing the running cost to a minimum with smooth gear changes. It gives a mileage of seventeen kilometers per liter and provides an estimated driving range of 595 kilometers with a fuel tank capacity of 35 liters. It is available with the front-wheel driving system only like many other small cars. It can accelerate from zero to a hundred in about 18-20 seconds and lets you enjoy a maximum speed of 150 kilometers per hour.
Handling this hatchback is also very efficient and gives the drivers enough confidence to turn around the corners. Its electronic power steering wheel assists the drivers in easy maneuvering, especially around the turns, on the other hand, the braking system with Disc brakes is also very remarkable letting you apply the brakes smoothly whenever required. All these characteristics make QQ the best-suited car for city driving and driving it in narrow streets is not a problem because of its small dimensions.
 

Exterior Design & Features:
The design of the new 2nd Chery QQ/United Alpha inspired by the Nemo character in the movie Finding Nemo conveys an image of a happy and nimble smiling star. The front grille is now horizontal having enlarged grille air intakes and producing a dynamic sense with its honeycomb-shaped grille. Diamond-shaped LED headlights now consist of high-beam and low-beam lights and steering lamps have stereoscopic modeling looks and efficient lighting. The typical QQ design features window-connected rear door handles having a Q shape while the large-sized tail door is in tandem with a hydraulic lifter enabling you to open the tail door conveniently. The rear design features tempered materials bringing a largely visual experience and glass heating function too. New QQ is now 3564 millimeters in length, 1620 millimeters in width, and 1527 millimeters in height having a wheelbase of 2430 millimeters.
United Alpha Latest Photos:
Interior Design & Features:
The interior design of Chery QQ/United Alpha is attractive having a black and grey interior with a highly wrapped knitting seat in addition to its eye-catching looks, it also gives you anti-submarine function and highly engineered architecture. It gives you a seating capacity for four adults and its rear seats are easily foldable to increase the cargo area to about 636 liters.
The dashboard features a center console with a sleek design and round shape having an infotainment system embedded in it along with controls for the air conditioner and air vents. The illuminant digital instrument cluster has an activated orange backlight with a contrasting white backlight giving an LED display telling you about the speed of the vehicle in a digital manner. The steering wheel design is quite sporty and gives out a dynamic feeling on the whole. Some of the features inside the cabin include a proper air conditioning system, two speakers audio system, power steering, power windows, 13-inch Alloy Wheels, LCD Camera, Reverse Camera, CD input, FM/AM radio, tachometer, and fabric-covered comfortable seats.
Safety features: (

Air Bags are Not Available in the Pakistani Version

)
The design of Chery QQ made consideration of preventing injuries at the head and chest in cases of accidents with its energy-absorbing steering column that will retract to increase the distance between the driver and front passenger safety pace. Similarly, the cage steel body gives extra protection to the passengers sitting inside the cabin in case of any collisions. Full-size airbags are provided to front passengers that can further minimize injuries in unexpected collisions. Further Chery QQ features an anti-lock braking system and Electronic brake force distribution.
 Apart from all these safety features Chery QQ still is not a very safe car for its poor adult protection and it is rated with zero stars by NCAP safety ratings. Global NCAP has released the results of its crash test of the South African market Chery QQ3. The Chinese five-door hatchback failed to score a single star, with its body shell integrity rated as "unstable". The QQ3 does without airbags, ABS and seatbelt tensioners, and Isofix child-seat anchors. Global NCAP reported that the protection offered to the driver's head and chest was "poor". The protection offered to the passenger's head, however, was eaten as "good", with the passenger's chest receiving "marginal" protection. The body shell was rated as unstable, with Global NCAP saying "it was not capable of withstanding any further loadings". The footwell area, too, was rated as unstable, showing rupture and exposing the driver's feet to potential injury.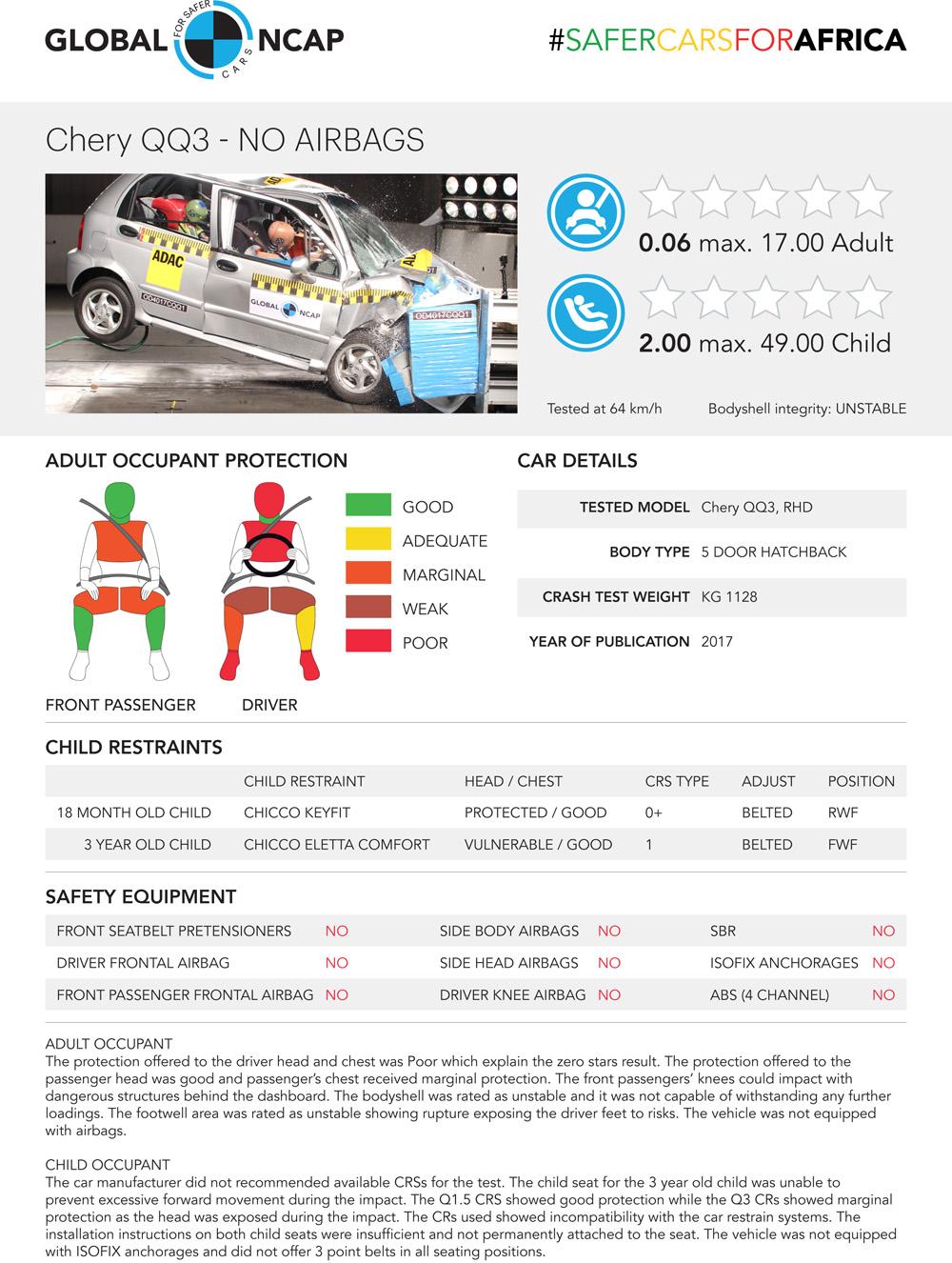 Pros & Cons:
Pros:
Cheapest 1000cc New Car in Pakistan
Four Cylinder Engine
Cons:
Poor Build Quality
Hydraulic Power Steering
Same Old Shape as that of Chery QQ
Poor Handling
Poor AC Performance
No Safety Features
Major Competitors:
Verdict:
Chery QQ was a much-loved Chinese car in the Pakistani market when it was introduced here about fifteen years ago. Its timing was not perfect and did not favor it as other local cars used preferred by the customers. But today high prices of locally manufactured vehicles now making people attracted to affordable Chinese cars. We would much like to see the all-new version of Chery QQ3 in the Pakistani automobile market too after its success in China.