2023 JETOUR X70S EV SUV 
Expected Launch in Pakistan: 2023 or 2024
Expected Price in Pakistan:

75,000,00 PKR

1st Generation
JETOUR was started as a sub-brand of Cherry with the logo of the company's AFFORDABLE PREMIUM brand in 2018 and Jetour debuted its electric-car X70S at Shanghai Auto Show held in 2019. It was introduced as the first electric car of Jetour, and it was similar to Jetour X70S other than its powertrain. The five-seater X70S Jetour is the sportier version of the traditional X70, and it is also available in seven seating configurations. The S suffix shows that the model is sporty in appearance, and it is something cool you are looking for. The deliveries for Jetour X70S were started in September 2019. It is built on Cherry's iPel platform. Jetour X70 S received facelift changes in its second generation was introduced in 2020. We expect the X70S EV model to follow a similar suit and be released with facelift changes too, but there is no confirmed news we got about its launch. The new model of X70S EV has a larger grille on the front and a trapezoid insert rear bumper along with some blue accent trims inside the cabin. 2021 brings similar features and specs to the 2019 model of all-electric X70S, and it continued to provide you latest technology and aesthetic design.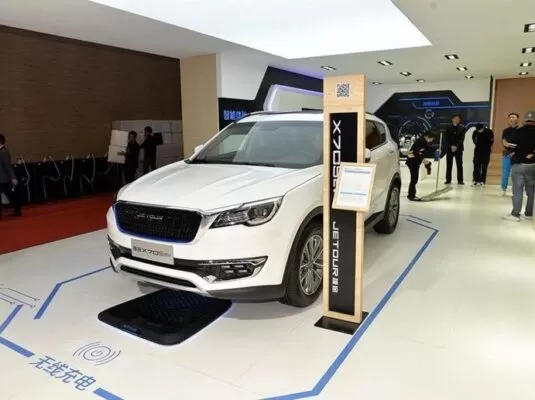 Trims & Versions:
Jetour X70S Electric-version is introduced in two variants that offer you two different ranges. It gives you the options of either 401-kilometer mileage or a 450 kilometers mileage. Apart from it, you can choose from a five-seating configuration or a seven-seating configuration. The powertrain and other features will remain the same in the trim levels.
Powertrain & Transmission:
Jetour X70S EV is an all-electric vehicle powered by an electric motor that is backed by a 56 kWh battery. The electric motor produces a power of 168 hp with a peak torque of 300 nm. It is quite convenient and affordable as you don't have to rush to the petrol stations repeatedly and can quickly charge the batteries on board. You can set the battery of the X70S EV through a charging port located in the front center of the car, and charging it through onboard-wall box-sized chargers takes eight hours to charge the battery fully. On the other hand, you also have the option to charge the battery from a charging station, and it features a fast-charging system that takes only thirty minutes to charge it by eighty percent. It offers you a seven-speed dual-clutch transmission option.
Performance & Drive:
The driving performance of the Jetour X70S EV is also remarkable in addition to its estimated ranges and affordability. The first impressing thing about is that its easily charging batteries do not bother you much, and you can charge them again at any charging station or onboard, making it quite convenient. Secondly, you will not be disturbed by the engine noise as the engine is replaced by an electric motor that makes your ride comfortable and noise-free. It is equipped with a multi-link suspension that ensures a comfortable ride for you and also improves the adhesion of tires because of its large number of links. Thus X70S has become the best vehicle of Jetour because of its comfort and stability. The electric power steering controls the vehicle firmly and requires little effort from the driver. Handling of X70S is also fun, turning the car easily with minimum body rolls so the passenger will not feel discomfort when passing through turns and curves. The acceleration-power of Jetour X70S EV is also good, giving you a top speed of 88 miles per hour (140 km/h), and it gives you two mileage ranges. The energy consumption of Jetour X70S is also amazing as it requires only 13.9 kWh power to provide you with a mileage of 100 hundred kilometers driven. This vehicle is designed to drive in all types of extreme weather conditions, so the fog or rain outside will not bother you. It has been equipped with LED daytime running lights given with adaptive foglights that provide a 20-degree illumination, and the headlights are given with high and low beam lights. The braking system is also capable of to-apply the brake smoothly whenever required. Lastly, it is an environmentally friendly vehicle that will not emit C02 emissions as the usual gasoline vehicle, so it will make your ride comfortable and environment-friendly.
Exterior Design & Features:
The exterior design of the Jetour X70S EV is similar to the gasoline-powered X70S. It has a starry-intake grille in its frontal fascia center and trapezium-shaped sleek headlights sweep on its sides. A shark fin antenna highlights the sporty stance of X70S, and it follows the aerodynamic theory of the vehicle that ensures to reduce wind resistance. The rear end is a typical SUV-type having narrow taillights and a power rear gate with a black-colored bumper under it. The rear glass used in X70S is made of a metal functional layer that gives you a light transmittance of seventy percent, so the privacy inside the cabin is improved. The panoramic sunroof is a one-button operational roof that automatically closes on car locking and adds natural light and fresh air to the cabin. The super-large twenty-inches wheel with aluminum rims is lightweight and gives higher firmness, while the sporty stance is also completed.
Interior Design & Features:
The interior cabin of Jetour X70S EV gives you a premium feel, and the 36 Db ultra-silent environment of the cabin creates a quiet atmosphere inside it. The ergonomic seats are covered with premium leather and designed with console side wrapping and cushioned seats. The front seats come with heating technology, and the driver's seat is given with an eight-way electrical adjustment. A multifunctional leather-covered steering wheel comes with Bluetooth connectivity and a voice control feature. There is a 12.3 inches LCD that displays the instrument cluster and comes with three background colors. In comparison, a 10.25 inches screen is fixed on the dashboard that works as an infotainment system and comes with Bluetooth connectivity, a navigation system, 360 view parking, and vehicle settings. You will be given 28 storage spaces inside the cabin, and the luggage compartment has a storage capacity of 89 liters, which can be increased to 1290 liters by folding the rear seats, which are quite enough for carrying a large amount of luggage with you.
Safety & Features:
The high-strength steel body of Jetour X70S provides ultimate protection to the passengers in case of accidents and ensures you a safe ride. It has been equipped with four airbags, and the AUTO HOLD feature in the X70S EV comes with an auto-hold function that allows the rear wheels to be braked automatically when the car is- stopped. This feature will prevent the hill-start sliding of the vehicle. In contrast, some other safety features include traction control, central door locking, Anti-Lock Braking System, a Lane departure warning system, and blind-spot detection.
Major Competitors:
BMW IX

BAIC EX260

Cherry Tiggo 3xe

GAC Toyota Ix4