2023 Peugeot 508
Expected Launch in Pakistan:

2023 or 2024

Expected Price in Pakistan:

45,000,00 PKR

2nd Generation
The mid-size family car Peugeot 508 was introduced by French automaker Peugeot in 2010 as a front-engine front-wheel drive, and it was considered a successor to Peugeot 407 and Peugeot 607. It shared the same platform with the 2nd generation of Citroen C5. The 2nd generation of Peugeot 508 went on sale in 2018, and it won the MOST BEAUTIFUL CAR OF THE YEAR 2018 in Paris. It is available in a variety of body styles that are; a 5-door liftback coupe, a 5-door estate, and a 4-door sedan (508L). It is available in different engine options with an automatic transmission that has been updated to an 8-speed transmission. The Peugeot 508 was also introduced to the Middle East in May 2019. The 508 L model is exclusively made for the Chinese market which is a four-door sedan with a conventional trunk instead of a fifth-door liftback configuration, and it has a longer wheelbase than the traditional 508. The entry of Peugeot into the Pakistani automobile market can bring Peugeot 508 to Pakistan too, and Peugeot's lineup for Pakistan will be a sedan for sure after noticing the love for a sedan in Pakistani markets. It will have an elegant design with a signature front grille and an attractive overall appearance, while it may be available in a 1.6-liter turbocharged engine with eight-speed automatic transmission. The other features of the Peugeot 508 will be intuitive and similar to the imported sedan. The price for the Peugeot 508 will be comparable to Honda Civic Turbo in Pakistan. Before the official entry of Peugeot 508 in Pakistan, let us see the features of the imported version of 508 in the United Kingdom.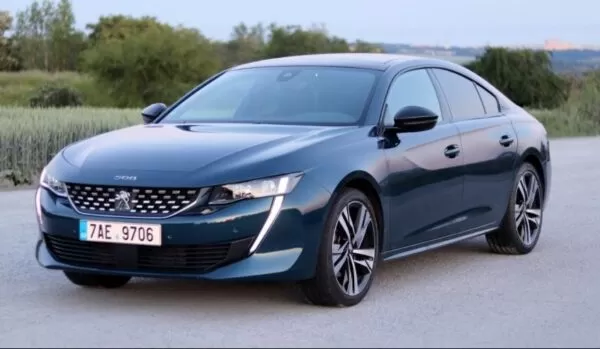 Expected Engine & Power in Pakistan:
Engine: 1.6L Turbocharged Direct-Injected Inline 4
Power: 178 HP
Torque: 250 Nm
Fuel Economy: 12-15 km/l
0-100 km/h 7.9 seconds
8-speed automatic transmission
Trims & Versions:
It is available in 5 trim levels that are:
Active Premium: This is the basic trim that features; an Assistance and Safety Pack, keyless entry, 180-degree reverse camera, manual adjustment of driver's seat, and LOSANGE cloth upholstery and smartphone compatibility of the infotainment system.
Allure: it offers a 10 inches touch screen display, BETON grey cloth upholstery, an electrically adjusted driver's seat, and seventeen-inches alloy wheels.
Allure Premium: It offers adaptive cruise control, lumbar support in the driver's seat, black roof lining, full LED headlights, and eighteen-inches alloy wheels.
GT: it is the best of all trims in terms of sports styling, and it offers Active Suspension, blind-spot indicator, 360-degree camera system, FOCAL HIFI audio system, and 19 inches alloy wheels, and heated front seats.
GT Premium: the GT Premium trim is ultimate in luxury, offering you Mistral leather-effect seats, aluminum boot rails, stainless steel doors, power-folding doors, and the latest infotainment system.
Engine, Power & Tranmission:
The 2021 Peugeot 508 offers three petrol engine choices and one diesel engine. The petrol engines are 1.2 L Pure Tech 130, 1.6 L Pure Tech 180, and 1.6 L Pure Tech 225. The 1.2 L Pure Tech 130 engine has a displacement of 1199cc, and it produces a maximum of 131 horsepower @ 5500 RPM and torque of 170 pounds-feet @ 1750 RPM. The 1.6 Pure Tech 180 engine with a displacement of 1598cc generates 181 horsepower @ 5500 RPM and a torque of 184 pounds-feet @ 1650 RPM. The 1.6 L Pure Tech 225 engine has a displacement of 1598 cc and generates 224 horsepower @ 5500 RPM and 221 pounds-feet torque @ 2750 RPM. The 1.5 liter Blue HDI 130 diesel engine has a displacement of 1499 cc, and it produces 131 horsepower @ 3750 RPM and torque of 221 Pounds-feet @ 1750 RPM. All the trims offer an eight-speed efficient automatic transmission.
Performance & Drive:
The Peugeot 508 feels confident on the roads and gives you a well-balanced ride. The steering response is progressive with well-measured damping, and you can turn the car confidently around twists and corners. The adaptive damping checks the body, especially after a major undulation in sports mode. The automatic transmission is smooth with an easy and satisfying job. The acceleration of Peugeot 508 is exceptional as the petrol-powered entry-level engine takes 10 seconds to accelerate from 0 to 100 kilometers, while the higher-end petrol engine trim takes 7.3 seconds to speed up from 0 to 100 kilometers per hour. The fuel consumption of the Peugeot 508 is appealing as the petrol-powered engine consumes 5.8 to 6.8 liters of petrol for traveling a distance of 100 kilometers. The Peugeot 508 diesel engine trim has a better fuel economy, and it consumes 4.6 to 5.4 liters of diesel to travel a distance of 100 kilometers.
Exterior Design & Features:
The most attractive element of the body of the Peugeot 508 is its signature grille on the front that holds a Peugeot logo on it and gives you a royal feel. Sleekly designed full-LED headlights flanked on the sides of the grille, and the rear LED tail lamps are giving claw effect lights. The GT model has GT Badges on its overall body, and the radiator grille is pronounced with chrome edge trims. The rear bumper is glossy black, and the side window trims are also colored in glossy black. The higher-end trims offer astonishing nineteen-inch diamond-cut alloy wheels that complete the sporty look of the car.
Interior Design & Features:
The inside of the Peugeot 508 gives you the ultimate luxury and comfort. The higher-end trim offers Mistral leather seats with grey Alcan Tara detailing, and it comes with a heating function. The driver's and passenger seats are electrically adjusted and give you lumbar support. The Peugeot 508 cockpit consists of a configurable 12.3 inches head-up instrument panel that shows driving modes, night vision, navigation, and dials. It also gives you a multi-function steering wheel and a 10 inches touch screen that gives access to automatic climate control, DRB Radio, Mirror screen, connected 3D Navigation, and smartphone interface. The electric impulse automatic gearbox takes less space in the cabin because of its small size, and it looks beautiful with leather and chrome trims with a piano black theme. There is a large panoramic sunroof that opens up to the natural light, and air, and the boot area comes with a retractable shelf and has a luggage capacity of 530 liters. The luggage capacity for Peugeot 508 can be increased further up to 1780 by folding the rear seats.
Safety & Features:
"Expert car safety organization Euro NCAP bestowed the 508 with a very competitive five-star rating. No doubt contributing to this achievement are the many safety features Peugeot includes for this car ". Some of the safety features of the Peugeot 508 are as follows:
Blind-spot monitoring system.

Adaptive cruise control with stop-and-go function.

Automatic emergency braking system.

Distance alert system.

Lane-keeping assist system.

Lane positioning assist.

Speed and sign recognition.

Driver attention alert system.

Peugeot Smart-beam assistance.
Major Competitors: