2023 Kia Sorento SUV
Sold in Pakistan = 2021-Present
3rd Generation
2023 Kia Sorento Price in Pakistan
Price Effective from 05-July-2023
KIA Sorento 2.4L FWD
10,800,000/-

PKR

KIA Sorento 2.4L AWD
11,700,000/-

PKR

KIA Sorento 3.5L FWD
11,790,000/-

PKR
Korean automobile manufacturer Kia introduced their mid-size crossover SUV Sorento in 2002, whose 4th generation hit the market in 2021. The Kia Sorento offered in Pakistan is the 3rd generation of Sorento. Kia Motors got Greenfield status in a joint venture with Lucky Cement under the Automobile Development Policy from 2016 to 2021. According to this policy, Kia Lucky Motors will be launching some locally assembled CKD units of Sorento in Pakistan. The Kia Sorento officially debuted at an event held at the KIA Motor Corporation production plant in Karachi on 14th February 2021. The Kia Sorento offered in Pakistan will be available in a list of engine options, and it brings elegance with an irrefutable class to your journey. Kia Sorento is the 4th vehicle to be sold in Pakistan under the Kia-Lucky setup, while the other cars of Kia already available here are Sportage, Picanto, and Carnival. Kia Sorento is a seven-seater SUV that is larger than Toyota Rush and Sportage while smaller than Fortuner or Prado. Kia Sorento will be considered best for urban rides as its off-road driving experience is not very good when compared to the Toyota Fortuner, which is more demanding in rural areas. We will be discussing the features of the Kia Sorento in detail today.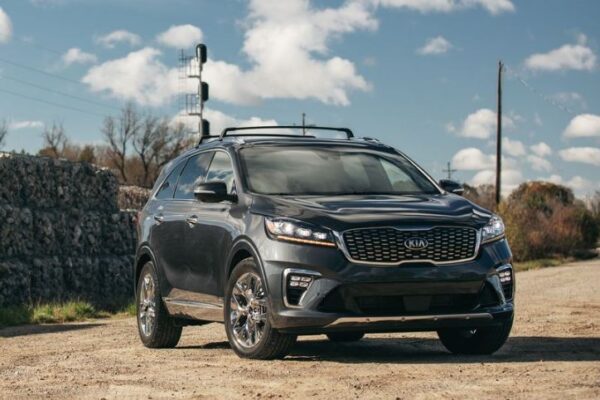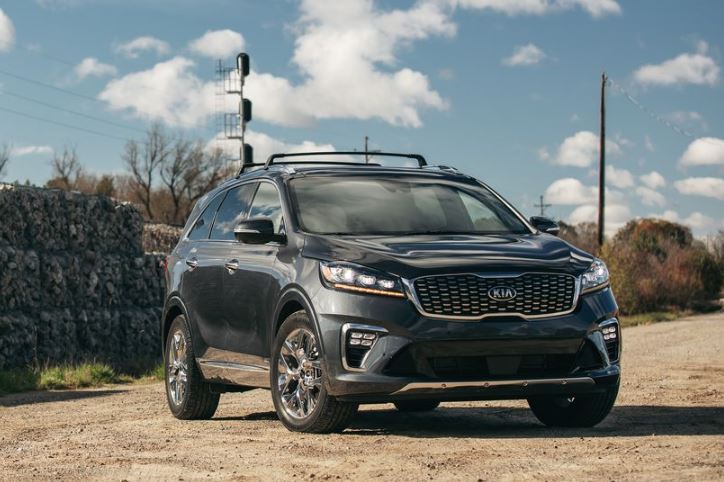 Trims & Variants:
Kia Sorento is available in three trim levels that are 2.4 L FWD, 2.4 L AWD, and 3.5 L FWD. The big difference between the trims occurs in their powertrain. The 2.4 L FWD and 3.5 L FWD are front-wheel-drive vehicles, while the 2.4 L AWD offers an all-wheel driving feature that makes it more suitable for rough terrains. The 2.4 L FWD trim comes with a steel rim spare wheel, while the other two trims have a full-size alloy rim spare wheel with them.
Engine & Power:
The 2.4 L FWD and AWD trims get their power from a 2359 cc, Theta-II DOHC engine that produces maximum output of 127 kW (170hp) at 6000 RPM and maximum torque of 225 Nm at 4000 RPM. Both trims offer a six-speed automatic transmission with Sports-Matic mode. The 3.5 L FWD trim gets its power from a 3470 cc, Lambda-II V6 engine that produces an output of 206 kW (276) at 6300 RPM and a torque of 336 Nm @ 5000 RPM. It offers you an eight-speed automatic transmission with a Sports-Matic mode.
Performance & Drive:
Kia Sorento is designed with boldness so you can conquer the odds to take you forward in life with ultimate confidence and unmatchable poise. It is a blend of both on-road driving sophistication and an off-road-wonderful experience. The six-speed or eight-speed automatic transmissions are smooth, giving the power to drive the car effortlessly. All the engine options available in Sorento provide unparalleled torque that runs it smoothly and balances power efficiently, so you can cruise with ease any time you want. The V6 engine is powerful and delivers remarkable performance, and the car picks up speed easily, shifting through gears. The All-Wheel-Drive system coupled with Intelligent DYNAMAX lets you drive the Sorento on slippery surfaces by maintaining traction, so it let you improve the stability when turning the car. The DYNAMAX system has been combined with a Magna powertrain that monitors driving conditions and sends torque to all wheels and eliminates understeer by cutting down unwanted traction forces at the front and rear axles. This, in turn, reduces fuel consumption and C02 emissions. The vehicle stability management system increases stability by controlling the MDPS and braking system so you can drive it on snowy paths and muddy tracks. The 2.4 L FWD and AWD offer three driving modes to the drivers include
Comfort mode

Eco mode

sport mode
 while the 3.5 L FWD comes with an additional Smart driving mode. The front-wheel-drive gives you a mileage of 10 to 12 kilometers per liter and has a fuel tank capacity of 58 liters, and it can reach a maximum speed of 220 kilometers per hour. The all-wheel-drive vehicle gives you a mileage of 8 to 10 kilometers per liter and can reach a maximum speed of 220 kilometers per liter, and has a similar fuel tank capacity.
Exterior Design & Features:
It is a 4800 mm long but mid-size crossover SUV that is neither quite large nor so smaller in size, and it comes with an attractive exterior design that features a tiger-nose grille on the front with Kia's stamp embossed on it and two sleek LED headlights on its sides. The headlights come with LED daytime running lights that turn on when the engine is started and enhance the visibility on road. The ice cube-shaped LED fog lamps are also mounted under the headlights illuminating more and helping in extreme weather conditions. There is a roof rack on its roof, offering you extra utility, while the rear end is prominent with a smart tailgate and LED tail lamps that last longer than conventional bulbs and make your path illuminated. It also comes with low-energy LED illuminated doorsteps and an attractive contoured rear spoiler that manages airflow. The eighteen inches wheels come with alloy rims and give a bold stance to the Sorento.
Interior Design & Features:
The cabin of Kia Sorento is quite comfortable and spacious with three rows of seats that are foldable partially or fully to further increase the room/space inside the cabin. Kia Sorento provides a balance between the comfort of passengers and practicality. The 2nd-row-seat can be folded through a remote so the passengers can accommodate the 3rd row easily, and the 3rd-row-seat can be folded to increase the cargo area. The driver's seat comes with a 10-way adjustment to ensure comfort and the passenger seat is adjustable in eight ways. A seven-inches touch-screen mounted on the dashboard provides you with infotainment, while an LCD, TFT 3.5-inch screen works as an instrument cluster. The audio controls have been given on the steering wheel, and the dual-zone climate control feature adjusts the atmosphere in the cabin comfortable for everyone. The electronic chrome mirror adjusts high beam reflection from the rear automatically to give you a pleasant driving experience. Other than this, you can enjoy wireless charging, push start with smart entry, electronic parking brakes, leather seats, ISO child anchors, 3rd row AC vent controls, and a smart-auto tailgate with a memory function.
Safety & Features:
Kia Sorento is made of an ultra-high-tension steel body that protects the passengers in case of collisions, and it has been equipped with the latest safety features to provide you with a protected and safe journey. It offers:
front and rear parking sensors

 Projection front lighting system

 Rearview camera

Cruise control system

Six airbags

 Hill-Start-Assist-Control

 Vehicle stability management
Pros & Cons:
Pros:
Value to money
Impressive Safety Features
7-Person Seating Capacity
Powerful Engine
Loaded with features
Cons:
1 Generation Behind the World
Less Resale
Outdated Exterior than competitors
Market Acceptability is low
Major Competitors: