2022 MG ZST
Sold in the Australia = 2019-Present
Generation = 3rd
2022 MG ZST SUV Price in Australia: 
Core
Starts at:

25,490 $

Vibe
Starts at:

26,990 $

Excite
Starts at:

29,990 $

Essence
Starts at:

32,990 $
It was a time when we didn't expect MG to survive its British contemporaries in the 20th century by succeeding in the new millennium as a manufacturer of inexpensive SUVs and small hatchings. The Chinese MG sales are now fully focused in China and booming (in 2019, 270,000) – almost half of which is the ZS Small SUV. It's a similar case in Australia where the ZS took a large portion of this last year with nearly 10,000 sales. And this MY21 upgraded model, which is now known as ZST, can only extend this range. The MG ZST is not merely just a facelift but it features a reshaped black-gloss grille and some gloss-black highlights, including mirror caps. New front and back bumpers are also available, but the cosmetic improvements are relatively slight. MG maintains that the ZST is the only small SUV to provide electronic protection in this way. MG ZST 2020 was launched in Australia in August 2020 while it must be mentioned here that MG ZST is also a hit car of 2020 in nine Middle Eastern countries influencing us to give more attention to this super chick.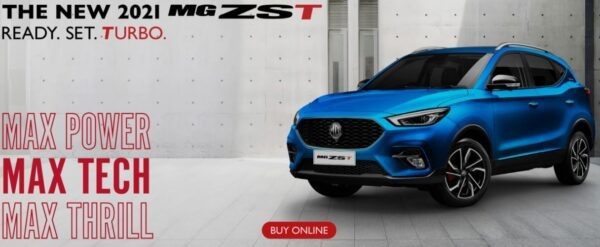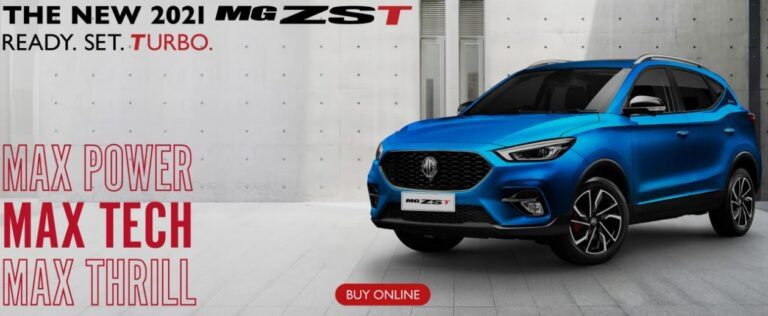 Trims & Variants:
Two versions of MG ZST are available for the current models that are ZST Excite and ZST Essence. The Excite trim comes with analog dash instruments and standard $28490 metal roofing for additional on-road costs, while Essence Trim adds a large glass panorama roof with a transparent roof, a digital dash, a surrounding 360-degree parking camera, a powerful driver's seat, and a driver's and passenger's seat's heating option for an additional $3000. The panoramic sunroof roof is only available in Essence trim. The airy ambiance of the cabin is added, but to spend time in the Excite without the sunroof there is a good option of light-colored headlining details in the cabin to add ambient lighting in it.
Find All the Differences in Specs & Features Section
Engine & Power:
MG ZST offers you two options of engines that are either 1.3 liters Turbocharged four-cylinder turbocharged engine that gives you the feature of six-speed automatic transmission and the other engine is a 1.5 three-cylinder engine paired with a continuously variable transmission.
The 1.3 liters turbocharged engine generates 120 KW (160 Horsepower) at 5200 to 5600 rpm and torque of 230 NM at 1800 to 4400 rpm and can reach up to a top speed of 185 kmph with the acceleration of 9.8 seconds for 0-100 km/h. The efficient engine delivers power to drive front wheels effectively and thus all-wheel driving option is not available yet in it.
The 1.5 Liter engine Generates 88 KW (118 Horsepower) at 6000 rpm with maximum torque of 180nm at 4500 rpm paired with CVT and can reach up to a top speed of 170 kmph and takes 12.8 seconds to accelerate 0-100 km/h.
Performance & Drive:
Since the complexity of the Chinese suspension tuning is uncertain, the MG ZST has modest expectations. However, there is a certain British DNA tuning so the ZST can surprise you with how fun it is to drive by giving you an awesome performance. More aligned dampers not only help control the movement of the body but avoid collapse over sharp bumps as well. If you try to corner the ZST too enthusiastically, it will start to run broadly, and if you smash it will move out of its tail (belatedly) until it takes on electronic stability.
The electric steering is amazing in its working, it points very carefully and offers three different configurations that are urban, standard, and dynamic. They are controlled by the touchscreen fixed on the central console. The six-speed car works well – surfing the big torque of the small engine for quick progress – but the 'Sports' mode just sharpens the accelerator and speeds up the gear shift. When you try to manually downshift, transmission tuning is often really rough. For example, if the engine turns down by 4200 rpm, it will not pick up second gear on steep declines. It claims to be quite economical by gulping only 7.1 liters of petrol to give a mileage of hundred kilometers with a fuel tank capacity of forty-five liters. Acceleration of ZST has not been documented yet but it gives balance handling with good road grip letting you drive faster.
Exterior design and features:
ZST 2020 looks more stylish and attractive with LED headlamps, an aggressive Black-Mesh front grille with a big MG logo, and less detailed bumpers. ZST looks more modern. The new LED taillights on the rear are the same shape as previously, while the ZST has newly built bumpers. The MG badge on the back door allows entry to the luggage area. In the grille, the window surrounds, and the door mirror, there's a black glossy lashing. A panoramic glass roof is on the top model. Uncommonly, when the glass roof is fully open the inner shade may be locked. I can't imagine that you would ever want to, but it is there.
There are incorporated roof rails, but it's difficult to place anything on a glass roof. Seventeen inches alloy wheels are the same for both trims.
Interior Design & Features:
ZST is a quantum leap for the brand and is undoubtedly the most beautiful inner MG in its glorious past. However, the quality of vintage roadsters, especially in this price range is quite decent. The Essence electric six-way seat offers superior adjustment and makes counteracting the tilt-only steering column simpler, although it is not very unpleasant. However, instead of helping ZST find the right spot, the fact that you must make it happen makes it feel cheap.
Leather-covered seats are comfortable enough and give accommodation to five adults. The enlarged 10.1-inch touch screen promises state-of-the-art sound and tech that you don't get, but ZST's better than you would have thought. It is compatible with Android Auto and Apple CAR PLAY interface while the six speakers sound system gives you high quality of audio. Two USB ports are given at the base of the central stack while the USB port is also given in the rear compartment. It takes time to adapt yourself to the tactile operation and tab switches underneath so that everything works with fair ease when you are ready for speed.
Safety & features:
MG ZST has not yet been rated by ANCAP but it is equipped with lots of safety features like six airbags, an emergency braking system, forward collision warning alarm, lane departure warning alarm, adaptive cruise control system, 360 view camera for parking, and blind-spot detection system.
Major competitors:
Mazda CX-30
Mitsubishi ASX
Verdict:
Buyers who want a small, inexpensive SUV with all trims have been drawn to the MG ZS for years to come. Now, buyers have even more choice thanks to the facelifted and dramatically improved MG ZST. Its price may be in line with the conventional competitors, but it's easy to see the value in both the equipment and the driving experience.