Mitsubishi Lancer
Sold in Pakistan = 2000-2010
Generation = 6th (Discontinued)
Mitsubishi Lancer Price in Pakistan:

8-13 lacs PKR

(Depending upon the Condition & Model Year)
The Sixth generation Mitsubishi Lancer was launched in 2000, which was built on the Mitsubishi Mizushima plant in Japan. It was -launched in Australia, Asia, Europe, and North American markets. A major facelift change was given to this generation in 2004 and then in 2006. The sixth generation of Mitsubishi Lancer was introduced in Pakistan in 2005 with restyled addition before which 4th generation of Lancer was available-here. The Thai version of Mitsubishi Lancer was introduced as a restyled version of the sixth generation in Pakistan later on. It is a front-engine vehicle with a front-wheel driving option. Mitsubishi Lancer is available in the eighth generation in Taiwan and China, and this latest generation was launched in 2017. The international version of Lancer was then discontinued, and the eighth generation was built only on the Mitsubishi GS platform. The company has now given Lancer a comeback with Grand model to-overseas that is-coupled-with a continuously varying transmission. The 6th generation of Lancer was ever-loved in Pakistan, and it is only available in 2nd hand condition now. If you are looking for an imported compact sedan that is offering you good technology too, then Mitsubishi Lancer 6th generation should be your preference. Let us share the complete details of this generation, so you could have a better understanding of-the-specs, and features of the 6th generation Mitsubishi Lancer.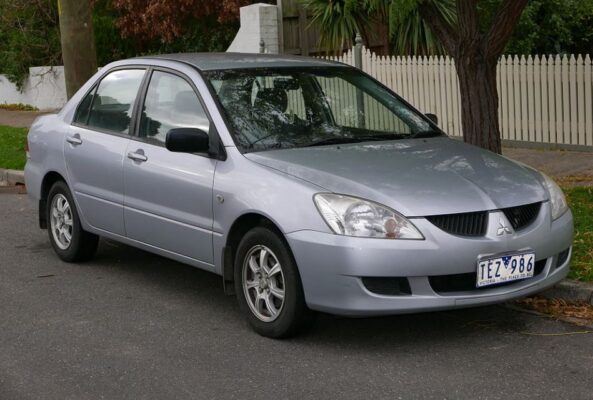 Trims & Versions:
It is available in various trim levels in both manual and automatic transmission. Some of the trims include:
Mitsubishi Lancer 1.3, 1.6 GLX. (with both manual and automatic transmission)

Mitsubishi Lancer 1.6 GLX SR (with both manual and automatic transmission)

Mitsubishi GL (with manual transmission only)
Engine & Power: 
The sixth generation of Mitsubishi Lancer in Pakistan is available in three engine choices that include 1.3 liters, 1.6 liters, and 1.5 liters. The 1.3 liters, 1298cc, SOHC, Sixteen-valves engine produces engine power of 92 hp at 6000 RPM and torque of 105 Nm at 4800 RPM. 
The 1.6 liters, 1587 cc, SOHC, 16-valves engine generates a horsepower of 105 hp at 6000 RPM and torque of 139 Nm at 4500 RPM. 
The 1.5 liters, 1587 cc, SOHC, 16-valves engine generates a horsepower of 92 hp at 6000 RPM and torque of 139 Nm at 4500 RPM. 
The 1.3 liters GL trim is powered by a 1298 cc engine that produces engine power of 73 hp at 6000 RPM and torque of 105 Nm at 4800 RPM. Limited models of 1.8 liters turbocharged engine of Lancer are also available.
Performance & Drive:
This Japanese assembled vehicle is fun to drive with good suspension and handling. It is loaded with aerodynamic enhancements that make it a high-performance sedan. The Lancer is no longer in production, but the legacy of Lancer is still alive and it gives three transmission options that are either a five-speed manual transmission, four-speed automatic transmission, or a continuously varying transmission. All the transmissions give you a smooth performance with precise throttle changes, and the two-wheel-drive options run the front wheels efficiently with enough engine power. The fuel consumption of Lancer 6th generation is respectable, and it gives you a mileage of 9-10 kilometers per liter by consuming 8.3 liters of petrol per 100 kilometers driven on the highway. Talking about the suspension of Lancer 6th generation, which is soft over bumpers, and it offers an optimal ground clearance for Pakistani roads that will not affect the overall ride quality. It gives you options of various driving modes that-are economy mode, sports mode, normal mode, and mountains terrain mode, and you can select your mode according to your requirement. Another impressive feature is its road grip that ensures you a smooth ride, and the steering control is also good, letting you have confidence in your drive. The air conditioner works well even when driving at high speeds, and it does not affect the quality of the ride. It also gives you a smooth acceleration taking 11 seconds to speed up from 0 to 100 kilometers per hour. The braking system is also fine, equipped with ventilated disc brakes on front axles and drum brakes on rear axles. It is also equipped with front fog lights and a defogger system to make your ride convenient in foggy weather. On the whole, Mitsubishi Lancer 6th generation is an old model, but it has been equipped with all standard features to give you a good quality ride, and-your ride quality depends on the condition of 2nd hand car you are purchasing so, if you are looking for a Mitsubishi Lancer then try to find a good conditioned-car so you can enjoy all the perks of it.
Exterior design and features:
The outside look of the 6th generation Lancer is nice with-a typical sedan appearance. It features a trapezoidal grille on its front with 2-angular headlights on its sides, and the grille is large enough to extend into the front bumper. The rear end also features angular trapezoid-shaped taillights and a rear bumper, while sixteen-inches alloy wheels are standard in all types of trims. The GLX model is unique with colored door handles, and overall the design of Lancer is impressive.
Interior design and features:
Moving into the cabin of Mitsubishi Lancer 6th generation, which is comfy and spacious. It comes with fabric-covered seats that are comfortable, and relaxing and goes well for the hot summer season in Pakistan. It has a seating capacity of five adults. The noise insulation in the cabin is good as compared to locally produced cars of the same class. The air conditioning system is manually controlled, and it works well in hot summer weather. Some of the features provided in the cabin include power steering, retractable mirrors, keyless entry, CD player, AM/FM radio, and power windows. Apart from it, you will get various storage spaces, and the boot space is also generous to carry your luggage, and even the rear seats can be-folded to increase the boot space. One of the drawbacks in the cabin is a lack of an infotainment screen and the latest smartphone-compatible infotainment system that is available in all the latest imported and local sedans. 
Safety & features:
It comes with two airbags, so the driver and passengers are saved from maximum injuries during a collision. It also gives you an Anti-Lock Braking System that again ensures you have a safe ride even in case of collisions.
Major competitors: