Audi S8 (2017-2021)
Sold in the USA = 2017-2021
Status =

Major Changes Done to 2022 Year Model

Overall Rating =

8.5/10
Audi S8 Price in USA in 2021
The Audi S8 has established itself as a prominent competitor in the automotive market since its introduction in 1996. With the current S8 model belonging to the third generation that debuted in 2012, it has consistently maintained a strong reputation and continues to embody the fusion of luxury and performance that defines the S8. Audi, traditionally perceived as serene and lacking in speed and excitement, challenged these notions by introducing the S8. This marked a significant shift for the brand, showcasing their dedication to creating a vehicle that offers both comfort and exhilarating driving experiences. Throughout the generations, Audi has implemented notable improvements to elevate the S8 to new levels of sportiness and executive refinement. The current S8, in particular, surpasses its predecessors with a range of advanced features and technologies that set it apart.
The S8 showcases a sleek and sophisticated exterior design, enhanced by subtle yet distinct styling cues that highlight its performance-oriented nature. Inside the cabin, meticulous attention to detail is evident, with the use of luxurious materials and impeccable craftsmanship creating an atmosphere of opulence and comfort. Beneath its hood, the S8 houses a powerful engine that delivers impressive performance, enabling exhilarating acceleration and seamless handling. Through the integration of cutting-edge engineering and innovative technologies, the S8 maintains its agility and dynamic capabilities regardless of road conditions or driving scenarios. Furthermore, Audi has equipped the S8 with an impressive array of advanced driver-assistance systems and safety features. These enhancements not only enhance the overall driving experience but also ensure maximum protection for both the driver and passengers.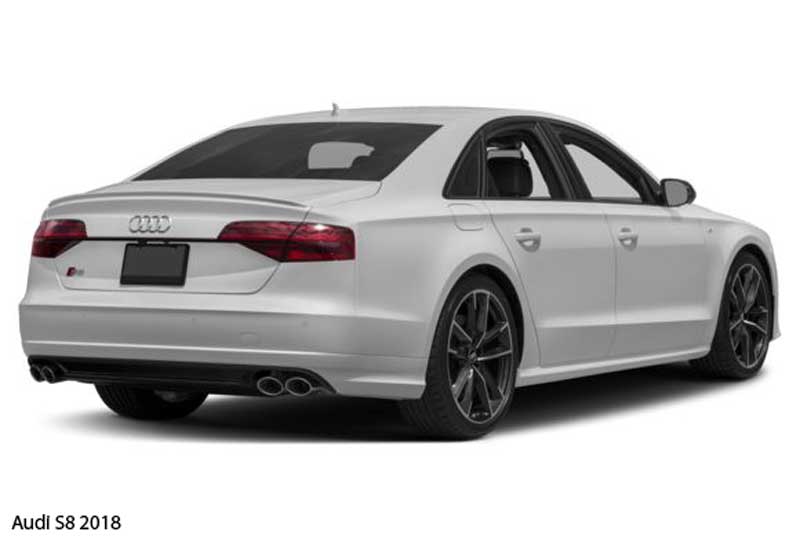 Audi S8 Trims & Packages:



The Audi S8 presents a range of trims and variants that can be customized to cater to diverse preferences and requirements. While the specific trims and variants may differ based on factors such as the model year and regional availability, here are some common options found in the Audi S8 lineup:
Standard Trim: The base trim of the Audi S8 typically offers an extensive array of features and technologies, providing a high level of luxury, performance, and comfort as a starting point for customers.
Executive Package: This package enhances the S8's luxury and convenience with additional premium features and amenities. It may include upgrades such as superior leather upholstery, extended leather trim, advanced driver-assistance systems, upgraded audio systems, and other luxurious enhancements.
Performance Package: Tailored for enthusiasts seeking heightened performance, the Performance Package offers various enhancements. These may comprise sport-tuned suspensions, performance brakes, upgraded exhaust systems, and other performance-focused features to elevate the driving experience.
Black Optic Package: With a focus on a sporty and aggressive aesthetic, the Black Optic Package introduces blacked-out exterior elements. These can include black wheels, a black grille, and black exterior trim, contributing to a bolder and more exclusive appearance for the S8.
Dynamic Package: The Dynamic Package emphasizes improvements in driving dynamics and performance. It may incorporate features such as dynamic steering, adaptive air suspensions, sport differentials, and other enhancements geared toward optimizing the S8's overall performance capabilities.
Individual Customization: Audi provides options for individual customization, enabling customers to personalize their S8 according to their specific preferences. This can encompass unique exterior paint colors, distinctive interior trim options, and exclusive features selected from Audi's extensive range of customization choices.
It is important to note that the availability of specific trims and packages can vary depending on the model year and regional specifications. To obtain accurate and up-to-date information regarding the available trims and variants for a particular model year, it is advisable to consult with an authorized Audi dealership or refer to the official Audi website.
The Audi S8's Notable Updates and Changes Over the Years:
The Audi S8 has seen significant updates and changes over the years. Here is a summary of the key updates for different model years:
2018: The 2018 Audi S8 remained unchanged, signaling the conclusion of the third-generation S8. The base A8 platform was set for a redesign in 2019.
2020: After skipping the 2019 model year, the 2020 Audi S8 made a comeback with a complete redesign. It showcased updated styling, an upgraded powertrain, and new technological advancements. Inside, the S8 boasted luxurious features like a digital dashboard, premium interior materials, and front seats with massage functionality. Optional packages such as the Cold Weather and Executive packages offered additional amenities such as heated armrests, heated rear seats, adaptive windshield wipers, laser headlights, blind-spot monitoring, and animated OLED taillights.
2021: Following its 2020 redesign, the 2021 Audi S8 experienced minimal changes. Standard equipment now included 21-inch wheels, summer tires, and heated armrests for front-seat passengers. The Black Optic package received an updated 21-inch wheel design. The S8 continued to deliver opulent comfort and impressive performance, with optional packages like Cold Weather and Executive further enhancing the driving experience by incorporating advanced safety features and added convenience.
Throughout its evolution, the Audi S8 has embraced fresh designs, modern powertrains, and advanced technologies to meet the demands of luxury car enthusiasts and elevate the overall driving experience.
The Captivating Design of the Audi S8:
The aesthetic appeal of a car plays a crucial role in attracting users, and Audi has always excelled in this aspect. The Audi S8, in particular, boasts a stunning exterior design that captivates onlookers. It incorporates key elements such as a front carbon fiber splitter, carbon air intake inlets, and a black grill, which contribute to its commanding presence on the road. The rear side of the S8 is equally striking, featuring a carbon boot lip, smoke rear lights, and two black twin pipes that form part of the sport exhaust system. These design elements combine to create a visually distinctive and sporty appearance.
The allure of the S8 extends to its interior, which is thoughtfully crafted and exudes a sense of composure and beauty. The seats are adorned with alcantara, a luxurious and durable material that enhances both comfort and aesthetics. The inclusion of specific red stitching throughout the interior further accentuates the attention to detail and adds a touch of elegance. The interior of the S8 exemplifies Audi's commitment to creating an exquisite and visually pleasing environment for both the driver and passengers.
Balancing Sportiness and Comfort:
The Audi S8, like other Audi models, features air suspensions that provide the driver with the ability to switch between Comfort and Sport modes. However, it's important to note that the Comfort mode in the S8 leans towards the firm side, prioritizing sportiness over a plush and cushioned ride. As a result, while driving the S8, you may experience more pronounced bumps and road imperfections compared to a vehicle with a softer suspension setup.
Despite the slightly firmer ride, the seats in the S8 are exceptionally comfortable and supportive. Audi has paid meticulous attention to the ergonomics and design of the seats, ensuring that occupants can enjoy a pleasant and fatigue-free driving experience. However, it's worth mentioning that rear-seat passengers might encounter some legroom limitations, which can vary depending on individual preferences and body proportions. On the positive side, the S8 offers ample headroom, surpassing the standards set by many other vehicles in its class.
While the S8 may not deliver an exceptionally smooth ride due to its sporty suspension tuning, the interior of the vehicle compensates for this with its remarkable quietness and calmness. Audi has implemented advanced noise cancellation technology to minimize unwanted noise and vibrations inside the cabin. This technology effectively isolates the occupants from external disturbances, creating a serene and tranquil environment. Whether you're cruising on the highway or navigating through busy city streets, the S8 ensures that you can enjoy a peaceful and refined driving experience.
Engine and Performance:
Under the hood of the Audi S8 lies a formidable 4.0L twin-turbocharged V8 engine. This powerhouse generates an impressive output of 605 horsepower, delivering exhilarating acceleration and remarkable performance. With a torque of 700Nm at 1750Rpm, the S8 effortlessly surges forward with an incredible burst of power. The performance figures of the Audi S8 are truly remarkable. With its V8 engine propelling it forward, this luxury sedan can achieve a top speed of 190 miles per hour, showcasing its capability to conquer open roads with authority. Additionally, the S8 boasts an impressive acceleration time, sprinting from 0 to 60 miles per hour in just 3.3 to 3.7 seconds, as officially reported by Audi. This blistering speed and responsiveness make the S8 an exhilarating driving experience that sets pulses racing.
To complement the powerful V8 engine, the Audi S8 is equipped with an 8-speed Tiptronic transmission developed by ZF. This transmission seamlessly transfers power to the wheels, providing quick and precise gear shifts. The combination of the V8 engine and the advanced transmission results in an engaging and dynamic driving experience, with the S8 delivering solid performance and responsive acceleration when the driver demands it. The Audi S8's handling capabilities are equally impressive. The integration of air suspensions plays a vital role in ensuring excellent cornering performance. These air suspensions allow the S8 to tackle corners with remarkable efficiency and agility, providing stability and precision during spirited driving. Whether navigating tight bends or cruising along winding roads, the S8's handling inspires confidence, making it an exceptional vehicle that offers a thrilling and enjoyable driving experience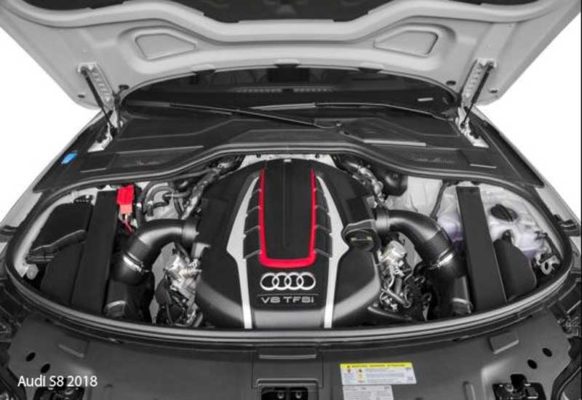 Verdict:
The Audi S8 has consistently proven itself as a formidable competitor in the luxury sedan market. With its fusion of luxury and performance, the S8 delivers an exceptional driving experience. The sleek exterior design, luxurious interior, and advanced technologies set it apart from its rivals. The powerful engine and responsive handling provide exhilarating acceleration and agile maneuverability. The S8 offers a range of trims and packages, allowing for customization to suit individual preferences. While the ride may be slightly firmer due to sporty suspension tuning, the S8 compensates with a serene and quiet interior. With its remarkable performance, refined design, and cutting-edge features, the Audi S8 is a standout luxury sedan that delivers on both comfort and excitement.
Prominent Rivals: Luxury Performance Sedans Challenging the Audi S8:
The Audi S8 faces robust competition from various luxury performance sedans in the market. Here are some notable contenders:
Mercedes-AMG S63: As the high-performance variant of the Mercedes-Benz S-Class, the Mercedes-AMG S63 impresses with its commanding engine, lavish interior, and advanced technologies.
BMW M760i: Positioned as the flagship performance model within the BMW 7 Series lineup, the BMW M760i seamlessly blends luxury and impressive performance. It showcases a potent engine, advanced driving dynamics, and a refined interior.
Porsche Panamera Turbo: With its status as a luxury sports sedan, the Porsche Panamera Turbo delivers exhilarating performance accompanied by a spacious interior. It offers a selection of powerful engines, precise handling, and impeccable craftsmanship.
Jaguar XJR: Renowned for its distinctive styling, refined interior, and formidable performance, the Jaguar XJR presents a luxury sedan that harmonizes comfort, elegance, and engaging driving dynamics.
Maserati Quattroporte GTS: Exuding Italian flair, the Maserati Quattroporte GTS stands as a high-performance luxury sedan. It boasts a commanding engine, sophisticated design, and a sumptuous interior that radiates opulence.
Lexus LS F Sport: Serving as the performance-oriented variant of the Lexus LS flagship sedan, the Lexus LS F Sport seamlessly combines luxury, comfort, and advanced technologies with sporty design elements and enhanced driving dynamics.
These competitors provide compelling alternatives to the Audi S8, offering a captivating fusion of performance, luxury, and distinctive characteristics that cater to the discerning preferences of luxury car enthusiasts.