2023 BMW i4 EV
Sold in Pakistan:

2022-Present

1st Generation
2023 BMW i4 Price in Pakistan
BMW i4 eDrive40

20,250,000

PKR
BMW i4 M50

26,000,000

PKR
The BMW i4 is an all-electric sedan launched in 2021 and first debuted in 2017 at the Frankfurt Motor Show. It is assembled in Germany and designed by LimSeung-mo. It is a front and rear motor 5-door liftback sedan that offers an all-wheel-drive feature. Dewan Motors is the exclusive importer of BMW in Pakistan, bringing all futuristic technology to Pakistan. The first all-electric Coupe by BMW gives you extraordinary performance with an impressive range of up to 585 kilometers. It is the best choice for making your driving experience memorable, perfect for both long-route travels and everyday commutes. The optimized aerodynamics of the BMW i4 gives you a high level of agility, and the cabin is made spacious to provide you with generous headroom and legroom. The fine-tuned suspension ensures precision on trips so you can enjoy a comfortable ride. The charging of your BMW i4 is made easy by providing a wall box installation service for charging at home, and there are 450,000 charging points of BMW worldwide that provide ultra-fast charging. BMW provides you with a new era of technology where athletic design is given an innovative, electrifying forward thrust.  Official BMW i4 Launched in 2022 in Pakistan.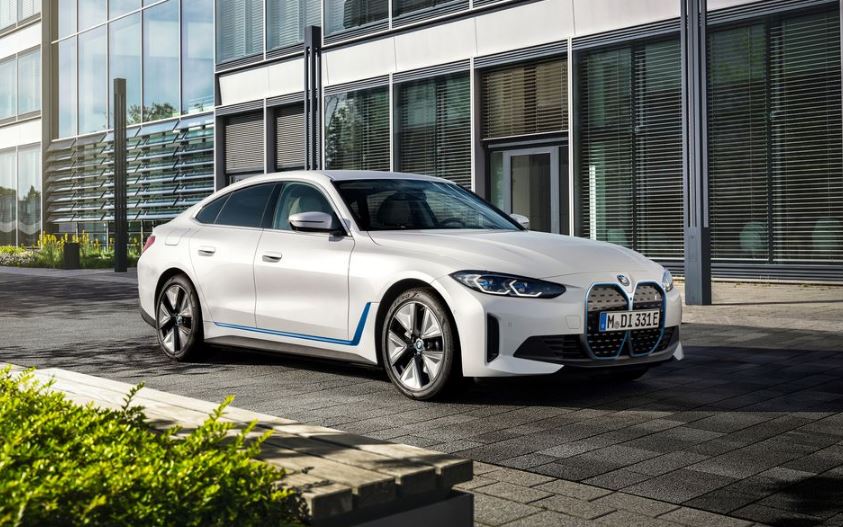 Trims & Variants:
The BMW i4 will be available in two variants that are eDrive40 and M50. The difference in both variants occurs in power generation, and the BMW i4 M50 produces more power than BMW i4 eDrive40. The driving ranges also differ in both variants. You can also select the Sport or M Sport package with larger wheels and an aggressive body kit. The all-wheel-drive feature is also given in the M50 variant.
Powertrain & Battery Capacity:
The BMW i4 eDrive40 gets its power from an electric motor backed by an 80.7 kWh battery; it produces 340 hp of power and 430 Nm of torque. The BMW i4 M50 generates 554 hp of power and 795 Nm of torque, and it gives you an all-wheel-drive feature while the eDrive40 gives you a rear-wheel-drive. The battery packs in the BMW i4 have a 30 percent density improvement compared to the BMW i3, and it claims to give an extra 100 miles on charging for 10 minutes only. The AC chargers take 8.5 hours to fully charge the battery, while the DC chargers take 31 minutes to charge the battery to eighty percent.
Performance & Drive:
The eDrive40 version of the BMW i4 comes with a single electric motor mounted at the rear, and the M50 comes with dual electric motors. Both models deliver exceptional power and performance. The dual motors supply power to all four wheels and ensure maximum traction, limiting wheel slip and focusing sporty dynamics. The adaptive M suspension in BMW i4M50 makes the ride even smoother and comfortably takes you through all bumps and uneven roads. The variable sport steering has an exceptional grip. It comes with various driving modes, among which the Sport Boost mode provides an extra 68 hp of power and creates a thrilling sporty driving experience. The steering wheel gives you an agile steering response and ensures the least effort required to turn the car. It improves the handling maneuvers and gives you extra confidence to park the car. The acceleration of the BMW i4 is impressive, and the eDrive40 takes 5.7 seconds to sprint from 0 to 62 miles per hour, while the Sport Boost driving mode can accelerate from 0 to 62 miles per hour in 3.9 seconds with a top speed of 140 kilometers per hour. The sporty DNA of the electric BMW is capable of fast straight-line acceleration. You will be offered a Driving Assistant Professional package that assists you like a co-pilot and prepares your car for changing lanes, taking over the steering, and creating an emergency lane automatically. You are given a smart-wall box with a charging power of 22 kW that can be installed in the home and controlled online. It is an easy and convenient way of charging your car batteries at home. The BMW eDrive40 gives you a range of 590 kilometers with a consumption of 20 kWh power per 100 kilometers driven. In comparison, the M50 gives you a driving range of up to 510 kilometers with a consumption of 24 kWh of power per 100 kilometers driven.
Exterior Design & Features:
The front end of the BMW i4 has expansive closed surfaces and precise lines with black inlay and vertical side openings. The kidney-shaped grille comes with blue borders and a blue ring around the BMW logo that characterize its innovative technology. The flat contoured headlights look outclass, and the rear lights are also slender with horizontal lines that come with large LED lights to brighten the roads. The horizontal taillights and chunky tailgate create the horizontal impression of the rear end. The higher-end trims come with twenty-inch alloy wheels with double-spoke style and sport tires that look eye-catching and provide exceptional road grip.
Interior Design & Features:
You will find luxury and comfort when you move inside the BMW i4. Every feature is aligned according to the driver's needs and the passenger's comfort. The intuitive operating concept and high quality of materials used inside the cabin make it extra appealing. The seats are covered with Oyster Vernasca leather, giving them high quality with decorative stitching and cutting-edge technology. The rear seats are spacious to accommodate three passengers comfortably, and the luggage compartment provides 470 liters of loading space, which can be increased by folding the rear seats. The BMW Curved Display introduced in the BMW i4; adds curved display screens to the vehicle's cockpit, creating modern touch. Every function is virtually controlled, and even the air conditioning system can be accessed through touch screens. There is a 12.3 inches screen that acts as an instrument cluster and a 14.9 inches touch screen for an infotainment system that comes with Smartphone connectivity. You can control the functions conveniently through the BMW iDrive system supported by BMW Operating system 8. The M50 offers an M leather steering wheel, Alcantara seats with blue stitching, bolstered seats, and BMW iconic sounds.
Safety &  Features:
Some of the safety features of the BMW i4 are as follows:
Parking Assist Plus: it parks your car and takes it out of the parking space conveniently.
Driving Assistant Professional
Lane Change Assist.
Emergency Lane Assist
Adaptive cruise control
Blind-spot monitoring system
Forward collision warning alarm
360-degree camera
Head-up display
Major Competitors: