2000-2012 Daihatsu Cuore (L500 Series)
Status: Discontinued (from 2012 to Onward)
Last Price: 7,15,907 PKR
What's New and What is Difference
When a car gets success and becomes a way to get profit for the company then the company mostly involve strategies with that car to maximize its profit. Same here with one of the Models of Daihatsu which is Cuore if we see the history of this car its been started in about 1950 its not confirmed still and I didn't found more then this. From 1950 to 2016 Many changes have been made to Cuore and this is quite a known car around the world. In 2016 about Six versions of Daihatsu Cuore being released that are given below all version have same engine capacity produces the same horsepower Near about same external look only thing that differentiates among these are features which are different in different versions. All the specifications and features about the Cuore car are given below and differences among these cars can be found by adding them to compare list. Only one important thing that is important to mention here is that this car is not available in Pakistan and also not released in Pakistan.   It can be imported from Japan which includes taxes and other expenses so the exact price of this car in Pakistan cannot be determined. This one is also available in other countries with different prices and soon all the prices and details related to this car uploaded on this website.
Detailed Overview & Review of Daihatsu Cuore
Daihatsu Cuore has maintained a 26 years old history throughout the world. Daihatsu is one of the oldest and most durable Japanese automobile manufacturers offering superior Japanese technology with consistent reliability and performance. In Pakistan, the Daihatsu Company is under Toyota Company because no sole dealer is available for Daihatsu. Daihatsu gathers its popularity more in Asian markets as compared to European and other markets. Cuore made its way to Pakistan in 2000. It was available in two variants including CL and CX. Daihatsu stopped the production of Cuore in Pakistan in 2012 and in twelve years Cuore made a history breaking record in Pakistan and it became one of the most popular cars of the Pakistani automobile industry. Cuore is still the favourite car of our country and we can see many of them running successfully on the roads of our country even today. The 2012 model of Daihatsu Cuore was priced around 7.5 lacs Pakistani rupees. The new model introduced in 2016 (import 2016 Manufactured in 2012 japan) of Cuore was a cheap family budget car with many new advanced features. This mini family car is equipped with 847 cc three-cylinder engine with five-speed gearbox manual transmission and three-speed CVT generating a 40bhp horsepower at 5500rpm. It can easily cover a mileage of ten kilometres per litre giving an approximate range of 320 kilometres with a tank filled with 32 litres of petrol. Other than this it provides all standard safety features including three points emergency locking retractors for front and back passengers, its advanced side impact bar design protects from collisions from the side, seat belts for passengers and a reliable braking system that will keep you safe in journeys. It is one of the best Japanese imported car available in a very cheap price range from 8 to 10 lacs Pakistani rupees. It provides better suspension and smooth controlled steering along with the good quality of performance on roads.
Exterior Design & features:
This new model of Cuore has an elegant design with a metallic body that is durable and resistant for all kind of weathers. It comes in different exterior colours among which white, silver, blue, black and red are most demanding. The front headlights are smaller in size and the company's logo is encrypted on the front grille.it offers 12 inches steel wheels that give a very decent look to the car. It also offers fog lights along with wipers at front and trendy shaped side mirrors.
Interior Design & features:
The interior design is as simple as the exterior with a high quality of material used inside the cabin. It provides all basic features including air conditioning and heating system, a high definition sound system with a media player, sitting capacity for five persons with fabric upholstery, independent suspension and rack and pinion steering with hydraulic pump.
Reviews
Pros:
Daihatsu Cuore provides a comfortable and smooth drive. Handling of car and road grip is also good with satisfactory ground clearance. Steering is semi power steering which is easy in handling and it does not come in its competitors. It provides very strong suspension and thus gives very few issues while driving. It is a very reliable car and you will not face any major issue in its engine, suspension or axles soon. Driver's seat is much comfortable than the competitors. It offers a powerful air conditioning system for your comfort and luxury. The braking system provided by Cuore is also very good and reliable and it makes your journey safe. If you are searching for a mini-city car especially for ladies and students then Cuore is none other than on top of your list. Lastly one of the major plus points of the car is its less cost value and favourable maintenance value giving a good resale value for the car.
Cons:
One of the major drawbacks in this model is its outdated design and features. As we all know that latest and new models are coming in our country especially a race of newly introduced 660cc budget cars is going to start in the country so this outdated model will be less demanded by the public. The interior and exterior design of the car is very old with a noisy cabin. The rear seats are not provided with seat belts that make it a little unsafe. It does not offer a good fuel economy and it is not that much comfortable to make it suitable for long route journeys. There is no entertainment in the cabin except for the FM radio and no other accessories are provided. It does not provide power windows, power steering and keyless entry to the car. On the other hand, many advanced safety features are also missing in it including air bags, ABS, blind-spot detection, rear view cameras and much more.
Major competitors:
The new Cuore has to face major competition from our all favourite Suzuki Mehran, Suzuki Alto, Suzuki Cultus, Hyundai Santro and today all-new 660cc budget-friendly cars are there to give a big rivalry term to Cuore.
Conclusion:
Daihatsu Cuore model was a very demanding car of our country but due to changes in technology and advancement, many new latest models are available in the market with cheaper rates and more advanced features. On the other hand, all the upcoming companies are making their debuts in Pakistan so we have no idea on their reliability, durability and maintenance value but Daihatsu Cuore has run a successful business because of its durability, reliability, average resale value, all basic features and cheap price so it is still the preference of many people while going to buy used mini-budget car.
Cuore Upgraded & now Known as MIRA: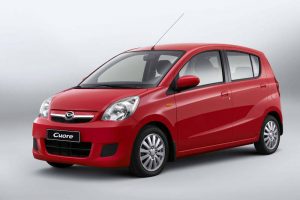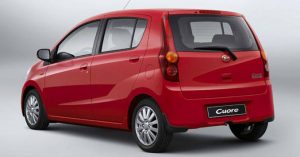 Other Versions: