Honda Freed Minivan
Honda Freed was launched by Honda in Japan during the year 2008. Honda Freed falls under the compact minivan category and replaced Honda Mobilio with its launch. Honda Freed is constructed on Honda Fit platform. MPV minivans are useful to large families as it can fit handful amount of people. Along with that the minivans have access of space for carrying out daily utilities and heading out on a drive outside the city during the weekend. Plenty of room and space inside makes it easier to haul around with luggage and camping equipment. But let's not get carried away since the main purpose of MPV is to carry the kids around and do big grocery store visits. To sum it up MPV minivans are excellent daily driven vehicles for families looking for economical option in vehicle range.
Engine & Power:
Honda Freed carries the same engine as Honda City which is 1.5L L15A I4 engine. This enables the Honda Freed to move around carrying 118 hp and 148 NM of Torque from wheels. However the same engine in City is responsible for delivering 120 hp but torque decreased to 145 NM. Later models as of late 2015 and 2016 Honda Freed engine was upgraded to 140 hp which makes it good cruiser. As for the transmission Honda Freed comes with 7-speed CVT automatic transmission.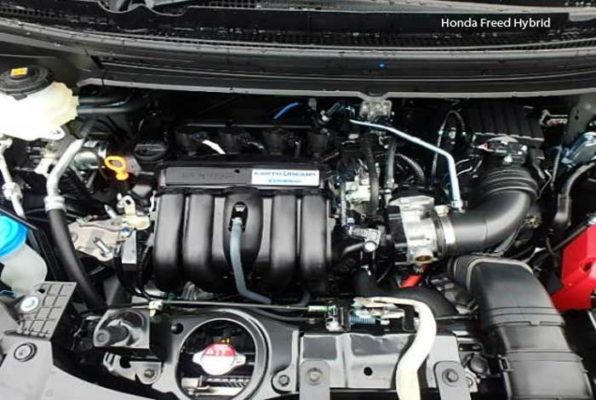 Trims & Packages in Honda Freed:
Honda Freed comes with mainly two different trims for standard use. The standard trim has 3-row seating making room for 8 people. However the higher trim known as Freed+ comes with 2 row seating carrying captain's seat at the 2nd row as well. There is another Wheelchair accessible version in Honda Freed.
Exterior Photos: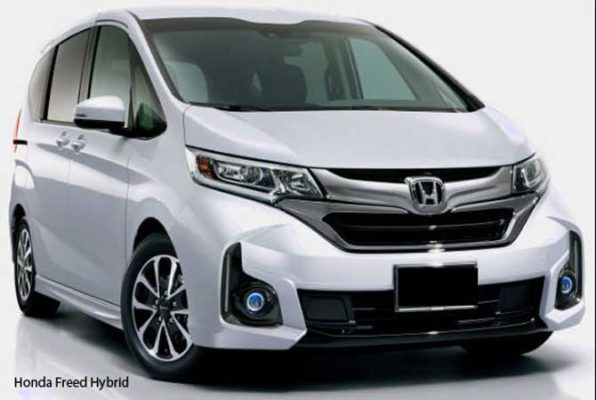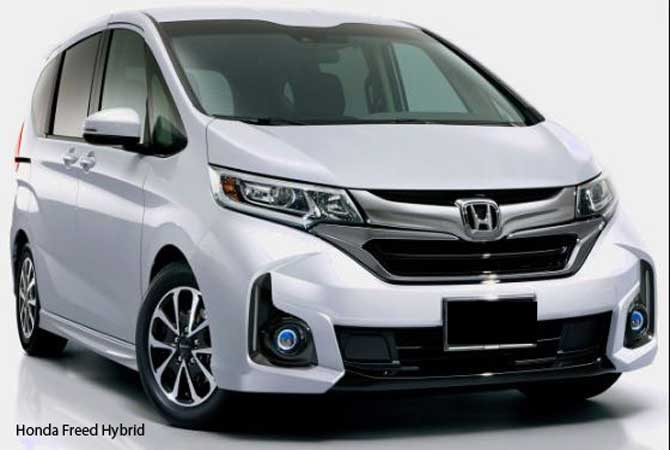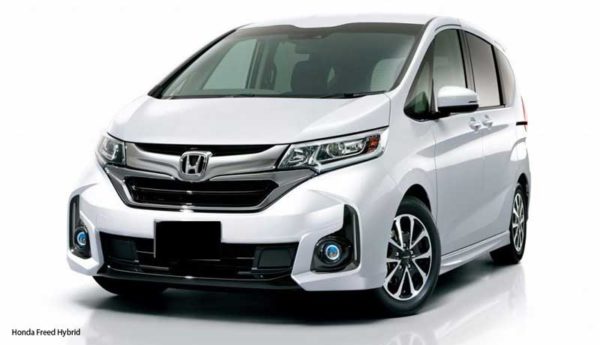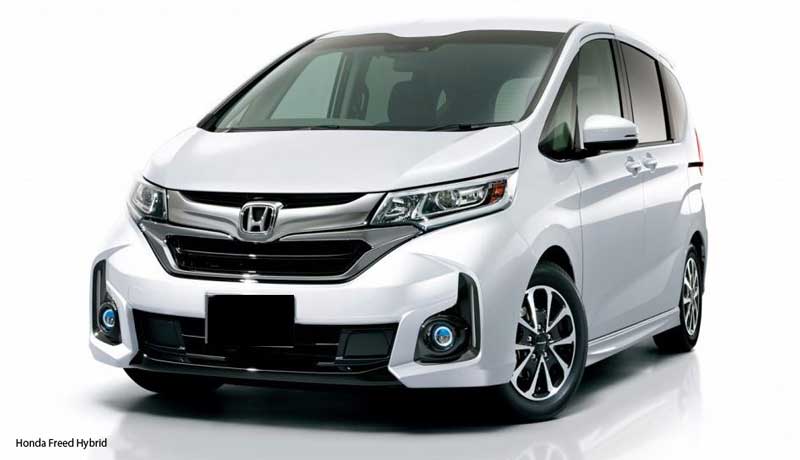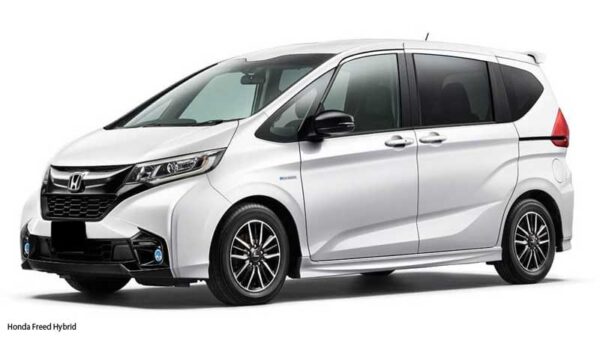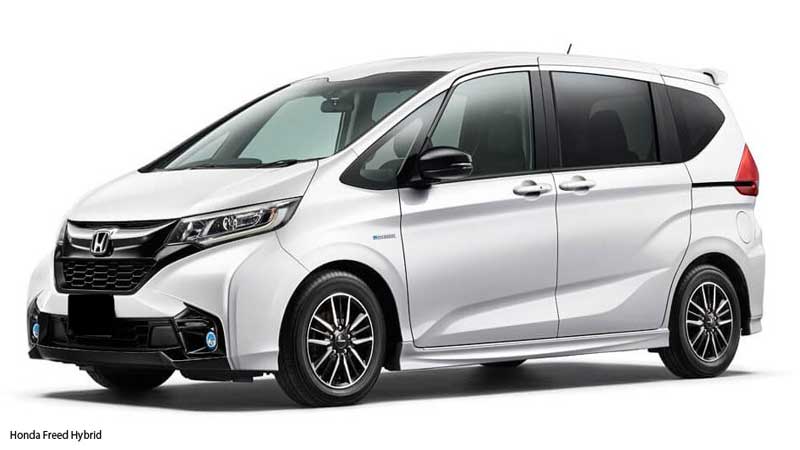 According to Honda, Freed has the largest cabin out there in compact minivan MPV category overall. That combined with the low floors and higher roof can accommodate taller objects easily. The rear seats are entirely foldable making it a bed for you to sleep while stealth camping. Honda offers Freed in 3 different colors for the interior. Speaking of interior the Honda Freed carries its mark of satisfactory good interior as compared to its Toyota, Nissan and Kia rivals.
 Honda in past has always one up in terms of interior styling and finishing which they carry in Honda Freed too. In middle of the dashboard you have a navigation screen at an upstanding angle. The interior is fitted with soft touch materials and bare plastic is to be found at very few places in trim pieces. The cabin overall carries smooth vibes from the door pieces to the dashboard and headliner. Passenger seat at front has a little mini-shelf type area for cup holder and placing some objects during the commute whereas the gear is mounted just below the infotainment panel saving the space beneath, thus giving a roomy vibe to overall space. Head and leg space as you'd expect in a minivan are sufficient for adults.
Interior Photos: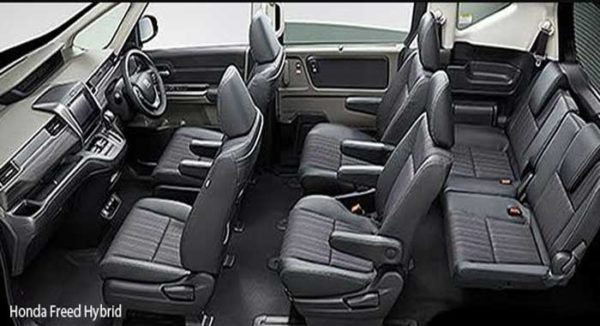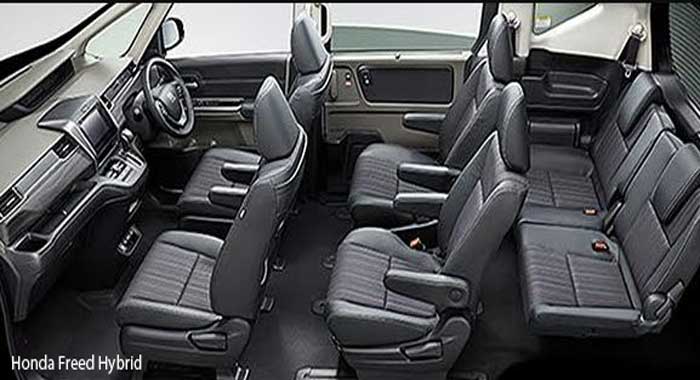 Honda Freed is equipped with many features and options such as power door locks, power windows, power mirrors, and rear viper. In order to upscale the riding experience the Honda Freed has rear ac vents, climate control, front and rear speakers, arm rests for seats, and a defogger. It comes with airbags for the safety, ABS, traction control, keyless entry, cruise control, immobilizer and steering switches.
Why to Purchase Honda Freed:
When shopping for a minivan; utility and space is always the number one priority on the list however if that can be combined with the factor of greater fuel economy, it ads much more to the value of vehicle. Honda Freed is such fine example of utility combined with good fuel average. According to the practical user information and reviews, Freed does about 19-20 km to a liter driving on local roads which to me is quite impressive with small 1.5L engine. Honda Freed is directly competitor to Toyota Sienta which is also based on Toyota's famous platform for Toyota Vitz.
Pricing:
Freed and Sienta both carry much similar specs and pricing however the Sienta has less to offer in terms of performance but more fuel economy. Honda Freed in 2016 coasted around 1.88 million Yen which translates to roughly $18,000, therefore making the Honda Freed a budget pocket friendly MPV minivan.