2023 Honda BRV 
Sold in Pakistan = 2018-Present
1st Generation
2023 Honda BRV Price in Pakistan
Price Effective from 14-March-2023
Honda BR-V I-Vtec MT
(

Discontinued

)
Honda BR-V I-Vtec
(

Discontinued

)
Honda BR-V I-Vtec S

6,529,000 PKR 
The Honda BR-V is a subcompact crossover MPV that has been manufactured by Honda since 2016. The car shares its platform with the second-generation Mobilio, which is based on the lengthened Brio platform. The BR-V sits below the HR-V and is sold in Brunei, India, Indonesia, Malaysia, Mexico, Nepal, Pakistan, the Philippines, South Africa, and Thailand.
Finally, after years there has been started development in the Pakistani automobile sector, companies in Pakistan have started to develop vehicles other than sedans and hatchbacks. Honda BRV is another vehicle that is not an SUV but an MPV (multi-purpose vehicle) with 7 seats whatever the pros and cons of the vehicle thanks to at least Pakistani "nationalists" having another option to select for their families other than Bolan. There were no options in this segment and the available ones were so much more expensive, this is a good step taken by Honda as the price of a vehicle is still a little high but there is no doubt it will give little relief to Pakistani families now they have another vehicle in which they can sit and travel together.
Trims & Versions:
Honda BRV is available in three different versions in Pakistan including;
Honda BR-V I-Vtec MT = (

Discontinued

)
Honda BR-V I-Vtec = (

Discontinued

)
Honda BR-V I-Vtec S =

6,529,000

/- PKR 
The Major Differences among the versions are the Transmission and interior features while the complete list of features can be seen in the specifications and features section.
Exterior Design & Features:
The design of the vehicle is not so much impressive as SUVs, it is an average-looking vehicle that is designed to full fill the purpose only. If you found this vehicle without a badge you will be able to determine that this is of Honda's company because its exterior looks more like a combination of Civic and City.  One important thing that is new to the design of this Honda vehicle is the ground clearance as all other cars of the company have low ground clearance while this one has enough to travel off-road. The overall exterior design of the vehicle is fine but not extraordinary as this is an MPV and expecting more from MPV built in Pakistan is not a good thought.
Interior Design & Features:
Moving inside the BRV the first thing you notice is a lot of plastic that is everywhere on the doors, dashboard, steering wheel, and transmission. Again like its exterior if you are familiar with the city and civic interior then you will surely find out that it is a combination of both, Right in front of the driver, it has simple meters that give the usual information as we see in other vehicles not much information usually found in advance and expensive vehicles. It has an infotainment screen as well that is also of the old generation and didn't have advanced techs like android auto or apple car play.
Engine & Power:
This is not a performance-oriented vehicle; it is a simple vehicle that full fills the purpose. It has been loaded with a 1.5 Liter four-cylinder engine that produces 117 horsepower )@6,600 rpm with a maximum torque of  145(14.8)@4,600 which is not good but enough for traveling in the city and to some extent for off-road journeys. The top speed of the vehicle is 180 KM/H and doing 0-100 will take about 15 seconds which clearly defines the capability of the vehicle.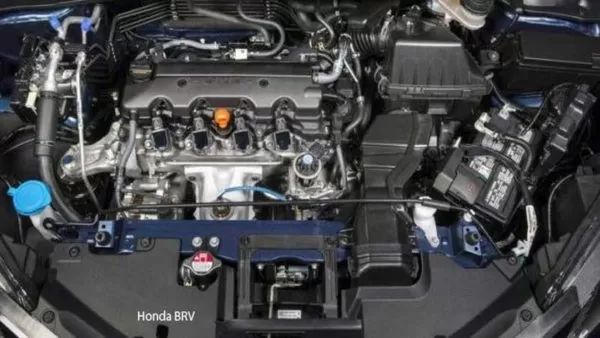 Comfort & Safety:
The Comfort zone of the vehicle is okay as we Pakistanis didn't expect much from local build vehicles, seats are fine and at least have a position-adjusting option otherwise even the center armrests are not present on the front and rear. As mentioned it is a seven-seated vehicle but if we talk about adjusting adults then it is a six-seated vehicle because on the second row adjusting 3 adults comfortably is not possible. For passengers on the 2nd row, the only thing in their favor is the head and legroom at least they can expand their legs on long journeys. It has a climate control air conditioner that has a nice air throw for front seats and for rear passengers, there have been given air vents on the roof that are okay but may not be good enough on a hot sunny day especially if there sit 7 passengers altogether.
Safety:
From the safety point of view if we compare this to the vehicles in the international market then there is not even a 10 percent chance of being approved for driving because the basic safety features are missing like airbags for all passengers are not present, only one airbag is present for driver embedded in the steering wheel and only other safety feature present in this vehicle is ABS brakes.
Pros & Cons:
Pros:
Cheapest 7 Seater
Moderate Resale
Reliable
Ride Quality & Handling is fine
Better Luggage space
Cons:
Cabin Noise
Not a Crossover or an SUV
Not a True 7 seater
Not value to money because the same price bracket offers better options
Low Build Quality
Old Generation
The seats are not Much Comfortable
2 Trims has Discontinued
Major Competitors:
Conclusion:
This Honda BRV I-VTEC is made only to full fill the purpose, the number of safety, and other features in-vehicle do not match the price tag which is why the price of the vehicle is considerably high. The only reason that can make it successful in Pakistan is "having no competition in this segment and only alternative vehicle to Suzuki Bolan for adjusting seven members"
Must write your reviews Related to Honda BRV-I-VTEC, complete specifications, and features are also added for further assistance.