JMC Vigus
Jiangling Motors Corporation Limited made the JMC Vigus with 4×2 and 4×4 double cabin options offering both manual and automatic transmission which entered the Australian markets in 2016 but unfortunately left the automobile markets in 2018 due to low sales while in the same time it made a wonderful entry in Pakistani automobile markets too and is still being loved by the customers despite being having big competition from its competitors. It is importing its vehicles to more than 110 countries. 2020 JMC Vigus is available in two trim levels that include 4×2 double cabin diesel engine trim and 4×4 double cabin diesel engine trim. Both trims are available in manual transmission only with five gear shifts.
Engine and performance:
JMC Vigus 4×4 and JMC Vigus 4×2 Double cabin are powered by 2400 cc DOHC sixteen Valve four inline diesel common rail type engine generating engine power of 120 hp at 3600 rpm and torque of 290 Nm at 1800 rpm. It offers a top speed of 220 kilometers per hour with a smooth drive being assured by Macpherson Strut axles on front suspension and torsion beam on rear. It has a fuel tank capacity of 68 liters and consume eight liters of diesel per 100 kilometers of distance travelled. Rack and pinion hydraulic pump steering controls the vehicle very smoothly with a minimum turning radius of 7.1 meters. This mid-size pickup truck is a front engine vehicle with four wheel drive option making the drive very easy and convenient in extreme weather conditions and off roads rough pathways   especially hill descend and traction control is made very easy by the help of its wonderful road grip. Anti-braking system gives you control on your drive and ensures a smooth and powerful break even letting less skillful drivers to drive the vehicle.
Exterior design and features:
This mid-size pickup truck is 1815 millimeters in height, 5325 millimeters in length, 1906 millimeters in width and have a wheel base of 2770 millimeters. It has a kerb weight of 1955 kilograms and this four door car offers a seating capacity for five persons. Sixteen inches alloy wheels give a gigantic look to its appearance apart from showing a wonderful road grip. Front fascia is made impressive with aggressively imparted LED headlights provided with daytime running lights and fog lights to assist you when you're driving in extreme weather conditions. Rear is an open cabin for carrying enough amount of luggage and even can carry passengers as per needed.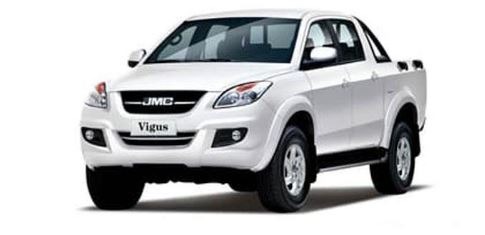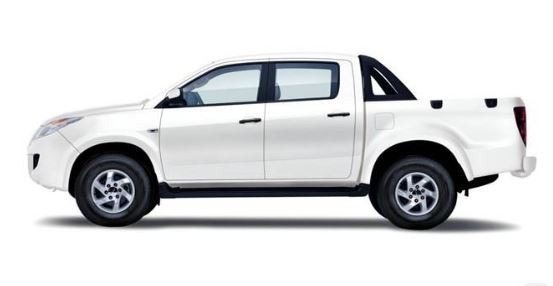 Interior design and features:
It is a four door cabin with options of both 4×2 and 4×4 passenger options and the seats are sufficiently comfortable to enjoy your long route journeys. It is provided with central locking system, key less entry, immobilizer and child lock safety system. It features power windows along with power door locks, power side mirrors and power steering for your assistance. Fog lights along with defogger and defroster will ensure a safe drive in extreme foggy weathers. It is also equipped with air conditioning and heating system for giving you a relaxing journey even at long routes.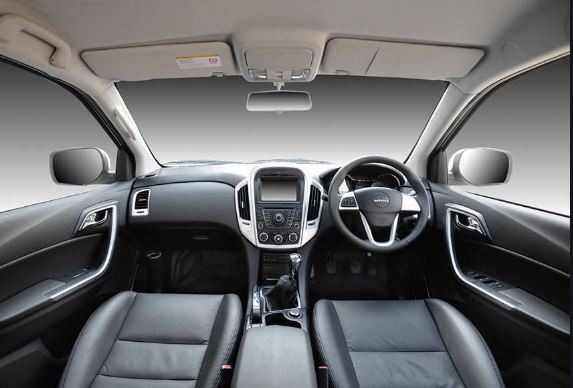 Interior lighting system enlightens the cabin brightly when needed. Rear camera assists you in parking and reversing easily while two air bags protects the passengers during a collision. CD player and USB along with Auxiliary cable entertains your journey as per your customized settings and personalization. The instrumental cluster is also equipped with navigation system helping you finding your way through accurate GPS maps. It also features all basic safety features helping to make your ride safe and sound. Some of the features include Anti-lock braking system, traction control, front air bags, and rear view camera for safe parking, power door locks and central locking system.
Major rivals:
It is price at a very affordable price as compared to its rivals but the competitors are equipped with more advance features. Some of the competitors include Isuzu D-Max, JAC T6, Toyota Hilux, Toyota Tacoma and Nissan Navara.
Price:
The 4×2 Double cabin of JMC Vigus is priced at 30.99 lacs Pakistani rupees while the 4×4 Double Cabin JMC Vigus comes with a price tag of 35.99 lacs Pakistani rupees and a warranty for five years or hundred thousand kilometers driven.