Kia Sportage 2020
Kia Sportage made  first debut in 2016 and the fourth generation of Sportage has been launched in August 2019 as the model for 2020. The 2020 model comes with innovation and versatility providing ultimate comfort and efficiency. This much loved SUV has been brought back to Pakistan by Yunus Brother Groups and the fourth generation of Sportage exhibits new fascial features with a wide range of upgraded features and powerful engine. It has been launched all over the world and ranked on number twenty among other crossover SUVs because of its distinctive looks, strong infotainment system, good ride and optional turbo power. Sportage 2020 is available in four trims that include LX, S, and SX and EX trims in which LX is the base trim while SX is the highest level of trim available while in Pakistan only two trims are available that includes FWD and AWD option. LX, S and EX provides you front wheel drive option while the SX comes with four wheel drive option and it is powered by more powerful engine providing enough grunt for driving on highways competent handler for long distance rides.
Engine and performance of Kia Sportage 2019:
LX, S and EX variants are powered by 2.4 liters inline four cylinder engine generating horsepower of 181 hp and torque of 175 pounds feet. Top trim SX is powered by two liters turbo charged engine generating horsepower of 240 hp and torque of 260 pounds feet. All trims comes with six speed automatic transmission while overall taut handling and performance is rated five out of ten scores. It provides a mileage of twenty one miles per gallon in urban traffics while twenty five miles per gallon on highways. Fuel economy of Sportage 2020 is not very efficient making the engine thirsty all the time while it is remarkable in its sharp handling and optional turbo power that fits best with tweaked steering and different dampers. All wheel drive option makes it the best vehicle on slippery roads and rough pathways.
Exterior features and design:
The 2020 model of Kia Sportage comes with athletic and bold exterior design that has tiger nose shaped sharp grille on front with smooth side contours and coupe like roof. The silver satin touching adds more sophistication to the looks of this Crossover. The tweaked front and back bumpers are trendy but undeniably handsome. A more planted look is enhanced by the long wheelbase and shorter overhangs while the new wheels size of sixteen inches are a major element of the redesigned look. Bi Xenon headlights along with dynamic bending light generate both low and high beams and helps to drive around curves even on highways. This four door car comes with a seating capacity for five passengers and has a width of 73 inches, height of 65.2 inches and have a ground clearance of 6.8 inches.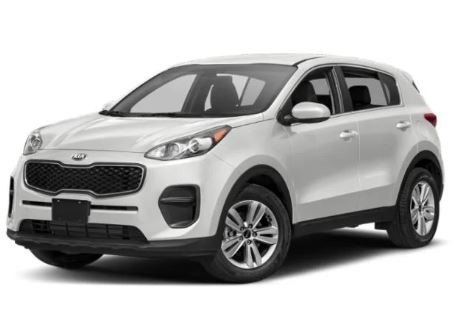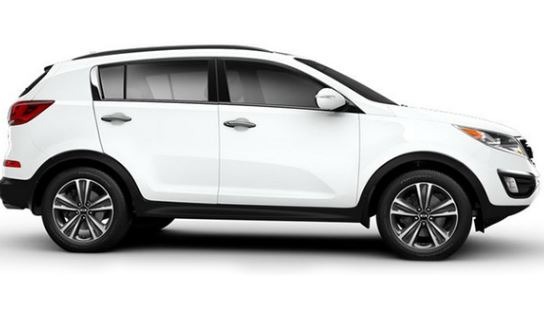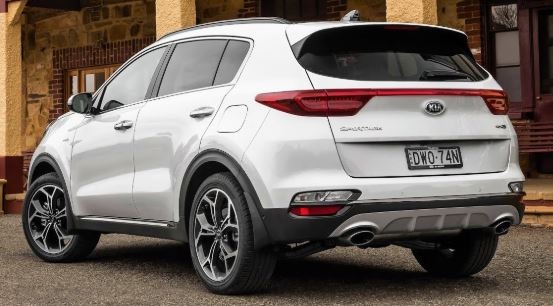 Interior features and features:
The interior design of 2020 Kia Sportage is kept well designed with angled console and high quality of material used for the cabin. There is an eight inches touch screen for infotainment placed on the central stage flanked by air vents but the styling of Sportage have large pillars that cut off a lot of rear view. Seats of sportage are comfortable enough for longer routes and it provides a good space for occupant's cargo and luggage while option of cloth or leather upholstery is provided according to the trim levels.
Cabin is quiet and noise free at normal speeds in city traffic while the rasp of base engine is quiet annoying at high speeds. The front wheel drive and all-wheel drive trims have been rated five stars among safety tests as it is equipped with all upgraded safety features including rear cross traffic alarm, blind spot detection, automatic emergency braking system, rear view camera, airbags, lane departure warning and active lane control.
Major rivals:
Major competitors of Kia Sportage 2020 worldwide include Honda CR-V, Hyundai Tucson, Subaru Forester and Toyota RAV4 while in Pakistan the competitors include Honda Vezel, Nissan Juke and Suzuki Vitara.
Price:
The price range of Kia Sportage 2020 starts from 50 lacs Pakistani rupees in which the FWD has a starting price around 50 lacs Pakistani rupees and AWD has a starting range from 55 lacs Pakistani rupees while globally it has a starting price of 23,990 US dollars