2021 Toyota Mirai 
Toyota Mirai was the 1st FECV available to customers in large amount since its launch in 2014 in Japan then United States and Europe but other hydrogen fuel cell vehicles were also present in the line to give it a competition and the major issue for Toyota Mirai was its limited hydrogen fueling stations that is being resolved in its second generation that will be available for booking in late 2021. It has got the privilege to sale FCEV in a huge amount as it has sold ten thousand vehicles since it was launched in 2014. The all new Toyota Mirai has been introduced with both front wheel driving system and rear wheel driving system. Dimensions also vary in second generation with 3 inches larger and 5 inches wider wheelbase and proportions are similar to Avalon. Range of new Toyota Mirai has been increased to thirty percent and gives you a very comfortable ride that gives you perky feeling around the city. It has been ranked on number seven among other electric cars and this newly Mirai will be very light in weight and it utilizes energy to generate hydrogen and pressurize it to 70 MPa level and stored in tanks.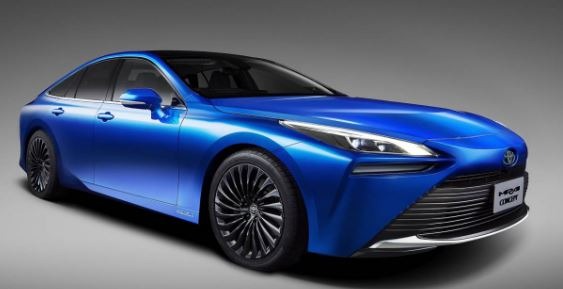 Powertrain, transmission and performance:
This electric vehicle generates its own electricity utilizing hydrogen, oxygen and fuel cell and water is its emission from tail pipe. The all new Toyota Mirai can be refueled in only five minutes at available hydrogen fuel stations. Mirai configured with one speed direct transmission option that is available to deliver power to front wheels and produces 151 horsepower along with 274 pounds feet of torque and all this procedure made it a zero emission car.
Driving Dynamics:
The acceleration of Toyota Mirai is not very impressive driving more efficiently at low speeds is more favorable because it drives its best up to thirty miles per hour that made it suitable for city driving rather highway rides and its handling techniques are also not very efficient but steering response of Mirai is quite light and smooth with a best tuned hybrid system. It can sprint from zero to sixty miles per hour in 8.9 seconds and the top Speed of Mirai is 111 Miles per Hour. One of the major drawback of such FCEV are minute number of hydrogen filling stations that are the only back up plan in case of refueling although high pressure fill of hydrogen takes only five minutes to charge its battery but still you need so many hydrogen stations for that purpose. The estimated driving range provided by EPA is 312 miles that is thirty percent more in numbers than the previous generation of Mirai.
Exterior design and features:
The second generation Toyota Mirai design is based on Lexus LS plus concept that features elegant proportions and a much sleeker look as compared to its previous model. A very powerful distinctive style is given to it with a taut bodywork, low lines and twenty inches bold wheels. It features longer bonnet structure and a lower slung profile with aggressive swept headlights equipped with daytime running lights and the sharp LED tail lights runs all along the width of the rear back giving it a very beautiful look.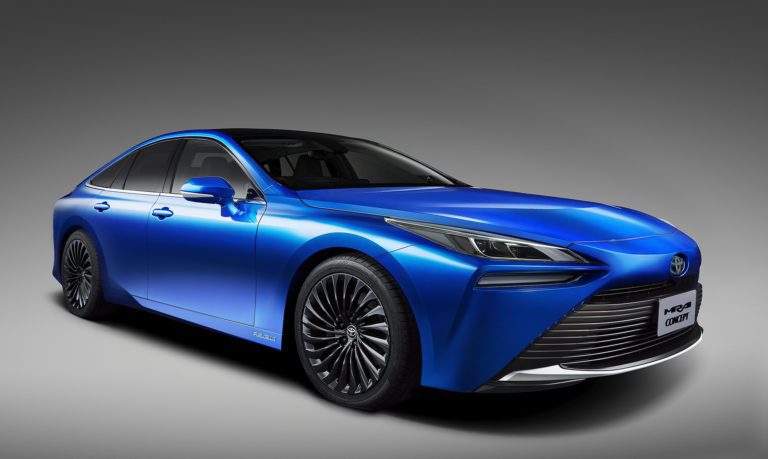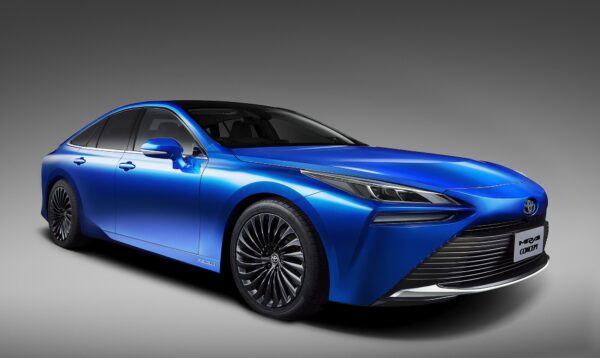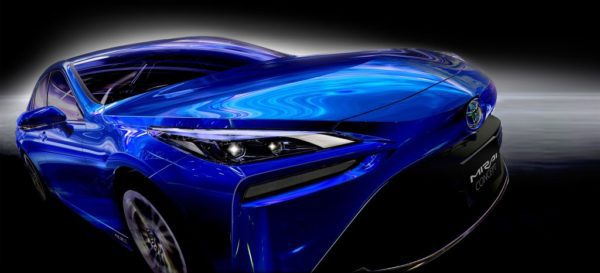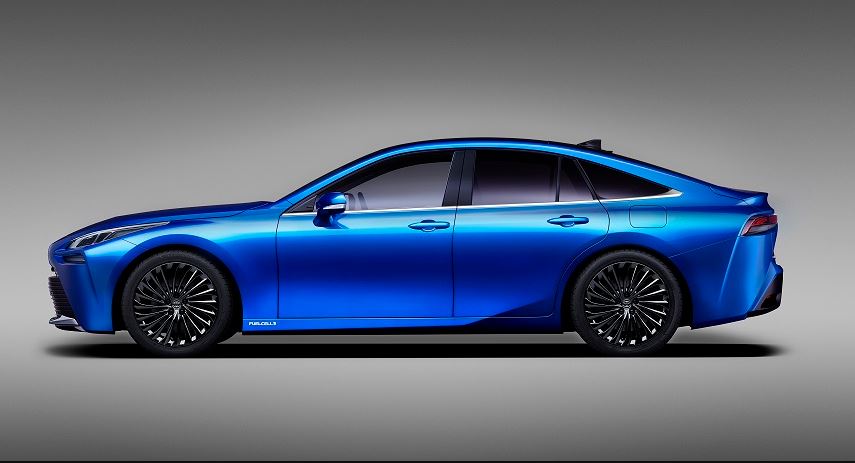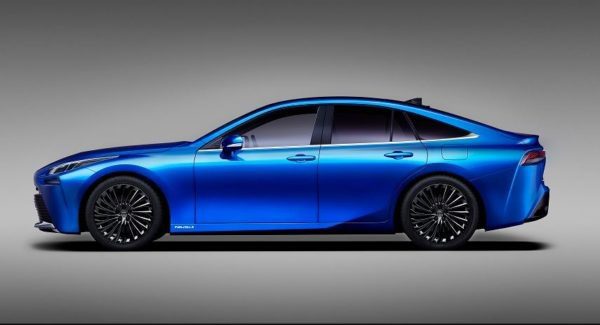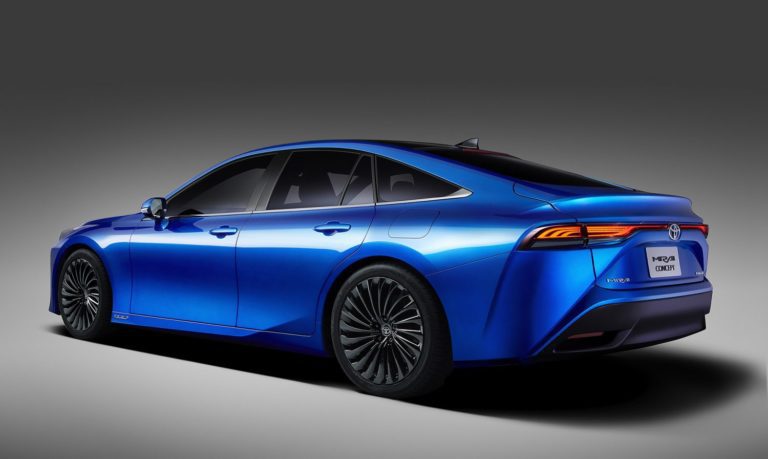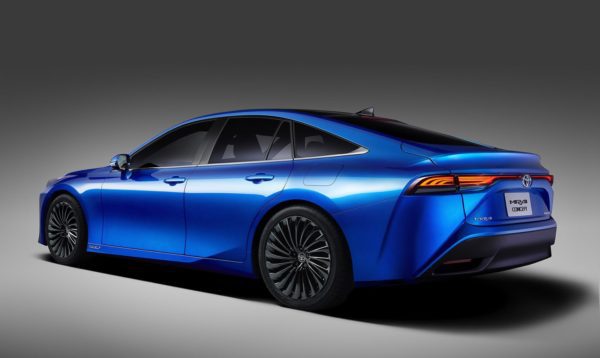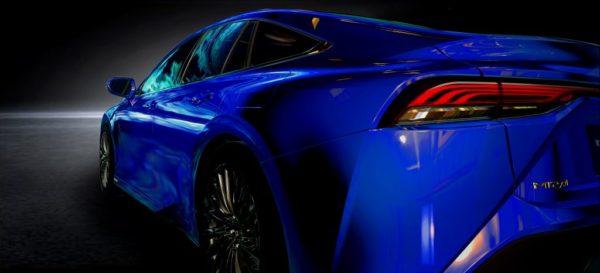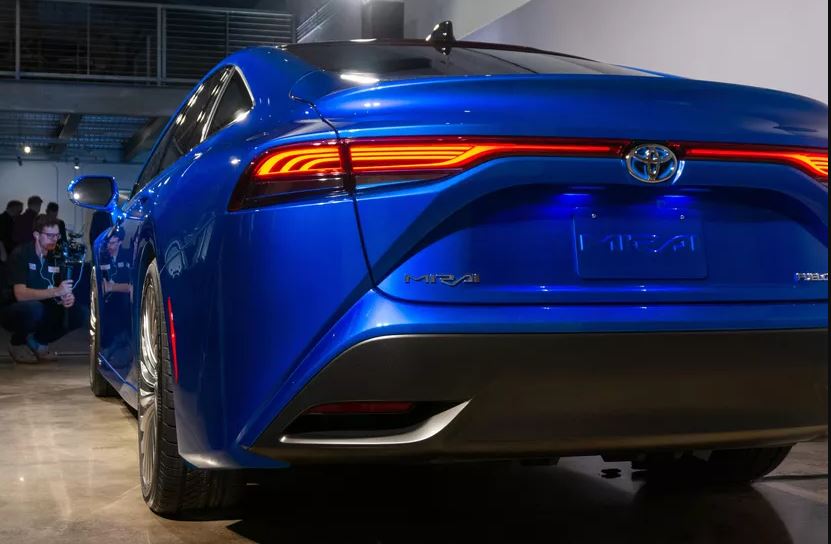 Read Also: Mirai Hydrogen Powered Vehicle by Toyota | Toyota Mirai will Run on Cow Manure
Interior design and features:
The interior cabin of all new Toyota Mirai is very elegant with modern looks and comfortable seating giving sitting capacity to five adults and having leather upholstery. There is an attractive 12.3 inches instrumental panel display in front of drivers giving them all the driving information and seven inches touch screen layout is mounted on the dashboard that has metallic accents giving it a glossy modern look while the infotainment system does not comes with Apple Car play and Android auto interface and lastly eleven speakers JBL audio system is a cherry on top to its entertainment world.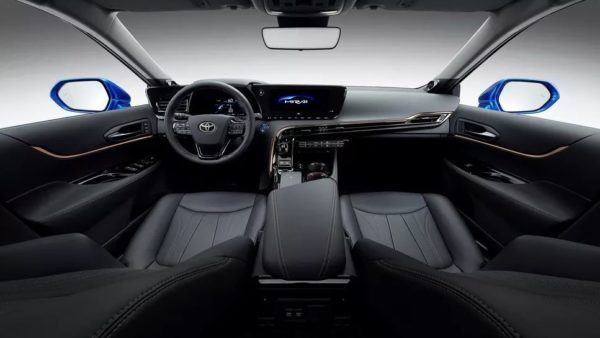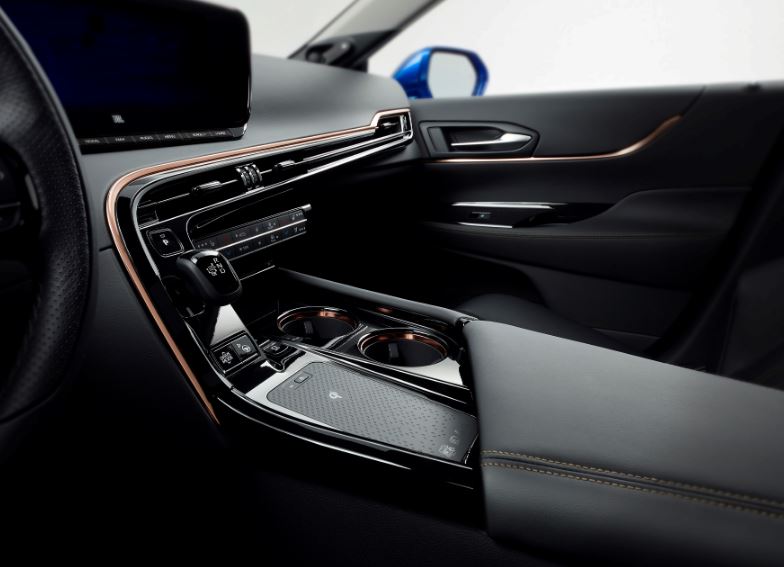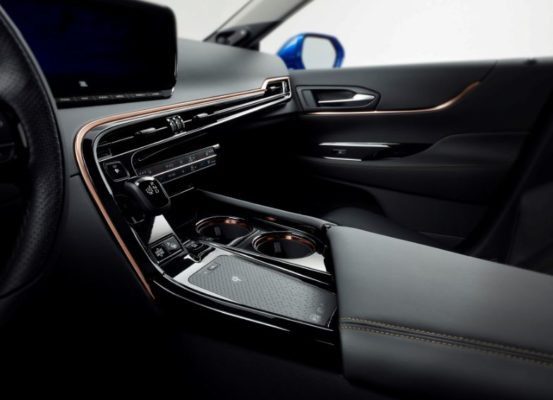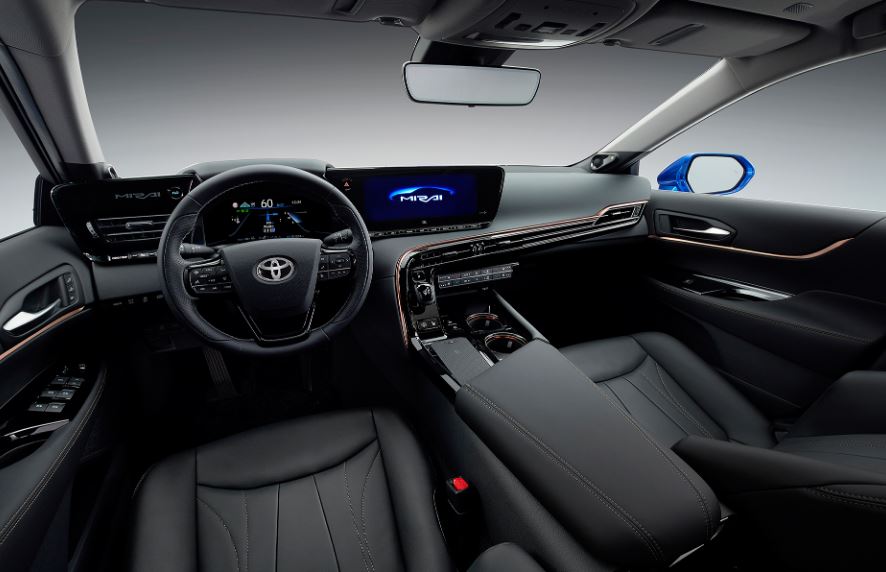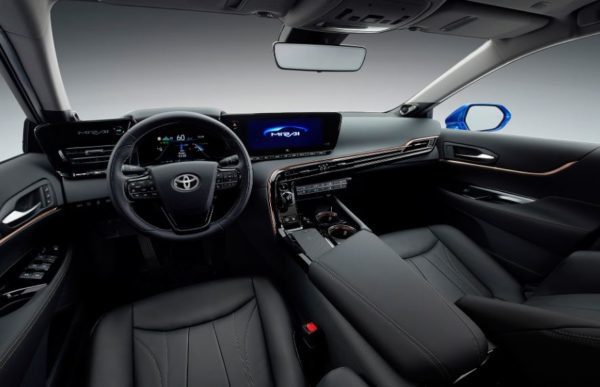 It also provides you with Wi-Fi hotspot, navigation system, Bluetooth connectivity, USB port and a 13 cubic feet cargo area to carry your luggage. Some of the standard SAFETY FEATURES of all new Mirai include blind spot monitoring system, rear cross traffic alert, adaptive cruise control, parking sensors at front and back and forward collision warning alarm along with detection of pedestrian and cyclist.
Major competitors:
2021 Toyota Mirai will be getting competition from Honda Clarity, Hyundai NEXO, Toyota Prius and Tesla Model 3.
Price:
The starting price of 2021 Toyota Mirai is 59, 430 US dollars which are much higher for a non-luxury sedan and still it has its fuel stations only in California and Huawei for United States. This all new Toyota Mirai will be available for sale in end of 2021.