2023 Kia Picanto 
Sold in the UK: 2017-Present
3rd Generation
2023 Kia Picanto Price in the UK
The 1st generation Kia Picanto was launched in 2003 at the Frankfurt Motor show, while the 2nd generation Picanto came in 2011, and this model was longer than the previous generation. It was available in Europe as a three-door hatchback. The latest Picanto available worldwide is the 3rd generation Kia Picanto, available in a single engine option. It received a facelift in 2020 and came with restyled headlights, an updated grille, and an updated infotainment system. The Kia Picanto has an old history in the United Kingdom and is one of the favorite small city cars. It is a doodle to drive in town and comes with 7 years warranty period, assuring its durability and reliability. The Kia Picanto is a five-door hatchback and offers one engine option only. It comes with manual and automatic transmissions. It is a small city car, but it offers decent boot space and ample passenger room. The exterior is stylish yet elegant, while the interior is posher, and you can personalize it according to your choice. The Picanto is available in various trim levels with different specs and features. The standard features in the  Kia Picanto are front electric windows, a USB port, ABS, 3.8 inches audio display, remote control central lock of the door, and curtain airbags. There is a trend of electric cars in the United Kingdom nowadays, and the value of petrol cars is not much more, but these electric cars cost big bucks. Kia is offering Picanto as a petrol version car at a comparatively less price than the electric cars and still has a good market. The Kia Picanto looks stylish and has a generous boot space, but the rear passenger space is comparatively less than other city cars.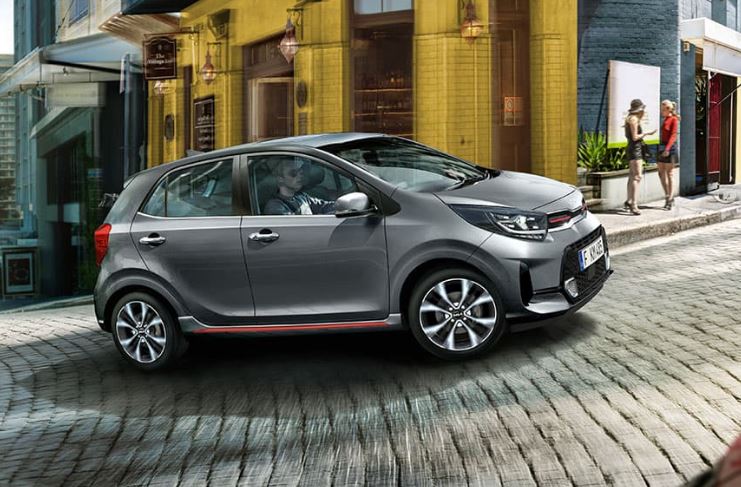 Engine, Power & Transmission:
There is a single-engine option in all variants of the Kia Picanto. The Kia Picanto gets its power from a 1.0 Dpi engine with a 998cc displacement and generates maximum power of 66 bhp at 5500 RPM and 96 Nm of torque at 3750 RPM. It offers a five-speed manual transmission along with a 5-speed automatic transmission. It comes with a Macpherson strut suspension at the front axle and coupled torsion beam axle at the rear. The front brakes are ventilated discs, while the rear ones are solid discs.
Trims & Variants:
The Kia Picanto is available in 8 versions:
Picanto 1: it offers front electric doors, automatic headlight control, twin airbags, Hill-Start Assist control, and ABS.
Picanto 2: it offers forward collision warning, fourteen inches alloy wheels, heated doors, a 4.2-inches cluster display, black cloth upholstery, and a leather-trimmed steering wheel.
Picanto Shadow (Discontinued): it offers 15-inch alloy wheels, an 8-inches touchscreen, LED daytime running lights, a six-speaker audio system, and privacy glass.
Picanto 3: it offers a satellite navigation system, electrically folding side mirrors, an automatic air conditioning system, cruise control, and front fog lights.
Picanto X-line: it offers 16-inch alloy wheels, skid plates, silver rear bumper, faux leather upholstery, LED rear lights, and Bi-Function projection headlights.
Picanto X-Line S: it is upgraded with wireless charging for mobile phones, rear parking sensors, heated front seats, a heated steering wheel, a smart key, and an automatic air conditioning system.
Picanto GT-Line: it offers refined front and rear bumpers, body-colored side sill moldings, privacy leather, and black and red colored faux leather upholstery.
Picanto GT-Line S: it offers a satellite navigation system that features a Kia Connect system, rear parking sensors, a cruise control system, glossy black skid plates, wireless mobile phone chargers, and a smart key with a start and stops button for the engine.
Performance & Drive:
The Kia Picanto delivers a comfortable ride experience. The turbocharged engine is present in only top-level trims and is more flexible at low revs. The manual and automatic transmissions both work fine, but the automatic transmission is slower as the gear takes time to change, while the manual transmission is better. The gears change smoothly, but it might feel frustrating when it takes a second to change gears. The CVT gearbox is not available in Kia Picanto. One good thing about the performance of the Kia Picanto is that it does not bounce around uneven roads. The suspension system is tuned well and delivers smooth ride performance, so the ride's quality is not affected by moving over breakers and bumps. Its suspension is firm than its rivals, and its handling is right on twisty lanes. The car's handling is impressive, and the kind of agility it offers is better than all its rivals. The steering response in Kia Picanto is excellent and helps you keep the grip on the front wheels; the steering feels light at low speeds, and when combined with a tight turning circle, it makes it easy to move through traffic or narrow parking space. The Kia Picanto's small engine and five-speed gearbox cause a lot of noise, and the engine noise is loud on motorways. The braking system is fine, and the brakes are easy to apply with the confidence-inspiring pedal. The Kia Picanto is a slower car and accelerates zero to 60 miles per hour in 14 seconds which is slower than its rivals like Volkswagen Up which potters around town in less time. The fuel efficiency of the Kia Picanto is average, and it combines a mileage of 5.0 liters per 100 kilometers in manual transmission 5.8 Liters per 100 kilometers, and an automatic transmission with a fuel tank capacity of 35 liters.
Exterior Design & Features:
The Kia Picanto has a stylish yet simple design with standard features like body-colored bumpers and a sleek grille on the front, which has the Kia logo encrypted above it. The headlamp's design is elegant, and the higher trims offer daytime running lights and Bi-Function headlamps with front fog lights. The standard features in all trims include tinted glass, automatic headlight control, headlight leveling device, high-mounted brake light, rear wiper, heated rear window, and standard paint. The entry-level trims offer 15-inches alloy wheels, while the higher-level trims offer 16-inch alloy wheels. It has an overall length of 3595 millimeters, a width of 1595 millimeters, and a height of 1485 millimeters.
Interior Design & Features:
The inside of the Kia Picanto is comfortable and comes with various options. The standard features available in all variants include sliding and reclining front seats, steering wheel mounted controls, and tilt steering wheel adjustments. It has Bluetooth connectivity, a USB port, a tachometer, and an external temperature display. The entry-level trims offer a 4.2-inches cluster display, and higher-level trims offer an 8-inches infotainment screen and six speakers audio system. The infotainment system offers satellite navigation with the Kia Connect feature. The entry-level trims have cloth upholstery, while the higher-level trims come with Faux leather upholstery that gives a premium feel and ultimate comfort. The boot space is generous, but the rear comfortable is tight, and three adults fit tightly in it.
Safety & Features:
Some of the safety features Kia Picanto offers are:
Anti-Lock Braking System.
Brake-Assist system.
Hill-start Assist control.
Hill-Hold assist.
Tire pressure monitoring system.
Torque vectoring brake.
Straight line stability.
Twin front airbags.
All-round 3-point seat belts.
Seatbelt reminder warning alarm.
Anti-theft alarm system.
Engine immobilizer.
Major Competitors:
Toyota Aygo X
Dacia Sandero