2022 Nissan Patrol SUV 
Sold in the UAE: 2020-Present
6th Generation 2nd Facelift
2022 Nissan Patrol SUV Price in the UAE:
Nissan Titan SE

Starts at:

AED 199,900

Nissan Titan SE T2

Starts at:

AED 227,500

Nissan Titan SE Titanium

Starts at:

AED 247,500

Nissan Titan SE Platinum City

Starts at:

AED 275,000

Nissan Titanium LE T1

Starts at:

AED 235,000

Nissan Titanium LE T2

Starts at:

AED 277,500

Nissan Titan LE Titanium

Starts at:

AED 303,500

Nissan Titan LE Platinum City

Starts at:

AED 334,500
Nissan Patrol also known as Nissan Armada is one of the oldest existing SUV models. The Patrol has been in production since 1951 and there is only one reason for that, it's a perfectly rigid and reliable SUV and off-road enthusiasts love it. Nissan Patrol indeed is the ultimate SUV vehicle that just keeps getting better and better and requires almost no more improvements. This is why Nissan Patrol doesn't actually need updates and upgrades every year to sell it more because it's perfection that sells for itself. The latest-gen Nissan Patrol was introduced at the end of 2016 as the 2017 year model. Ever since its launch, the Nissan Patrol has been the same with few upgrades in features. As for the exterior, it has remained the same for years.
Key Features of Trims:
Titan SE: 18-inch alloy wheels, off-road bumper, Cruise control
Titan SE T2: 12.3 inch HD Display, sunroof, intelligent rear view mirror
Titan SE Titanium: Leatherette seats, 13-Speaker Bose Premium sound System, Power 3rd Row Seats
Titan SE Platinum city: City Bumper, 20-inch New Machine Cut Alloy Wheels, Intelligent Around View Monitor with moving object detection, off-road monitor function
Titan Titanium LE T1: 5.6L – V8 400hp, off Road Bumper, Cruise Control
Titan Titanium LE T2: 12.3 inch HD Display, Leatherette Seats, Remote Engine Starter
Titan LE Titanium: Leather Seats, 20-inch New Machine cut Alloy wheels, Intelligent emergency braking & pedestrian detection system, Hydraulic body motion control, City Bumper
Titan LE Platinum City: Leather & Wood Steering Wheel, Leather seats with Quilting, off-Road Monitor Function
Nissan Patrol facelifted in 2020:
Nissan face-lifted the Nissan Patrol for the year 2020 onward, refining and making it one step closer to perfection by updating the exterior.
What's special in the Facelifted Nissan Patrol is the question everyone has in mind. Henceforth let's have a look at what the new Nissan Patrol has to offer.
Overview of Facelifted Nissan Patrol:
Exterior:
The first major update you notice is in the front-end of Patrol. The Nissan has opted for a bigger grille with scoops on the front bumper. The headlamps flip the shape on the sides and have crispier look to them. As you crawl towards the back-end of Nissan the changes began to get obvious. Taillights for the face-lift is brand new better looking engraved with a boomerang signature effect, which means repetitive turn light signal to identify the Patrol from distance at night which famously started from Audi.
Front Design Updated in 2022 as well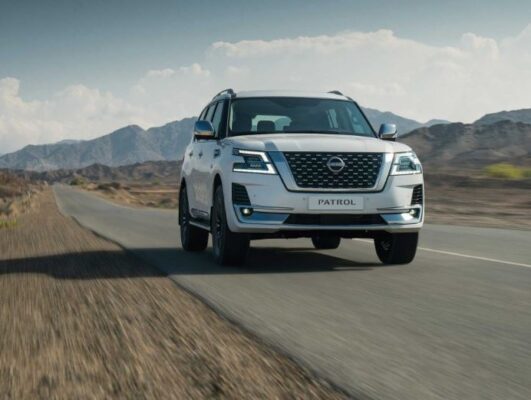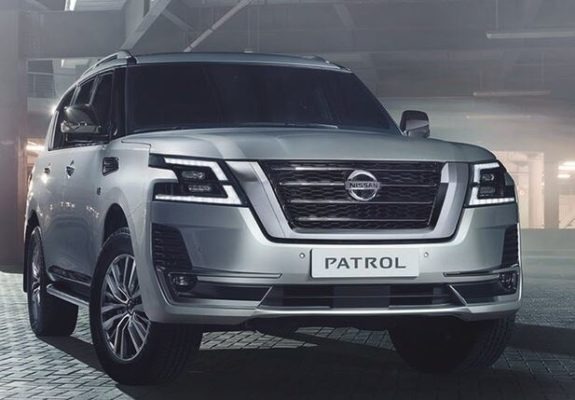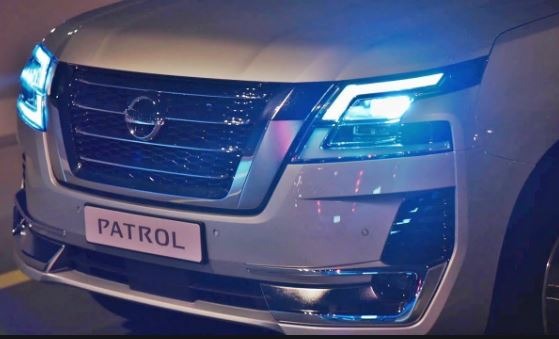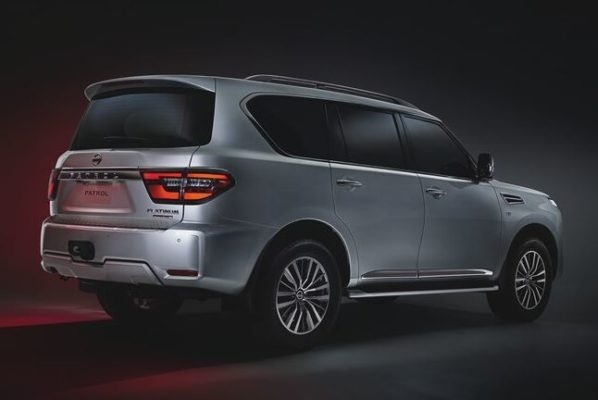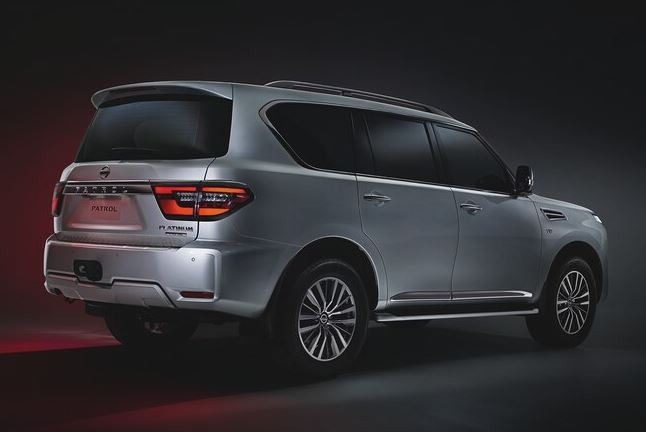 Interior:
On the inside is where Nissan Patrol has made the majority of changes and important safety and comfort upgrades. First off the new Nissan Patrol comes with the Emergency Braking with Pedestrian Detection and Intelligent Forward Collision Warning System. For music and entertainment enthusiasts, the Nissan Patrol finally is integrated with Apple CarPlay and Android Auto. However, there's much more to the physical experience of newer Patrol other than these features.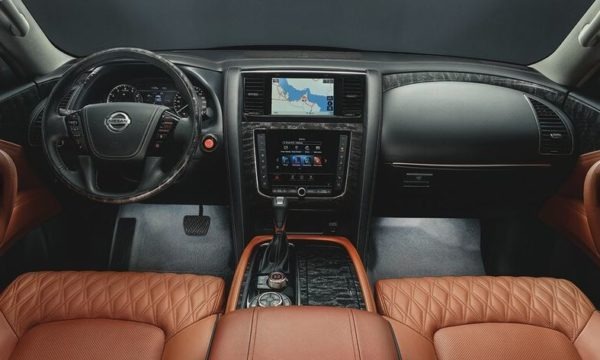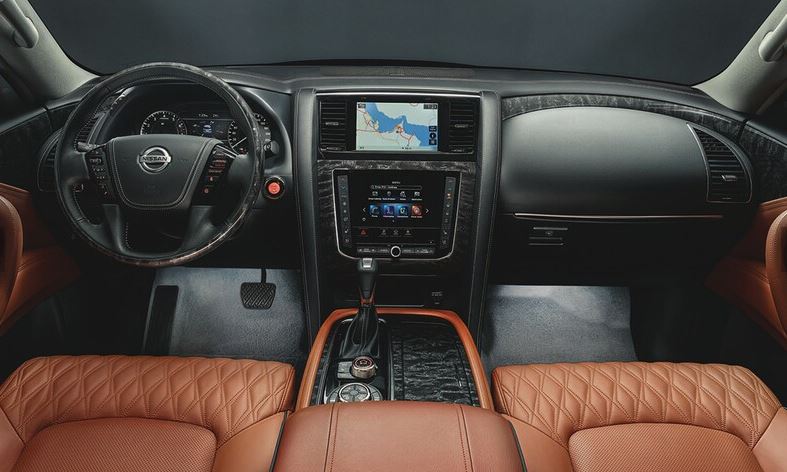 According to Nissan, the new Nissan Patrol has a quieter cabin which reduces the cabin noise significantly. The seats are leather quilted and a diamond-stitched pattern can be seen which adds luxurious touches to Patrol's interior.
Engine & Power:
Nissan Patrol comes with the same 5.6-liter V8 engine married to a 7-speed automatic transmission. Nissan Patrol makes about 400hp and 413 lb-ft of torque for the V8 engine. As we know that Nissan Patrol is available in the Patrol variant only and there have no plans of developing a diesel platform for Nissan. Why would there be? The current variants and market do not need diesel variants for better sales.
Increasing Fans & Sales:
Nissan Patrol has a growing fan base around the markets it's being introduced in. Middle-east is the biggest market for Nissan Patrol which justifies the face-lift being introduced and available for sale there while the rest of the markets follow, however globally the Nissan Patrol sales have been going up in numbers. The reason is obvious, it's what a perfect balance between off-road and daily driven SUV.
Rivals:
Nissan Patrol is a direct rival to Toyota LandCruiser V8 which sells more than the Patrol however for the year 2020 Toyota has announced that it will be discontinuing the legendary LandCruiser which has been in production since 1954. Nissan Patrol has been around since 1954 whereas Toyota LandCruiser from 1954. Toyota sold 10 million LandCruiser whereas Nissan has sold 1.9m units of Patrol. However, with the discontinuation of Toyota LandCruiser (but not discontinued), the Nissan Patrol has high hopes to rule the market under the price tag. Nissan Patrol's every model has been $10,000 cheaper than the LandCruiser hence the price justifies itself.
Another rival for the Nissan Patrol is the Lexus LX which the Nissan Patrol already outsells by selling in a greater ratio of 3 Nissan Patrols being sold for every Lexus LX. However, in the past, Toyota sold 7 LandCruiser for one Nissan Patrol.