2022 Peugeot 5008 SUV
Expected Launch in Pakistan:

2022

Expected Price in Pakistan:

75-85 lacs PKR

Generation = 2nd Facelifted
The 2nd Generation of Peugeot 5008's was launched in 2017, and it was redesigned into a pure MPV, while the facelift to Peugeot 5008 was given in 2020 with a more attractive design. The 2021 Peugeot 5008 has a dynamic body design diamond cut 19 inches aluminum wheels, frameless radiator grille, and a panoramic sunroof. The 2022 Peugeot 5008 has been renewed with cosmetic changes and modifications to the interior cabin. The changes in 2022 Peugeot 5008 include a new frameless grille and restyled bumper design that has large-sized air intakes, and the headlights are also redesigned. The rear end is unchanged rather than some LED lamps on the rear. Some of the color options available in 2022 Peugeot 5008 include Ultimate Red, Metallic Copper, Platinum Grey, Blue, White, and Perla Nera Black. The cabin is not changed much, but some minor technological changes have done. There are various engine options in Peugeot 5008, but the hybrid power train is not introduced yet. The all-wheel-driving facility is also not available in 2022 Peugeot 5008. It is expected that the 2023 Peugeot 5008 will have an electric and hybrid powertrain, and it will focus on practicality. The 3rd generation of Peugeot 5008 will be released in 2023, and it will be competing against Nissan X-Trail and Skoda Kodiaq.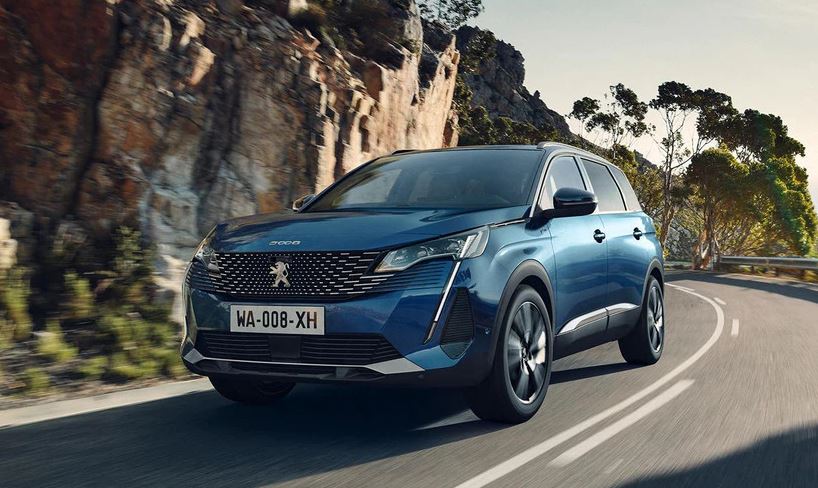 Trims available internationally:
The 2022 Peugeot 5008 is available in three variants that are as follows:
Active: the Active trim offers seventeen-inch alloy wheels, an 8-inches touch screen, 12.3 inches head-up display, a safety pack, and a visibility packs.
Allure: it offers 18-inches alloy wheels, dark-tinted rear windows, 12.3 inches head-up display, a 10-inches touch screen display, and safety plus pack.
GT: it offers 18-inches, two-tone alloy wheels, 3D navigation, a 10-inches touch screen, driver assist plus pack, and safety plus pack.
Engine, Power & Transmission:
The 2022 Peugeot 5008 is available in diesel and petrol engine options. The petrol engines are available in 1.5 liters and 1.6 liters capacity while the diesel engines are available in 1.5 liters and 2.0 liters capacity. The 1.5 BlueHDi engine has a capacity to produce a maximum power of 131 hp and a torque of 300 lb-ft. The 1.2 PureTech petrol engine has a capacity to produce 131 hp power and a 230 lb-ft of torque. The transmission type in both the engines is automatic as well as manual. The list of engine options in 2022 Peugeot 5008 is as follows:
1.2 liters PureTech, 6-speed manual gearbox engine
1.2 liters PureTech EAT8 engine
1.6 liters PureTech 180 EAT8 engine
1.5 liters BlueHDi 130 6-speed manual gearbox engine
1.5 liters Blue Hdi 130 EAT8 engine
2.0 liters BlueHdi 180 EAT8 engine
Performance & Drive:
All the engines offer high efficiency and deliver dynamic performance. They come with a start and stop technology, and automatic transmission is fitted in the engines that work efficiently to give a smooth ride. The engine's weight is optimized, and the ultra-short turning circle offers agile and precise steering control enhancing the driving pleasure. The Peugeot 5008 comes with advanced technology to make your driving experience more thrilling. It comes with an emergency braking system that works automatically when a vehicle comes near your car, and the 360-degree visual parking aid and Park Assist make your urban driving peace of mind. The reduced visibility at night activates the infrared camera of Night Vision and detects any object beyond the range of 200 meters, and the image is displayed on the instrument panel. It offers adaptive cruise control that automatically adapts the speed of your vehicle from the car running in front and maintains a safe distance from it. The fuel efficiency of the Peugeot 5008 is good, offering 5.1 liters of diesel in giving a mileage of 100 kilometers per hour with a manual transmission.
In comparison, the petrol engine consumes 6.4 liters of fuel, giving you a mileage of 100 kilometers per hour with automatic transmission. The petrol engine accelerates the car to 100 kilometers per hour in 11.4 seconds. The diesel engine accelerates the car to 100 kilometers per hour in 12.7 seconds with a maximum of 191 kilometers per hour.
Exterior design and features:
The 2022 Peugeot 5008 is redesigned with a modern silhouette that is elegant at the same time, maintaining a balance between power and elegance. It comes with a newly designed frameless grille and Peugeot signature dominating on the grille. The front end is sculptured perfectly with a metallic bumper and glossy black-colored side scoops. The rear end is unchanged, but it looks equally beautiful as the front end. The panoramic sunroof comes with aluminum roof bars and adds more light and fresh air to the cabin. The headlights come with LED, and daytime running lights have chrome-plated tips enhancing their beauty. The rear lights come with 3D claws and have full LED lights, while the diamond-cut eighteen-inch alloy wheels look bold and give a sporty stance to this SUV.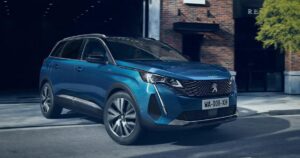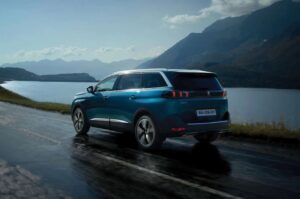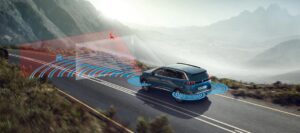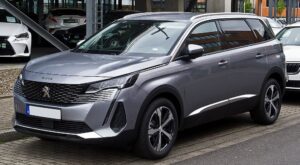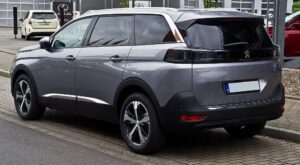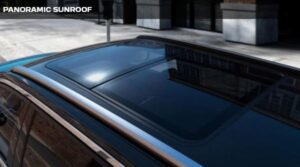 Interior design and features:
The interior of Peugeot 5008 is classy with a seating capacity for seven adults, and the seats are covered with high-quality leather. The seating position in Peugeot 5008 can be adjusted for increased responsiveness & relaxation of the drivers. The driving and the front seat come with a massage feature to make your journeys more relaxing. There is a 12.3 inches digital head-up display that gives a better presentation of the vehicle's information, and a 10 inches HD touch screen display provides infotainment. There are 10-speakers to offer you premium Hi-Fi sound quality. The touch screen also shows 3D navigation, and important driving events are displayed through TomTom services. The steering wheel comes with toggle switches to control the infotainment system and voice controls. The Mirror screen helps you charge your phone on the console and mirror your favourite apps on the touch screen. The rear passengers can also charge their smartphones through 2 USB ports. The hands-free tailgate opens and closes with foot movement, and it allows access into the large boot area, which can be increased to 2300 liters when rear seats are folded so that you can carry enough luggage for your weekend's trip. The cabin has acoustic noise-insulated windows, so the outside noise does not disturb the comfort of the passengers.
Major competitors:
Skoda Kodiaq
Nissan X-Trail
Safety features:
The PEUGEOT 5008 SUV has achieved the highest possible rating of 5 stars in the 2017 Euro NCAP testing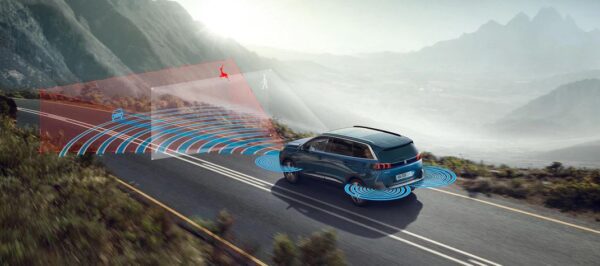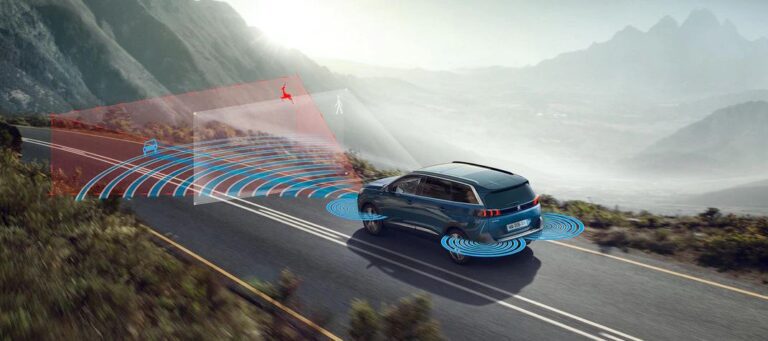 Some of the standard safety features of 2022 Peugeot 5008 include:
The automatic Advance Emergency Braking system
Airbags
Lane-keeping Assist
Hill-control Assist.
Adaptive cruise control
Night Vision
Lane positioning System
Hill Descent Control