2022 Toyota Corolla Cross
Sold in the Thailand = 2020-Present
Generation = 1st
2022 Toyota Corolla Cross Price in Thailand:
| | |
| --- | --- |
| PremiumSmart | 11,99,000 ฿ |
| Premium Safety | 10,89,000 ฿ |
| Smart | 10,19,000 ฿ |
| 1.8 Sports | 989,000 ฿ |
As the main phrase in the creation of the Corolla Cross is "Corolla Meets SUV," the model was designed as a new model of SUV which combines dignified exterior solidity and utility that goes beyond the expectations of customers. .. The TNGA1 platform (GA-C) has allowed the Corolla Cross to perform highly, comfortably and with excellent silence. A compact SUV crossover manufactured by the Japanese car manufacturer Toyota, the Toyota Corolla Cross uses the Corolla nameplate for mainly the automobile markets of South Asia. It was presented in Thailand on 9 July 2020 and has been designed on the same GA-C platform as Corolla, an alternative that is more realistic and wider.
Trims & Variants:
The new Sports Utility Vehicle Toyota Cross comes in four variants that are Premium Safety Hybrid trim, Hybrid Premium trim, Hybrid Smart trim, and 1.8 Sports trim that is fitted with a hybrid and gasoline engine. All four trims offer continuously varying transmission while they differ in various features and specs that specify them.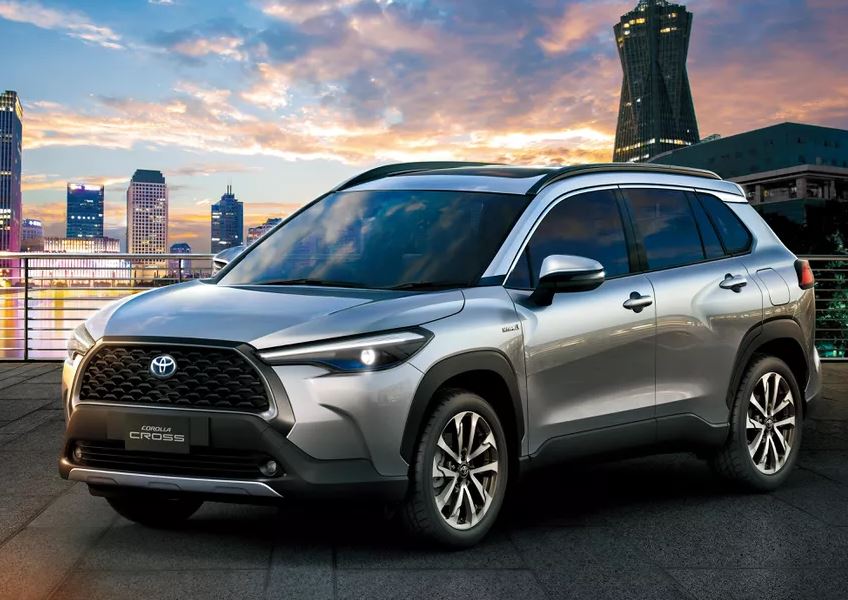 Engine & power:
Corolla Cross offers both gasoline and hybrid engine options. The 1799cc gasoline engine generates a maximum power of 103 kW (138 Horse power) at 6000 rpm and torque of 177 Nm at 4000 rpm. It offers super CVT-I transmission while on the other hand the hybrid trim is powered by a 1Nm motor paired with a 1799 cc engine that generates a maximum power of 72 KW (96 Horse power)at 5200 rpm and maximum torque of 142 Nm at 3600 rpm. The transmission power for the hybrid version is continuously varying by electric powers. Suspension of the trims is smooth enough with MacPherson strut axles at front and Ventilated disc at the back axles. All trims of the Toyota Corolla Cross are available in front-wheel driving option only and all-wheel drive is yet to be launched.
Performance & Drive:
 It let you have Fantastic handling with a high driving position that helps to eliminate blind spots and leads to a wide field of view. A minimum turning range of class leaders of 5.2 meters ensures receptive management while Combining driving efficiency and ease Optimizes suspension geometry and wide, soft covers ensure comfortable riding for passengers at all seats. In Thailand Combined-cycle test fuel (CCT) consumption amounts to 6.5 liters per hundred kilometers, for petrol engines and 4.3L/100 km for the hybrid. Emissions are 150 grams per kilometer for gasoline engines and 98 g / km for hybrid respectively, for claimed carbon dioxide (CO2). Also, petrol-powered grades were able to achieve excellent fuel efficiency with the lightening of the body. This means that both petrol-powered and hybrid models have class-leading environmental results. Electronic power steering is made standard in all trims that make handling of a car even easier with smoother turning over twists and turns while the braking system is also upgraded with a ventilated disc on front brakes and disc brakes on rear brakes letting you stop the car finely without giving any discomfort and jerky brake. It can accelerate from zero to a hundred kilometers per hour in 10.14 seconds while it can return from a hundred to sixty kilometers per hour in 6.16 seconds.
Exterior Design & Features:
The Corolla Cross has a heavy, smooth, and sophisticated look displaying comfortable side viewpoints to a broad interior that stresses the status of the vehicle. A strong and imposing front and back attract customers the most while its Strong facing molds stress the sense of energy in the car. The comparison between its rear look and cabin is a stunning retro view. The front of the car looked aggressive, with narrow headlamps, a wide grille, and a silver shield, complemented by a black tab. The robust style was confirmed by the sculptured panel doors and the extended back panels. On the back, the designers wanted to put a roof spoiler on the back fence. It has a total length of 4,460 millimeters, a width of 1,825 millimeters, and a height of 1,620 millimeters while having a wheelbase of 2560 millimeters. The hybrid premium trim features seventeen inches beautifully designed alloy wheels while all other trims are equipped with eighteen inches alloy wheels having R18 tires that provide smooth grips on roads. The LED headlights are provided with daytime running lights and fog lights to help you drive in extreme weather conditions.
Interior Design & Features:
The Interior of Corolla Cross is liked for its convenient interior room that gives you excellent views and wide clearance of head giving you accommodation for five passengers comfortably. The leather upholstery gives a deluxe and dynamic look to the appearance of its cabin. It also gives you a huge luggage capacity of 487 liters in a trunk capable enough to carry big suitcases. The wide openings of the large door make it possible for a child to enter or leave the car making it a convenient and versatile car. For the rear passengers, it promised a more spacious headroom. The legroom is the same as the car has the same wheelbase as the C-HR.
The Corolla Cross took additional elements from the standard compact sibling for the instrument panel. On top of the center, the stack was a floating-type unit for infotainment. The cluster of instruments had the same analog dials as that of the typical Corolla. It is equipped with nine inches LED touch screen infotainment system to entertain you in your journeys while the seven inches multi-function screen serves as your instrumentation cluster while six speakers are fixed to give you the best sound qualities. Two USB outlets are also given in the rear compartment entertaining the rear passengers with their choice of music. Another beautiful addition in this Cross is its power moon roof enlightening the cabin with extra light day and night and also letting passengers enjoy the fresh air. The interior cabin can be made more attractive with red and black colors in hybrid premium safety and hybrid premium trim while other trims are available in only black color options for the cabin.
Safety & features:
Toyota Safety Sense system is installed in Toyota Cross too providing you with 24 hours help in case of emergencies while the major safety features include a blind-spot detection system, lane-keeping assistance system, adaptive cruise control system, surrounding view cameras, and rear cross-traffic alert system. It has been rated with five stars by the ASEAN program through NCAP tests.
Major competitors:
Verdict:
Toyota Corolla Cross is much quirky and loaded with upgraded features as compared to Toyota CHR and other competitors and thus we hope it sells like hotcakes in markets.