Porsche Taycan has now become an iconic electric car that is not only beating its competitors but has also procured many awards. We know that Porsche Vehicles remains in demand because of their thrilling driving experience plus Beautiful Design Characteristics and by following the same conventional approach Porsche jumped into the electric race with its New Taycan that carries the price tag of 103,800$ (MSRP) which makes it an expensive vehicle as compared to Tesla's but still with this high price tag Taycan the beautiful German engineering directly challenged Tesla, the Pioneer in electric car manufacturing and proved to be a worthy competitor. Recently in the event of world car of the year, Porsche Taycan has won two awards one for performance car of the year and other for the luxury car of the year by beating its siblings and other competitors.
 All the things are now turning into the favour of Taycan and the demand for Taycan is getting high and high; From 2018 when Porsche was started to accept pre-orders for its new electric sport Taycan, company was quickly doubled the production goal from 20,000 to 40,000 units in the same year but its seems like even after doubling the production figures Porsche is unable to keep up with demand.  Approximation of Porsche's Taycan's demand can be done by knowing that company has borrowed not less than 400 Audi workers to keep up and according to report by automobilwoche, at least for the next two years employees will earn their pay from Porsche.
Read Also: Porsche Taycan Couldn't able to beat Tesla Model 3 in Moose Test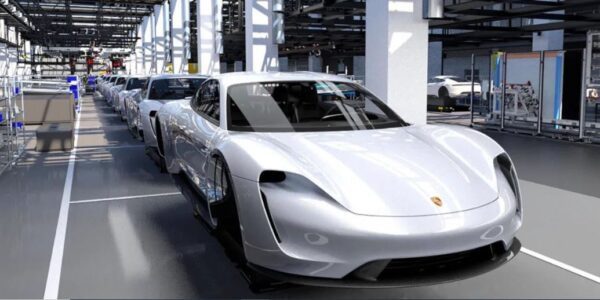 The increasing demand for Porsche Taycan not only makes it the direct rival of Tesla's vehicles but also put it against Mercedes-Benz EQS and same platformed Audi e-tron GT. Currently, Porsche Taycan is available in 3 different versions including 4S, Turbo and Turbo S with permanent magnet synchronous electric motors offering up to 761 horsepower.
Despite Corona Epidemic "Taycan, the first all-electric Porsche sports car, which has been on the market since the end of 2019, was already delivered 1,391 times to customers in the first quarter."
Employees borrowed from Audi will work in all major areas of production including assembly, body shop and paint areas and obviously Porsche is earning a lot of money with the current model that is why it first needs to meet the high demands and should have to delay its upcoming long roof version Taycan cross-Turismo.