2023 Aprilia RSV4 1100
Sold in Pakistan officialy = 2021-Present
Engine Technology = 1100 cc narrow V 4-cylinder (Euro-V)
2023 Aprilia RSV4 1100 Price in Pakistan
RSV4

10,500,000/-

PKR

RSV4 Factory

11,000,000/-

PKR
Piaggio, a prominent automotive conglomerate, stands tall as the parent company of the renowned Italian motorcycle manufacturer, Aprilia. As a crucial part of their operations, Piaggio takes on the responsibility of importing and distributing Aprilia motorcycles across various countries, including Pakistan. In Pakistan, the official distributor of Aprilia motorbikes is none other than Ravi Automobiles Pakistan Limited. At the heart of Aprilia's lineup lies the spectacular Aprilia RSV4, a high-performance sportbike that has left enthusiasts and riders awestruck with its exceptional capabilities and striking design. The RSV4 has become synonymous with cutting-edge technology, thrilling speed, and an aggressive stance that instantly grabs attention on any road it graces.
What sets the Aprilia RSV4 apart from conventional motorcycles is its origin—a masterpiece crafted under the careful watch of the Aprilia Racing Division. The development of this extraordinary machine involved a team of skilled engineers and designers who utilized the very best technology available in the automotive industry. The result is a bike that surpasses expectations and pushes the boundaries of performance on both the track and the open road. One of the standout features of the RSV4 is the incorporation of special aerodynamic winglets into its design. These winglets not only enhance its aesthetics but also serve a crucial purpose, improving the bike's aerodynamic efficiency as it cuts through the air like a razor. When combined with its robust 217 horsepower engine and increased torque, the RSV4 delivers an adrenaline-pumping experience to riders, pushing their senses to new heights.
Beyond its raw power, the Aprilia RSV4 showcases an impeccably engineered chassis, which has become a hallmark of the Aprilia brand. The chassis works in perfect harmony with the potent engine to offer riders unparalleled handling and control, ensuring an unmatched riding experience. The allure of the Aprilia RSV4 is not limited to its remarkable performance but extends to its appearance as well. Every line and contour on this two-wheeled marvel is crafted with utmost precision, creating a captivating work of art that exudes a sense of speed and agility even when standing still.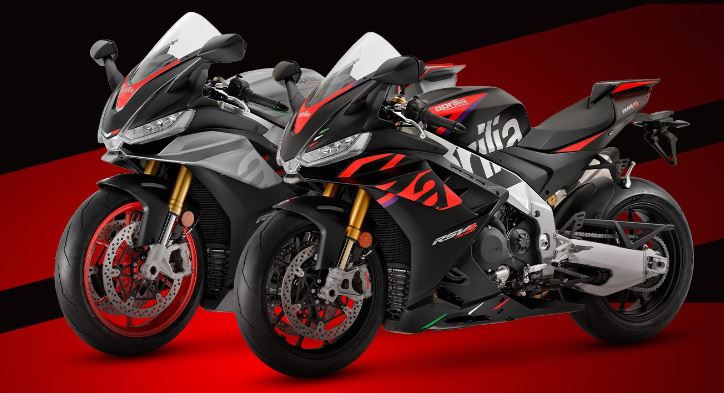 Enthusiasts and avid motorcyclists who have experienced the Aprilia RSV4 firsthand are unanimous in their praise for its exceptional performance and sporty aesthetics. The thrill it provides is incomparable, leaving riders exhilarated and yearning for more with every twist of the throttle.
Aprilia RSV4: Where Performance Meets Adrenaline:
Aprilia's latest RSV4 models boast a remarkable and groundbreaking feature—a potent 1100 cc narrow V 4-cylinder engine, a first of its kind in the world, designed to bring high performance to motorcycle enthusiasts worldwide. Despite its lightweight and compact design, this engine packs a powerful punch, delivering an impressive torque of up to 125 Nm at 10,500 rpm and a jaw-dropping 217 horsepower, a figure that was already hard to beat but now meets the stringent Euro 5 emission criteria, making it more environmentally friendly than ever before. Such performance credentials enable the RSV4 to break the 286 km/h barrier, propelling riders into a realm of thrilling top-speed experiences. At the heart of the RSV4's engine lies an astounding power output of 201 hp at 13,000 RPM and a maximum torque of 115.2 Nm at 10,500 RPM, making for rapid acceleration and exhilarating responsiveness. This motorcycle effortlessly bursts off the line and excels in overtaking maneuvers and agile cornering, ensuring an adrenaline-filled ride each time the throttle is unleashed.
To complement its formidable engine prowess, the Aprilia RSV4 boasts a state-of-the-art suspension system that is finely tuned for both street riding and track use. At the front, the RSV4 typically incorporates high-performance inverted telescopic forks, which provide riders with the ability to adjust preload, compression, and rebound damping. This adjustability empowers riders to tailor the suspension to their individual preferences and prevailing road conditions, resulting in enhanced handling, stability, and control. The rear suspension of the RSV4 comprises a fully adjustable mono-shock, mirroring the front forks' adaptability. Riders can fine-tune the rear shock to suit their preferred riding style and the varied terrains they encounter, ensuring optimal performance and comfort throughout their journey. For some premium versions of the RSV4, renowned Öhlins suspension components grace the motorcycle, elevating the overall handling and responsiveness to unparalleled heights.
Innovative electronic suspension control systems may also feature on advanced RSV4 models. These intelligent systems utilize sensors to continuously monitor road conditions and rider inputs, dynamically adjusting the suspension settings in real-time to deliver optimal performance and comfort. Such cutting-edge technology ensures a smooth and composed ride, no matter the challenges posed by the road ahead. Enhancing the RSV4's stability and control during high-speed maneuvers and heavy braking is the inclusion of a steering damper, a hydraulic component that dampens handlebar movements. This valuable addition mitigates sudden or excessive handlebar movements, granting riders heightened confidence when pushing the bike's limits.
Recognizing the importance of safety, Aprilia equips the RSV4 with high-performance braking systems, ensuring exceptional stopping power and control. The latest versions of the RSV4 boast an advanced Anti-lock Braking System (ABS). This safety feature prevents the wheels from locking up during hard braking, minimizing the risk of skidding and maintaining stability, thereby instilling riders with the assurance they need for a secure riding experience. However, it's important to note that the Aprilia RSV4's focus on performance comes at the cost of fuel efficiency, with an average consumption of around 15 kilometers per liter. This emphasizes that the RSV4 is a bike tailored for speed enthusiasts, where the thrill of high-performance riding takes precedence.
Beauty and Performance in Perfect Harmony:
The Aprilia RSV4 boasts an awe-inspiring and aerodynamically optimized exterior design that perfectly mirrors its high-performance capabilities and sporty essence. Merging cutting-edge technology, functional aesthetics, and meticulous attention to detail, this motorcycle presents a visually captivating masterpiece. The RSV4's design is not merely for aesthetics but also serves to enhance its aerodynamic efficiency, contributing to its remarkable performance on the road and track. The RSV4's bodywork is a masterpiece of sharp angles and sleek lines, exuding an aggressive and dynamic appearance that sets it apart from the crowd. The sculpted fairings not only add to its visual allure but also play a crucial role in reducing drag and ensuring enhanced stability at high speeds. Its captivating exterior speaks volumes about Aprilia's commitment to engineering excellence and pushing the boundaries of motorcycle design.
At the front, the Aprilia RSV4 stands out with its distinctive twin-headlight configuration. These dual headlights not only offer excellent illumination during night rides but also lend the bike a unique and instantly recognizable front-end identity. It's a design element that showcases Aprilia's dedication to both performance and aesthetics. An exciting feature available on select versions of the RSV4 is the integration of aerodynamic winglets on the fairings. Inspired by the world of MotoGP racing, these winglets are not just for show; they serve a functional purpose by generating additional downforce. This enhancement in aerodynamics translates into superior stability and grip when taking on high-speed riding and aggressive cornering.
The RSV4's signature triple beam frame design is as visually striking as it is functional. This frame configuration ensures exceptional rigidity and balance, laying the foundation for precise handling and full control, enabling riders to confidently navigate the twists and turns of any road or racetrack. The exhaust system of the RSV4 not only adds to its visual appeal but also plays a significant role in optimizing performance. Designed with a perfect balance between aesthetics and functionality, the exhaust system contributes to the motorcycle's overall power output and a pleasing exhaust note, further adding to the rider's enjoyment.
Aprilia offers the RSV4 in a selection of eye-catching exterior color options, such as vibrant red and sleek black, allowing riders to choose a style that complements their personality and taste. Inside the cockpit, the Aprilia RSV4 boasts a modern instrument cluster equipped with a high-resolution display. This advanced panel provides riders with crucial riding information, including speed, RPM, gear position, fuel level, and other essential data. The user-friendly and easily readable display ensures that riders can stay informed and focused during their exhilarating journeys. When it comes to build quality, the Aprilia RSV4 leaves no room for compromise. Crafted with meticulous attention to detail and utilizing premium materials, this motorcycle exemplifies Aprilia's commitment to delivering a top-notch product to its customers.
User Reviews:
The Aprilia RSV4 commands immense praise for its outstanding performance, thanks to its potent engine, precise handling, and cutting-edge electronics. Riders and reviewers alike laud its remarkable acceleration, seamless power delivery, and agile cornering abilities, solidifying its reputation as a force to be reckoned with on both urban roads and racetracks. Complementing its exceptional performance is a design that exudes aggression and incorporates aerodynamic features, captivating the eyes of admirers everywhere. The utilization of top-notch components and materials, including Öhlins suspension and Brembo brakes, not only enhances its allure but also elevates its performance to unmatched levels. As a result, the Aprilia RSV4 stands as a peerless machine that continues to win hearts and accolades in the world of motorcycling.
Pros & Cons:
Pros:
Outstanding performance with a powerful engine.
Precise handling and agility, perfect for both street and track riding.
Cutting-edge electronics enhance the riding experience.
Remarkable acceleration and seamless power delivery.
Striking and aerodynamically optimized exterior design.
High-quality components and materials, such as Öhlins suspension and Brembo brakes, contribute to superior performance.
Captivating and eye-catching appearance with attention to detail.
Unmatched build quality and engineering excellence.
Cons:
Fuel efficiency may not be as high due to the focus on performance.
Premium features and materials might result in a higher price tag.
Aggressive and sporty design might not be everyone's preference.
Limited practicality for everyday commuting and city riding.
Potential higher maintenance and servicing costs compared to standard motorcycles.
Overall, the Aprilia RSV4 stands as a top-tier sportbike that impresses with its powerful engine, precise handling, and advanced technology. While it may not be the most practical choice for everyday commuting, its exceptional performance and design make it a coveted machine among motorcycle enthusiasts seeking a thrilling and adrenaline-pumping riding experience.
Major Competitors:
Honda CBR1000RR-R
Kawasaki ZH2
BMW S 1000 RR
Ducati Multistrada V4
Ducati Streetfighter V4
Harley-Davidson Heritage Classic BS6
Aprilia Tuono V4
Suzuki GSX-R1000
MV Agusta F4
KTM 1290 Super Duke R
Triumph Daytona Moto2 765