2023 Benelli 302S
Sold in Pakistan = 2021-Present
Engine Technology = 300 cc liquid-cooled parallel-twin engine (Euro-V)
2023 Benelli 302S Price in Pakistan
Benelli Leoncino 500

17,000,00/-

PKR
The Benelli 302S, meticulously crafted by renowned Italian motorcycle manufacturer Benelli, embodies the epitome of sporty elegance within the entry-level sport bike and middleweight motorcycle domain. Featuring a dynamic and contemporary design, the Benelli 302S seamlessly integrates sleek bodywork and stylistic elements reminiscent of larger sports bikes, captivating riders who crave a harmonious blend of aesthetics and performance. Powered by a liquid-cooled parallel-twin engine boasting around 300cc displacement, the Benelli 302S artfully balances performance and efficiency to cater to everyday cruising as well as spirited riding escapades. Its steel trellis frame strikes an impeccable equilibrium between rigidity and weight, laying the foundation for an agile yet stable ride. Front forks and rear shocks, harmoniously calibrated, deliver a ride that is both comfortable and responsive, enabling riders to revel in the thrill of the road.
Equipped with a robust braking system featuring disc brakes at the front and rear, the Benelli 302S ensures confident and swift stopping capabilities. The motorcycle's lightweight alloy wheels seamlessly harmonize with its design and performance attributes, enhancing maneuverability and handling. The Benelli 302S elevates the riding experience with a suite of modern features including digital instrumentation, LED lighting, and an ABS (Anti-lock Braking System), potentially complemented by other electronic aids. Its sporty yet comfortably ergonomic riding position encourages an engaged, forward-leaning posture, ideally suited for dynamic riding while remaining accommodating for everyday commutes. In essence, the Benelli 302S emerges as an embodiment of captivating aesthetics and well-rounded performance, catering to riders who seek a visually appealing and spirited companion on the road.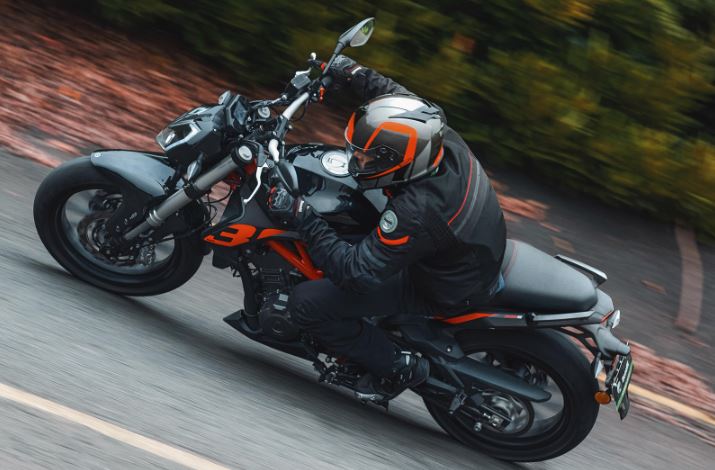 Engine, Performance & Fuel Economy:
The Benelli 302S boasts a liquid-cooled inline twin-cylinder engine, with a potent 300cc displacement and an advanced Electronic Fuel Injection (EFI) system. This cutting-edge EFI technology ensures efficient fuel delivery, optimizing the motorcycle's performance to perfection. The compression ratio has been meticulously tuned to strike an ideal harmony between power and efficiency, aligning seamlessly with the bike's intended usage. Generating an impressive horsepower range of 35 to 38 horsepower (approximately 26 to 28 kW) at a robust 11000 RPM, the Benelli 302S delivers a torque output of approximately 25.5 Nm at 9750 RPM. This torque profile empowers the motorcycle with remarkable low- and mid-range power, perfectly suited for both urban commuting and spirited rides.
With a top speed spanning from 140 to 160 kilometers per hour, the Benelli 302S holds its ground as a dynamic performer. Acceleration from 0 to 100 kilometers per hour takes around 7 to 8 seconds, influenced by factors such as rider weight and road conditions. On the efficiency front, the motorcycle showcases an average fuel consumption of 25 kilometers per liter, aided by its capacious 16-liter fuel tank. Balancing agility with stability, the Benelli 302S's handling characteristics make it an adept choice for urban traverses and spirited ventures. Its lightweight construction and compact dimensions amplify agility, rendering it highly responsive to rider inputs – a boon for maneuvering through traffic and conquering corners with ease. The meticulously tuned suspension setup, encompassing front forks and rear shock, strikes an equilibrium between ride comfort and sporty control. This equilibrium absorbs road imperfections while maintaining stability during spirited cornering, delivering a ride that's both pleasurable and poised.
The Benelli 302S boasts a steel trellis frame that seamlessly melds rigidity with flexibility, forming a robust underpinning for stability and responsiveness. The riding position strikes a balance between sporty and comfort, ideal for extended journeys and confident cornering alike. Its slightly forward-leaning stance bolsters control during spirited rides. Notably, tire selection significantly influences handling; the 302S is equipped with sporty tires engineered for exceptional grip on both dry and wet surfaces. Typical configurations comprise dual-disc front brakes and a single-disc rear brake, bolstered by ABS for heightened safety. Steering geometry is adeptly calibrated to ensure stability at high speeds and agility in corners. In essence, the Benelli 302S harmoniously merges precision engineering and ergonomic finesse, culminating in a motorcycle primed for a dynamic yet secure riding experience.
Exterior Design & Build Quality:
The Benelli 302S is renowned for its sleek and contemporary exterior design, captivating enthusiasts with its dynamic and sporty aesthetics. Its angular and streamlined bodywork exudes a sense of sportiness and aggression, while the integrated fairing not only contributes to the bike's overall visual appeal but also enhances its aerodynamic performance. At the front, a distinctive LED headlight takes center stage, reflecting the bike's modern essence. This headlight design, often seamlessly integrated into the front fairing, underscores the motorcycle's futuristic appearance. The fairing's thoughtful inclusion of air vents and aerodynamic elements serves a dual purpose – elevating the bike's visual allure and enhancing stability at higher speeds. The ergonomically contoured fuel tank harmonizes form and function, providing a secure knee grip for riders. Its angular lines and striking graphics contribute to the bike's sporty demeanor. The split-design seat, complete with a raised tail section, further amplifies the sporty aesthetics, with some variants accommodating passengers with a dedicated seat or cowl.
The exhaust system's angular muffler adds a dash of style, seamlessly blending with the bike's overall design language. Lightweight alloy wheels not only align with the modern and performance-oriented vibe but also enhance maneuverability and handling. Offered in captivating green and black color options, the Benelli 302S lets its sporty essence shine through. The digital instrument cluster serves as an intuitive hub for essential information, presenting details like speed, RPM, and fuel level in a user-friendly, contemporary display. Quality materials such as steel, aluminum, and plastics form the backbone of the bike's frame and components. The fit and finish of various elements, including body panels and fairings, can vary, with higher-tier models often exhibiting meticulous attention to detail and smoother finishes, thereby enhancing the overall visual appeal.
Moreover, the superior quality of key components, spanning suspension, brakes, and electrical systems, bolsters the Benelli 302S's construction, culminating in a motorcycle that seamlessly melds cutting-edge design with impeccable build quality. In essence, the Benelli 302S stands as a testament to modern engineering prowess, captivating riders with its striking appearance and refined craftsmanship.
User Reviews:
The 2023 Benelli 302S garners admiration for its dynamic aesthetics, potent engine, and comfortable journey. Criticisms arise regarding high maintenance costs, modest resale value, and a challenging learning curve, which might deter novice riders. Discover a mix of performance and concerns, making the Benelli 302S a multifaceted option in the motorcycle landscape.
Pros & Cons:
Pros:
Sporty Elegance: The Benelli 302S showcases a dynamic and contemporary design, integrating sleek bodywork and stylistic elements reminiscent of larger sports bikes, appealing to riders seeking a harmonious blend of aesthetics and performance.

Balanced Performance: Powered by a 300cc liquid-cooled parallel-twin engine, the 302S strikes a balance between performance and efficiency, catering to both everyday cruising and spirited riding.

Agile Handling: The steel trellis frame and well-calibrated suspension provide an agile yet stable ride, enhancing maneuverability and responsiveness for both urban and spirited riding scenarios.

Modern Features: Equipped with digital instrumentation, LED lighting, and ABS, the Benelli 302S offers a suite of contemporary features to enhance the riding experience.

Versatile Riding Position: The sporty yet comfortable ergonomic riding position accommodates dynamic riding and everyday commutes, catering to a range of riding preferences.

Quality Build: The motorcycle features quality materials, precision engineering, and superior components, exemplifying modern engineering prowess and refined craftsmanship.

Visually Appealing: With a sleek exterior design, distinctive LED headlight, aerodynamic fairing, and captivating color options, the 302S boasts a striking and modern appearance.

Responsive Power: The inline twin-cylinder engine delivers impressive low- and mid-range power, making it suitable for various riding scenarios, from urban commuting to spirited rides.
Cons:
Maintenance Costs: Some riders may find the maintenance costs of the Benelli 302S to be expensive, potentially impacting the overall ownership experience.
Resale Value: The motorcycle's resale value might not be promising, which could concern those who consider the long-term financial aspects of motorcycle ownership.

Challenging for Beginners: The 302S may be hard to handle for beginners, potentially discouraging novice riders from considering it as their first motorcycle.

Fit and Finish Variability: While higher-tier models exhibit meticulous attention to detail and smoother finishes, there could be variability in the fit and finish of certain elements across different variants.

Passenger Comfort: While the split-design seat amplifies sporty aesthetics, passenger comfort might be compromised, especially in models with a dedicated seat or cowl.

Limited Seating Options: Some variants might lack passenger accommodation options, limiting the bike's utility for two-up riding.

Tire Influence: The handling and grip of the motorcycle are influenced by tire selection, which might impact its overall performance on different surfaces and conditions.

Aesthetic Preference: While the sporty design might appeal to many, personal aesthetic preferences could vary, potentially making it less attractive to some riders.
Verdict:
The Benelli 302S offers an enticing blend of sporty elegance and balanced performance, powered by a responsive 300cc engine and equipped with modern features. Its agile handling and versatile riding position make it suitable for various scenarios, though maintenance costs and potential challenges for beginners warrant careful consideration. The motorcycle's sleek design and quality construction add to its allure, while variability in fit and finish and limited passenger comfort options could impact its overall appeal. Despite these factors, the Benelli 302S stands as an appealing choice for riders seeking a visually striking and well-rounded middleweight motorcycle experience.
Major Competitors:
The major competitors of the Benelli 302S in the middleweight sport bike segment include:
Kawasaki Ninja 400: Known for its performance and handling, the Ninja 400 offers a parallel-twin engine, sporty design, and advanced features, making it a strong contender.
Yamaha YZF-R3: Yamaha's YZF-R3 boasts a sleek design, impressive handling, and a reliable parallel-twin engine, making it a popular choice among entry-level sport bike enthusiasts.
Honda CBR500R: Honda's CBR500R features a larger displacement parallel-twin engine, offering a blend of sporty performance and everyday usability.
KTM RC 390: With its aggressive styling and powerful single-cylinder engine, the RC 390 caters to riders seeking a dynamic and thrilling riding experience.
Suzuki GSX250R: Suzuki's GSX250R offers a smaller displacement option with a focus on fuel efficiency and approachable handling, making it suitable for newer riders.
CFMOTO 300SR: The CFMOTO 300SR presents a sporty design, compact dimensions, and affordable pricing, targeting riders looking for an entry-level sport bike.
BMW G 310 R: BMW's G 310 R combines German engineering with approachable performance, featuring a single-cylinder engine and a comfortable riding position.
These competitors offer a range of options for riders seeking middleweight sport bikes, each with its own set of features, performance characteristics, and pricing points.