2023 Road Prince Classic 70cc
Sold in Pakistan = 2011-Present

Technology = Euro-II

Road Prince official Contact = 

042-111-773-375
2023 Road Prince Classic 70 cc Price in Pakistan
Price Effective From 15-Feb-2023 
Road Prince Classic 70 cc

103,000

PKR
The Chinese-originated 70cc bikes were first introduced by Road Prince in Pakistan in 2004. Road Prince offers options in this category, and Classic 70cc is one of them. It gives you quality and comfort with elegant looks. It is quite an economical bike that costs low in its price and has budget-friendly fuel efficiency. It is considered a replacement for all other expensive Brands' 70cc bikes and is affordable to even the lower working class. The cost of all Road Prince motorbikes increased in 2021, even though the price increased twice in 2020. The latest model Road Prince Classic 70cc comes in two color options that are red and black. It has been upgraded with an aerodynamic fuel tank design which has a new graphic sticker on it. The round-shaped headlight attracts the gaze to the front side of the bike, and its speedometer is also stylish. It has a comfortable and durable suspension on the front and comes with kick-start technology. It is also a straightforward yet elegant bike that delivers efficient power to take you to your daily work, and its best use is for within travels.
Performance & Ride:
The Road Prince Classic 70cc gets its power from a 4-stroke engine that gives you a four-speed transmission. Lets us start with its ride, which is not bad, and lets your move through all city streets and turns smoothly with smooth gear changes. It has drum-type brakes at the front and rear, which is inefficient, but Classic 70cc still manages to give you a good ride quality. One of the good things about Road Prince Classic 70cc is its comfortable and durable suspension at the front. The stable suspensions make the ride durable and let you move over the breaker and bumps smoothly. It has a spacious seat which means you can ride two to three children with you. This bike is in demand in markets because it is best for family use and gives you a good quality ride. It offers kick-start technology and can be started without any hassle with a single kick. The headlight has bright light to illuminate the roads, and on the whole, it is a good bike that gives you all standard features on a low budget.
Mileage & Top Speed:
The fuel economy of Road Prince Classic 70cc is good, and it gives you a mileage of 65 kilometers per liter with a fuel tank capacity of 11 liters and a lubricating oil capacity of 0.9 liters.
Exterior Design & Build Quality:
The Road Prince Classic 70cc is an elegant-looking bike with appropriate dimensions. It has an overall length of 1930 millimeters, a width of 790 millimeters, and a height of 1190 millimeters. It has an aerodynamic fuel tank design with a large seat which is also comfortable. Beautiful graphic stickers are added all over the bike with different colors. The front end has a large, round-shaped headlight that looks attractive, and above it is a stylish speedometer showing the bike's speed. It has red color taillight on the back. The turn signals have yellow light while the brake light has red color. The build quality of Road Prince Classic 70cc is also not bad and saves you money on maintenance. The spare parts of the bike are readily available in markets and are cheap, as compared to other 70cc bikes' spare parts.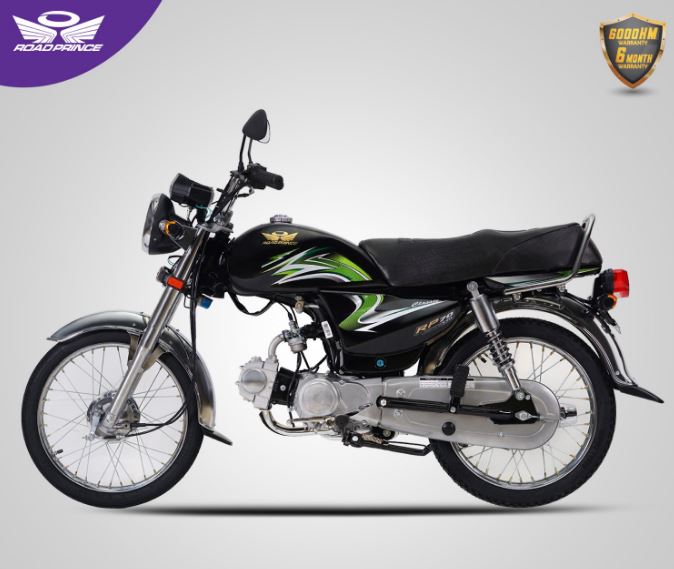 User Reviews:
Road Prince Classic 70cc is a bike to have for family use and everyday use. Most users who own Classic 70cc are satisfied by its fuel efficiency and spacious seat which makes the bike suitable for any type of use and running it continuously does not cost a lot. One of the major concerns of the customers is its increasing price over the last couple of years. The price of Road Prince Classic 70cc started from 50,000 Pakistani rupees in 2020 and then increased two times in the same year, and now its price is again increased a lot compared to last year's rates. The price is still not so high, but the increasing speed at its price concerns the customers.
Major Competitors:
ZXMCO 70 City Rider
Super Power SP 70
Super Asia 70
Sohrab JS 70
Eagle Fire Bird DG 70
Crown 70 HD plus
Hero RF 70
Metro MR 70
Dhoom YD 70
Osaka AF 70
Power PK 70
Ghani Gi 70