2023 Ravi Hamsafar 70cc plus
Sold in Pakistan = 2018-Present

Technology = Euro-II
2023 Ravi Humsafar 70cc Plus Price in Pakistan
| | |
| --- | --- |
| Ravi Humsafar 70cc Plus | 102,500/- PKR |
Ravi is one of the local brands in Pakistan, which is approved by S and GAD. It has provided us with a range of economical bikes, and the, Hamsafar 70 is one of them. The Hamsafar 70 by Ravi Motors is among the most popular 70cc bikes in Pakistan after the big brands. It is a 72cc engine bike. It comes with Japanese technology and offers efficient performance. It comes with hydraulic shock absorbers that give you a comfortable ride and gives you economical fuel efficiency. The model of Ravi Hamsafar 70 comes with better quality and steadiness. It offers a four-speed transmission and comes with kick-start technology, and uses capacitor discharge ignition. The bike's speedometer is a beautiful and bright display, while the headlights have an equally attractive design. The fuel tank of Hamsafar 70 has a greater capacity, and you can take it on long journeys conveniently. It is a good option for daily routine chores and long journeys, and its price makes it affordable for all classes in our country. The maintenance cost of the bike is also not so high, so it is reasonable for the lower class too.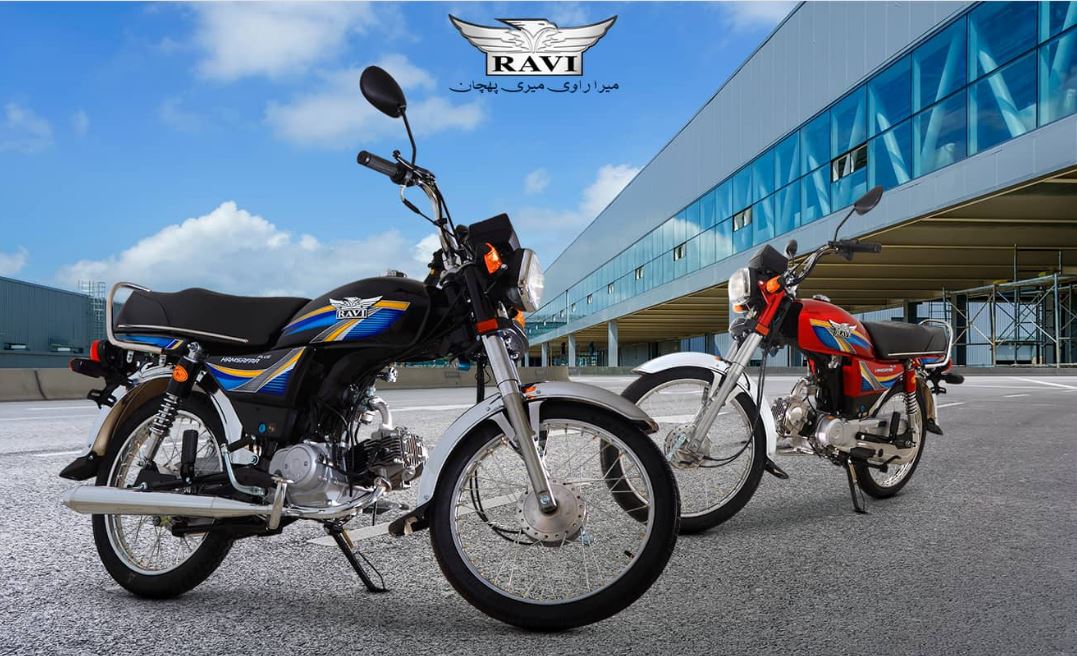 Performance & Ride:
The Ravi Hamsafar gets its power from a 4-stroke, single-cylinder, air-cooled, 72cc engine that produces 7.0 PS of horsepower at 6500 RPM and a torque of 5.4 Nm at 6500 RPM. The four-speed transmission comes with precise gear changes and works with rigging forward. It gives you a smooth performance while its updated suspension facilitates a smooth ride with the coil springs and telescopic hydraulic forks on the front and loop springs at the rear. The braking system is also efficient with drum brakes and applies brakes smoothly without disturbing the passenger's comfort. It offers a ground clearance of 135 millimeters and moves over potholes and bumps without giving you many jerks. It comes with a wet-type multi-plate clutch and kick-start technology. The kick-start technology starts the engine with a single kick conveniently. It comes with a first-class carburetor that ensures the machine produces maximum power, and the sturdy sheet metal frame is durable, giving you a long-lasting life. The outstanding fuel efficiency of the bike makes it the most high-demanding bike among other Ravi bikes, and the exceptional mileage and power of, the Hamsafar Ravi 70cc plus guarantee you a fantastic ride experience.
Mileage & Top Speed:
 The fuel tank of Ravi Hamsafar 70CC plus can store up to 9.5 liters of fuel, so you don't have to worry about refilling it again on long journeys. It gives you a mileage of not less than 60 kilometers per liter. It may give you a top speed of up to 90-100 kilometers per hour.
Exterior Design & Build Quality:
The Ravi Humsafar 70cc Plus design is simple yet elegant, with some new graphic stickers added to it. Hamsafar logos are added all over the bike beautifully to enhance its presence. The front end is pronounced by a crystal light headlight and stylish handlebars with side mirrors. The seat is redesigned with more significant space and more dimension. The seat is comfortable making you feel comfortable and wide enough to accommodate two to three children. It is the reason the Humsafar 70cc plus is famous among all classes because it is a small family bike. The tail light is also redesigned with a trapezium shape and gives enough light to enlighten your road. The speedometer is also stylish and provides a bright display of the vehicle's information. The seventeen inches tires not only look beautiful but give you good road grip.
User Reviews:
Most of the users are satisfied with the performance of the Ravi Hamsafar 70cc Plus, and this is why it has become the most demanding bike of Ravi Motors. Some of the best features most liked by the customers are its comfortable and smooth performance some of them find it better than Honda 70cc. Another feature liked by the users is its fuel efficiency and great mileage, which is remarkable. The price of Hamsafar 70cc Plus is also very reasonable, but one thing not in favor of Ravi Hamsafar 70cc Plus is its resale value. It does not give you a good resale value.
Major Competitors:
Super Power SP 70
Super Asia 70
Sohrab JS 70
Eagle Fire Bird DG 70
Hero RF 70
Metro MR 70
Dhoom YD 70
Power PK 70
Ghani Gi 70