2023 KTM 450 EXC-F
Sold worldwide: 1999-Present
Current Model Sold in the USA:

2017-Present
2023 KTM 450 EXC-F Price in the USA:
| | |
| --- | --- |
| KTM 450 EXC-F | $ 13,410 |
| KTM 450 EXC-F Six Days | $ 14,100 |
Kraftfahrzeug Trunkenpolz Mattighofen, also known as KTM, introduced their 4-stroke off-road motorcycle in 1999. It had European and US versions, among which the European version had a small-sized headlight, taillight, and speedometer. The latest KTM 450 EXC is available in model options in Europe; the 450 EXC-F and 450 EXC-F SIX Days versions. The KTM 450 EXC-F is also called Master of trails because of its impressive performance, race-proven ergonomics, excellent cooling system, and lightweight frame. The KTM 450 EXC-F Six Days is an off-road attack vehicle, built specially to beat all 4-stroke stakes because of its unmatched agility and ready-to-race enduro weapon, which makes it a winning pedigree. It is named Six days because it is named after the famous International Six Days Enduro which has grown from an ordinary race to a world-level marathon, and the KTM 450 EXC-F SIX DAYS is one of the best enduro race bikes you can buy. The engine specs of both bikes are similar. The KTM 450 EXC comes with an orange-coloured frame and has 90s inspired colour theme. The tested mould graphics in the KTM EXC have greater friction and less resistance, making the bike look fresh even on challenging trails.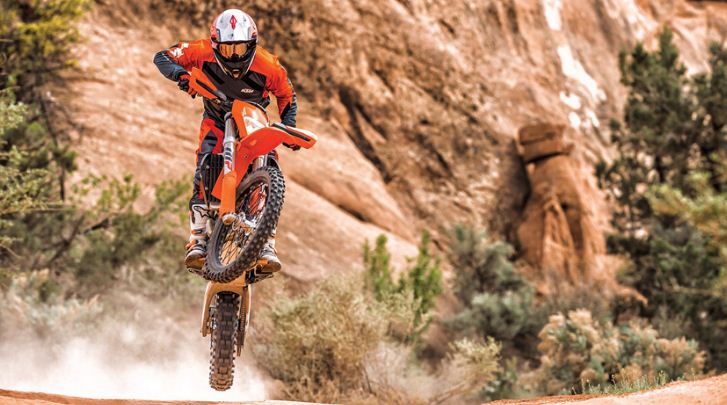 Engine & Performance:
The KTM 450 EXC gets its power from a 449.3cc, 4-stroke, liquid-cooled engine, one of the most refined in the market, with a lightweight of 29.2 kilograms. The engine fits along a SOHC cylinder head that helps to get optimal mass centralization and delivers efficient power and unrivalled performance. The single overhead crankshaft in KTM 450 EXC assists in the optimal gas flow, and the timing chain guarantees its consistent performance. The crankshaft is located close to the center of gravity, contributing to easier handling of the bike. The lightweight engine case contributes to a centralized shaft configuration, and the smart-surface structure of the engine prevents the wear and tear caused by the rider's shoes. The KTM 450 EXC offers a six-speed PANKL RACING SYSTEM transmission with strong gears and forged raw materials that ensure its highest durability and reliability. There is an engine management system in KTM 450 EXC with electronic fuel injection, and it has a 42-millimeter throttle body that allows for easy access and gives a crisp throttle response. The clutch is precise and easy to use throughout the operating temperature range. The electric start system provides quick and reliable bike starting, saving your precious time and energy every time starting your motorcycle. The suspension system is a top-shelf system that consistently delivers unmatched performance across all terrains. The Brembo brake callipers in KTM 450 EXC make it stop smoothly, and you will be happy to use it in competitive racing.
Mileage & Top Speed:
The 2023 KTM 450 EXC has a fuel tank capacity of 9.5 liters, and fuel consumption is around 38 miles per gallon. It gives a top speed of 100 miles per hour.
Design & Build Quality:
All models of KTM EXC have a lightweight steel frame that has a race-derived geometry and gives optimal stiffness. The subframe is made of aluminium profiles 900 grams lighter and provides rear fender stability. The exceptional strength is gained by a one-piece swingarm made of aluminium. All KTM EXC models have adjustable handlebars made of high-strength aluminium and let you adjust the handlebar in four positions. The footpegs can be self-cleaned easily, so the mud does not clog even when dragging through deep ruts and you can maintain your focus on the track. The seat in KTM EXC is covered with black vinyl and is shaped perfectly to provide maximum comfort in your racing. The KTM EXC has an exceptional design, and its composition is inspired by the RED BULL KTM FACTORY RACING TEAM. It has an orange frame that gives retro looks, and the graphics on the bike are corrosion resistant, so the bike looks fresh even when moving through dirt tracks and trails. The KTM 450 EXC uses lightweight tires that provide maximum stability, and the aluminium spoke doesn't need to tighten continuously. The bike's build quality is excellent, which makes it a class-leading winning bike among competitors. It has a wheelbase of 1482 millimeters and a ground clearance of 355 millimeters.
User Reviews:
Users love the KTM 450 EXC's performance and consider it one of the best racing bikes with a lightweight chassis and perfect ergonomics. It gives users easy handling, and intense off-road racing tempts any bike enthusiast. The engine quality is good, and the users appraise its durability. The spare parts are also available easily but are expensive.
Pros:
Light and manoeuvrable in the tight singletrack
Refined and precise gear ratios
High-quality ring chain
Fat bars
Hydraulic clutch
Powder coated frame
Excel rims
6-speed transmission
Electronic odometer
Great stock SA exhausts system that is legal in all states
Easy to adjust valves
The awesome engine filtering system
Side access air filter
4 handlebars mount position choice
Reliable and powerful engine
Marvellous suspension
Powerful braking system
Proficient handling
Cons:
Seat quality is average
Expensive ride
Major Competitors:
Husqvarna FE 450
Beta 430 RR-S