2024 HONDA CRF450L
Sold World wide = 2018-Present
Engine Technology =  liquid-cooled 4-stroke 4-valve Unicam single
2024 Honda CRF450L Price in the USA 
| | |
| --- | --- |
| Honda CR450L (Base Model) | 10,099 $ |
As we delve into the motion and examine the specifications, initial predictions suggested that this bike would be a delicate and sluggish trail bike. However, it has surpassed expectations by proving to be remarkably agile and capable, even rivaling the performance of a 450 enduro bike in certain aspects. One notable enhancement is the additional 18mm wheelbase, which imbues the bike with a sense of stability and confidence when navigating fast tracks or encountering bumps. Surprisingly, this increased stability does not compromise its swiftness.
Navigating steep downhill slopes and maneuvering through densely packed trees became a seamless and predictable experience, thanks to the bike's exceptional balance. Even when ridden in a more demanding enduro style rather than a traditional trail manner, the bike proves to be a remarkable fit. Admittedly, the additional weight becomes slightly more noticeable, lending the bike a slightly more physical feel. Nevertheless, this characteristic does not hinder its ability to be ridden at an energetic pace. In fact, the absence of excessive power actually contributes to the bike's comfortable and user-friendly design, making it a joy to ride.
Engine & Power:
The impressive torque output of this bike adds to its allure and creates an engaging and enjoyable riding experience. Whether you're in first, second, or third gear, it emits a satisfying burble, while also delivering the thrill of revving it up. Honda proudly claims a 24bhp power output, which is exactly what one would expect from a modern 450cc single-cylinder engine. There's no confusion or disappointment when it comes to the bike's performance, as it meets the Euro4 regulations while delivering a respectable power output of 24bhp. In terms of torque, it boasts an impressive 23.6ft/lb, surpassing the Honda CRF250L and proving its true prowess in the present time. Living with this bike on a daily basis is a delightful experience, given its strong performance capabilities.
Furthermore, there's a notable increase in torque thanks to a heavier crankshaft, providing a 13% greater gravitational force. Coupled with the refined fuel injector and valve timing adjustments, the bike delivers a smoother and less intimidating power delivery. This refinement not only enhances the riding experience but also makes it more suitable for environmentally conscious riders in the UK. Another pleasing feature is the inclusion of a six-speed transmission, with the sixth gear acting as a beneficial overdrive for highway riding. This allows for a comfortable cruising speed of 70mph, making longer journeys a breeze.
Build Quality & Reliability:
As expected from Honda, this bike is built to last with a focus on exceptional quality. It embodies the brand's reputation for reliability and durability. The implementation of LED lights not only provides efficient illumination but also contributes to weight reduction compared to traditional lighting systems. However, despite these weight-saving measures, the bike still maintains a weight of 130kg, which is commendable considering its features and capabilities.
When it comes to maintenance, the service intervals are set at approximately 20,000 units, ensuring that the bike remains in optimal condition for an extended period. However, it's worth noting that this interval might not be long enough for avid trail riders or those embarking on long-distance journeys across various terrains. For those seeking more intensive off-road adventures or extended travel, it may be necessary to consider more frequent maintenance and servicing to ensure optimal performance and reliability.
HONDA CRF450L Photos: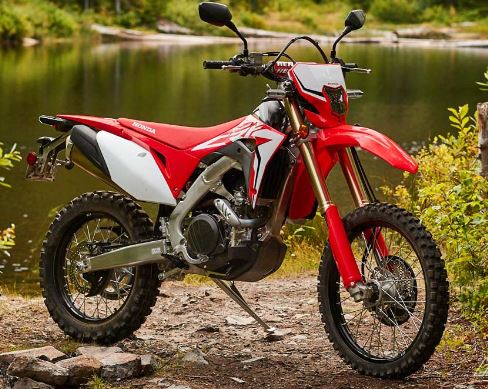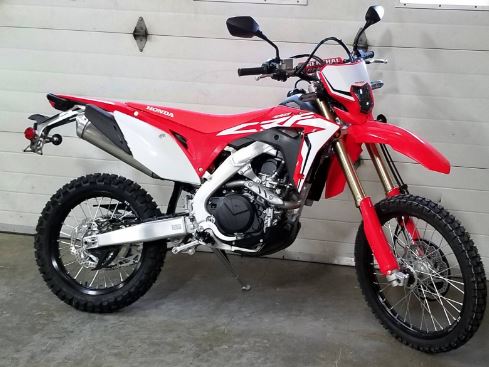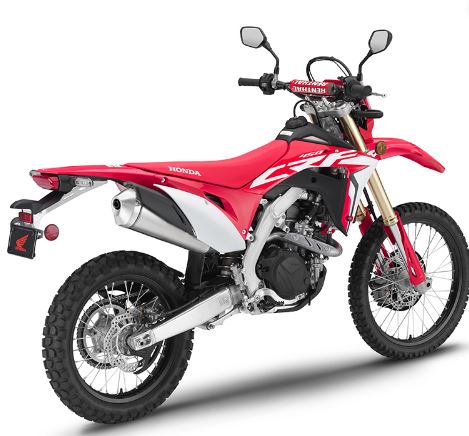 Economy & Pricing:
When it comes to fuel efficiency, the CRF450L impresses with its ability to maintain an average speed of 67mpg. The actual range of the bike will depend on factors such as riding style and terrain. However, thanks to its larger 7.2-liter fuel tank, it boasts a theoretical tank range of approximately 110 miles. This allows for longer rides without the need for frequent refueling stops, making it a convenient choice for adventure enthusiasts.
In terms of pricing, the CRF450L is competitively priced at $10,099 (Base Model). It offers a comprehensive package that caters to modern requirements, combining both functionality and enjoyment. Riding the CRF450L is a delightful experience, and it embodies Honda's renowned quality and craftsmanship. The bike is designed to meet the demands of riders who seek both performance and reliability, making it a valuable investment for those who appreciate Honda's commitment to excellence.
 Equipment:
The CRF450L is demonstrated with high and great quality completely customizable suspension and brakes. The unmistakable dash is neat and simple to rely on and the LED lights. The speedometer, horn, brake-light switch and mirrors all meet and follow legitimate prerequisites.
The CRF450L styling:
The Honda enduro bike seamlessly integrates the robust design elements and streamlined bodywork inspired by the new-generation CRF-R model. This includes features such as the rear curved guard, side panels, and a durable skid plate. In addition, the bike boasts an increased radiator volume and is equipped with an electric fan, cleverly concealed by sleek side covers. Honda deserves recognition for being the pioneering Japanese brand to produce a street-legal motocross-inspired machine for the global market.
The incorporation of these design elements not only enhances the bike's aesthetic appeal but also contributes to its overall performance and functionality. By adopting the proven features from the CRF-R model, Honda ensures that the enduro bike exhibits excellent off-road capabilities while adhering to road regulations. This combination of aggressive styling and road-legal attributes makes the bike a standout choice for riders who crave the thrill of motocross performance with the added versatility of on-road usability. Honda's innovative approach sets them apart as trailblazers in the industry, showcasing their commitment to pushing boundaries and meeting the demands of riders worldwide.
Conclusion:
The performance of the CRF450L lives up to the expectations of dirt racers, as it delivers impressive power and responsiveness. However, it also proves to be rider-friendly, making it accessible for a wide range of skill levels and engaging riders to push their limits. While it remains to be seen whether the bike will be embraced by the adventure travel community, it certainly possesses the necessary attributes for such endeavors.
Comparing it to the KTM 500 EXC, a bike favored by the Motonomad group for their globetrotting expeditions, the CRF450L may be a superior choice. This is particularly true when considering Honda's reputation for durability and their extensive global dealer network. The bike's reliability, backed by Honda's warranty, provides peace of mind for long journeys in remote areas. Additionally, the cost of the CRF450L falls within the standard pricing range, making it a cost-effective option compared to some competitors.
For riders looking to customize their CRF450L, there is a reasonable budget of around $800 to invest in upgrades such as a more attractive skid plate, handguards, split-away mirrors, and soft luggage carriers. These additions can enhance the bike's functionality and aesthetics, allowing riders to personalize their CRF450L to suit their individual preferences.
However, it's important to note that the CRF450L is not as powerful as its motocross counterpart, the CRF450R. So, if you have extremely ambitious aspirations, it may be necessary to consider the higher-performance model. Nevertheless, for most riders seeking a versatile off-road machine with reliable performance and Honda's renowned quality, the CRF450L is an excellent choice.
Major Comeptitors:
Husqvarna FE 450
Beta 430 RR-S
YAMAHA WR 450F