KTM RC 390
Sold Worldwide = 2014-Present
Engine & Technology = 373.2cc single-cylinder engine and incorporates cutting-edge technology
KTM RC 390 Price in the USA
KTM RC 390

$ 5,899

(Start Price)
The KTM RC 390 is a popular sports motorcycle known for its aggressive styling and performance-oriented features. The 373.2cc engine produces significant horsepower, making it a powerful option for riders looking for an exhilarating experience. It is designed for spirited riding and excels on the track. The KTM's lineup includes the RC 390, along with its more exposed counterpart, the Duke 390. It's been turning heads since its debut in 2014. This year's model hasn't undergone any changes, it's worth noting that over the past nine years, this mini super sport has received numerous updates, resulting in an impressive package. This little speedster has a single-cylinder engine, boasting 43 horsepower and 27 pound-feet of torque. These numbers may not be groundbreaking, considering its dry weight of only 342 pounds. The bike comes in two different colors right now: the classic KTM orange and a mix of blue and orange. This second option looks a lot like the colors you see on the Red Bull Factory KTM Racing bikes ridden by Jack Miller and Brad Binder in Moto GP. The bike also includes a feature called "supermoto ABS," which is taken from KTM's famous off-road motorcycles. This lets the rider skid the rear wheel in a controlled way without causing instability at the front.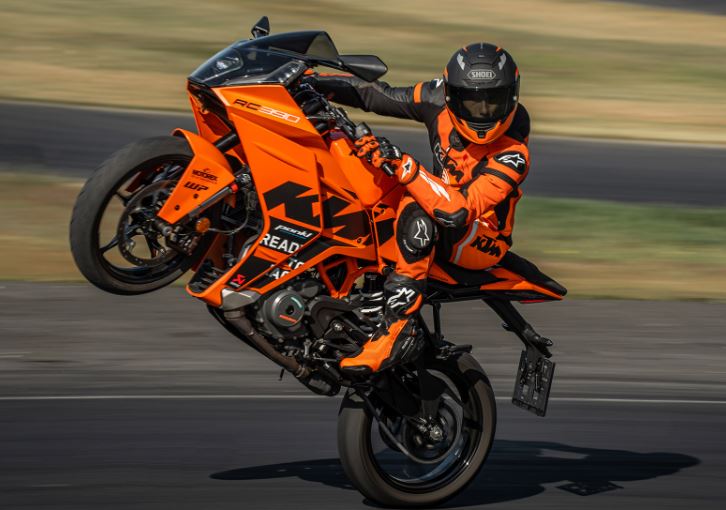 Engine, Performance & Ride:
The KTM RC 390 has a 373 cc liquid-cooled, single-cylinder four-stroke engine that performs exceptionally well. This advanced engine delivers outstanding performance. The KTM RC 390 gets a boost off the starting line and accelerates swiftly thanks to a larger air box, increased torque, and a highly responsive throttle. The new Ride-by-Wire system also brings more precise engine control, traction management, and the option for an additional Quick shifter+ feature. The cylinder head of the KTM RC 390 has four valves, double-overhead cams, and exceptionally durable carbon-coated cam levers. This means that the cylinder head produces more power and maintains its reputation for exceptional reliability. The KTM RC 390 benefits from a brand-new, incredibly light framework that shaves.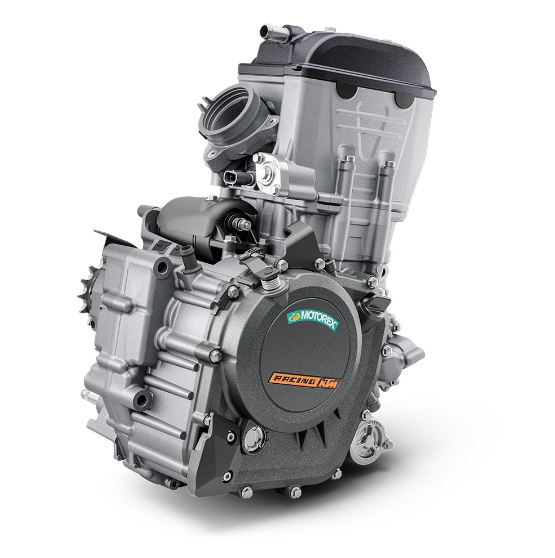 The KTM RC 390 boasts a completely revamped setup, providing genuine race-bike credentials and offering unrivaled suspension specifications in the sub-400 cc supersport bike category. The front brake system consists of a radially mounted 4-piston-fixed caliper manufactured by BYBRE (Brembo's subsidiary), paired with a 320 mm brake disc. This setup delivers precise and powerful braking force, allowing quick and controlled deceleration. The KTM RC 390's rear features a one-piston fixed caliper with a 230 mm disc brake. This provides adequate braking power for the rear wheel, contributing to balanced and controlled braking performance. The brake discs used on the KTM RC 390 are made of high-quality materials to ensure durability and effective heat dissipation. This helps maintain consistent braking performance even during demanding riding conditions. The KTM RC 390 has a state-of-the-art ABS. ABS prevents wheel lock-up during hard braking, enhancing rider safety by maintaining control over the bike. This technology is particularly beneficial in emergency braking situations and slippery road surfaces. The KTM RC 390 now has a bigger gas tank that can hold up to 13.7 liters of fuel. This design is inspired by KTM's high-speed Moto3 race bike. With this larger tank and the RC 390's efficient fuel usage, you can travel longer distances without needing to refuel as often. This means you can go faster and cover more ground before you stop for gas. The top speed of the KTM RC 390 is around 170 to 175 kilometers per hour (105 to 109 miles per hour).
Exterior Design & Build Quality:
The KTM RC 390 boasts a striking exterior design that reflects its sporty and high-performance nature. The RC 390 has a full fairing, which covers the entire front portion of the bike, including the engine. This contributes to its aerodynamic profile and provides wind protection for the rider. The bike is characterized by sharp and angular lines, giving it a dynamic and aggressive look. The front end features a sharp headlight design, complementing the sporty aesthetic. The RC 390 has a compact and streamlined appearance. Its sleek profile enhances its visual appeal and also contributes to its agility and maneuverability. KTM offers a range of color options for the RC 390, allowing riders to choose a style that suits their preferences. The RC 390 has a windscreen, which helps deflect wind away from the rider, improving comfort during higher-speed riding. The placement of footrests and controls is designed for a sporty riding position, allowing the rider to adopt a lean-forward stance for enhanced control and aerodynamics. The tail section of the RC 390 is designed to complement the overall sporty look, often featuring an integrated LED tail light. The 2023 KTM RC 390 is known for having good build quality. KTM uses high-quality materials in the construction of the RC 390. The RC 390 withstands the rigors of regular riding. The frame and components are engineered to be robust and reliable. 
User Reviews:
Riders often praised the RC 390 for its powerful engine and agile handling. It's known for its quick acceleration and nimble maneuvering, making it a fun bike. Many users appreciated the aggressive and sporty design of the RC 390. Its sharp lines and distinctive appearance were highlighted as appealing features. The bike's braking system, which includes high-quality components, was frequently commended for providing strong and reliable stopping power. Some riders mentioned that the aggressive riding posture of the RC 390 may not be suitable for everyone. It may feel more leaned forward, which could be less comfortable for long rides or riders with specific ergonomic preferences. A few users reported experiencing some vibrations, particularly at higher speeds. Some riders noted that the rear seat is relatively small and firm. Riders mentioned that windshields may provide limited wind protection, especially during high-speed riding. The initial purchase price of the RC 390 is competitive, few users noted that maintenance and spare parts costs could be relatively higher compared to other bikes in the same category.
Pros & Cons:
Pros:
Strong Engine:

The RC 390's engine is powerful, making your rides exciting with 43 horsepower and 27 pound-feet of torque.

Made for Fun Riding:

It's designed for having a good time on the road and does really well on the racetrack. It can speed up quickly and is easy to steer.

Smart Technology:

The bike has clever features like Ride-by-Wire, Quick shifter+, and ABS for better control, improved traction, and safer braking.

Good Brakes

: It comes with high-quality brakes at the front that work precisely and powerfully, helping you stop when you need to.

Sleek Design:

The bike looks cool with its sporty design, sharp lines, and dynamic appearance. People like the way it looks.

Sturdy Build:

It's built well with strong materials, so it can handle regular riding without breaking easily.

Bigger Gas Tank:

Inspired by fast race bikes, it has a larger gas tank that lets you ride for a longer time before needing to refuel.
Cons:
Not So Comfortable Riding Position:

The way you sit on the bike might not be comfortable for everyone, especially on long rides or if you have specific comfort preferences.

Vibrations at High Speeds:

Some people feel the bike vibrating when they go really fast, which could make the ride less comfortable.

Small and Hard Back Seat:

The back seat is a bit small and firm, so it might not be very comfortable for passengers.

Not Great Wind Protection:

Even though there's a windscreen, some riders say it doesn't protect them well from the wind, especially when going really fast.

Can Be Costly to Maintain:

While it's not too expensive to buy initially, some people say fixing and getting parts for it might be more expensive than other bikes in the same group.
Verdict:
The KTM RC 390 is a cool and popular sports motorcycle known for its tough look and great performance. It has a strong engine that gives a really exciting ride, especially for people who like fast and fun rides. The 2023 model has kept getting better over the years with new features like advanced technology for better control and safety. It's made like a real race bike with a good braking system and top-notch suspension. The bike looks awesome too, with a sleek design and strong build. People who've used it say it's a lot of fun to ride because of its strong engine and how it looks. But, some say it can be a bit uncomfortable because you have to lean forward a lot when riding, and it might vibrate more at higher speeds. Also, the back seat is a bit small and hard. Some mention that fixing and getting parts for it might cost more than other bikes, but the starting price is good. So, if you want a powerful and exciting sports motorcycle, the KTM RC 390 is a great choice, even though it might not be the most comfortable or cheapest to maintain.
Major Competitors:
Yamaha YZF-R3:

Yamaha YZF-R3 is a cool bike known for looking sporty and performing well. It has a 321 cc engine and people like how it handles and the overall experience of riding it.

Honda CBR500R:

The Honda CBR500R is a bit bigger with a 471 cc engine. It's good for both sporty rides and everyday use, striking a balance between performance and practicality.

Kawasaki Ninja 400:

Kawasaki's Ninja 400 is a popular choice. It has a 399 cc engine and is known for being easy to handle while still having enough power.

Suzuki GSX250R:

If you want a smaller bike, the Suzuki GSX250R has a 248 cc engine. It looks sporty, and it's good for people who are new to riding because it's not too powerful.

BMW G 310 R:

Made by BMW, the G 310 R is a small and easy-to-handle bike with a 313 cc engine. It's good for both sporty rides and everyday use.

Benelli 302R:

The Benelli 302R looks cool and has a 300 cc engine, making it a good choice for those who want a sporty bike but are still new to riding.

Ducati SuperSport 939:

If you want a fancier and more powerful option, the Ducati SuperSport 939 is a premium choice. It has a 937 cc engine, giving you a mix of sporty performance and comfort for longer rides.