2023 Ravi Humsafar E70 Electric
Sold in Pakistan = 2023-Present
Tech: 1000 watts Electric Motor & 60V Rechargeable Lithium ion Batteries
2023 Ravi Humsafar E70 Price in Pakistan
E70 | LITHIUM 20A

185,000/-

PKR

E70 | LITHIUM 26A

200,000/-

PKR
Ravi motorcycles have gained a reputation for being affordable and highly popular among consumers in Pakistan, particularly for their use in daily commuting and transportation needs. As part of their electric vehicle (EV) lineup, Ravi offers the Humsafar electric bike, which is designed to be environmentally friendly and energy-efficient, providing a viable alternative to traditional gasoline-powered motorcycles. The Humsafar electric bike, like other electric bikes worldwide, has garnered significant attention due to its ability to offer a cleaner and quieter mode of transportation, along with reduced emissions and lower operating costs. It caters specifically to the requirements of daily commuting and short-distance travel, making it an efficient and cost-effective transportation solution for urban dwellers.
In Pakistan, like in many countries, fluctuations in fuel prices have prompted individuals to explore more fuel-efficient options such as electric bikes. Recognizing this trend, the Pakistani government has been actively considering various incentives and policy measures to promote the adoption of electric vehicles. These measures include tax incentives, reduced import duties, and subsidies, all of which have contributed to the growing popularity of electric bikes in the country. Competing with other electric bike models like Jolta electric bikes, Vlektra, and Road King electric motorcycles, the Ravi Humsafar Electric E70 stands out by offering competitive pricing. Ravi ensures that the price of the Humsafar Electric E70 remains attractive when compared to its counterparts in the market, making it an appealing choice for consumers looking for an affordable and efficient electric bike option.
Models:
RAVI Hamsafar Electric

E70 | LITHIUM 20A

60v 20AH Dry Batteries
1000W Powerful Imported Motor
60-70km Top Speed
Full Charging in 3-3.5 hrs
Up to 60km Mileage
Complete LED Lights
Ravi Sheet Metal Frame
06-months / 10,000km Warranty

RAVI Hamsafar Electric

E70 | LITHIUM 26A

60v 20AH Dry Batteries
1000W Powerful Imported Motor
60-70km Top Speed
Full Charging in 3-3.5 hrs
Up to 60km Mileage
Complete LED Lights
Ravi Sheet Metal Frame
06-months / 10,000km Warranty
Powertrain & Performance:
The Ravi Humsafar Electric E70 is equipped with a powerful 1000 Watts electric motor, which plays a vital role in converting electrical energy into mechanical energy to propel the bike forward. The motor is powered by 20 AH, 60V rechargeable lithium-ion batteries, ensuring a reliable and sustainable power source. When fully charged, the Ravi Electric E70 offers an impressive mileage of 60 kilometers, making it suitable for daily commuting needs. To efficiently manage the power flow from the battery to the motor, the electric bike features a sophisticated controller. Acting as the brain of the vehicle, the controller ensures smooth acceleration and oversees essential safety features. It optimizes the performance of the bike and contributes to a seamless riding experience.
Charging the Ravi Humsafar E70 is a convenient process thanks to its onboard charging systems. Users can easily recharge the battery using a standard electrical outlet or a dedicated charging station. It takes approximately 3 to 3.5 hours to fully charge the battery, providing a quick turnaround time for riders. Once charged, the bike can achieve a top speed ranging from 60 to 70 kilometers per hour, offering a decent level of performance. One notable feature found in many electric bikes, including the Ravi Humsafar Electric E70, is the regenerative braking system. This system harnesses and stores energy that is typically lost as heat during braking. By capturing this energy, the bike can extend its range and enhance overall efficiency, making it an eco-friendly and economical choice.
The handling of the Ravi Humsafar Electric E70 is influenced by several factors, including its design, weight distribution, suspension setup, and overall build quality. For city commuting, agility and maneuverability are often prioritized. The Ravi Humsafar E70 is specifically designed to excel in urban environments, where quick and precise movements are essential. A shorter wheelbase and tight turning radius contribute to better maneuverability, particularly in congested areas. The handlebar design and control responsiveness greatly impact the rider's ability to steer and control the Ravi Humsafar E70. These aspects are carefully crafted to ensure a comfortable and responsive riding experience. Additionally, sufficient ground clearance allows the bike to navigate corners smoothly without scraping the undercarriage, while a lower center of gravity enhances stability and control during various maneuvers.
Exterior Design & Features:
The Ravi Humsafar E70 shares a similar design with its predecessor, the Ravi Humsafar. Its frame is constructed from sturdy steel, ensuring durability and stability. The bike's body design may incorporate aerodynamic features and unique styling elements that contribute to its distinctive appearance. Equipped with energy-efficient LED headlights and taillights, the Ravi Humsafar E70 offers enhanced visibility while minimizing power consumption. The instrument cluster features a digital display that provides essential information to the rider, including speed, battery level, and trip details. The choice of wheels and tires greatly impacts both the performance and aesthetics of the bike. The Ravi Humsafar E70 is equipped with durable wheels and tubeless tires, which not only enhance its modern look but also offer reliability and ease of maintenance.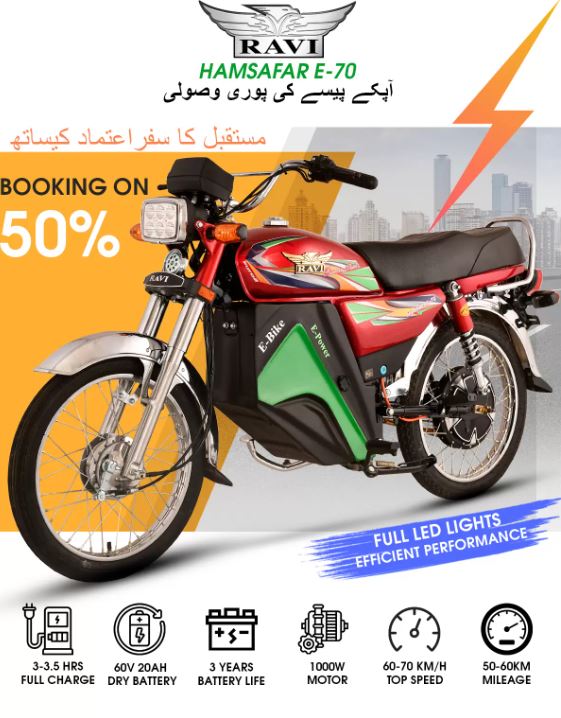 To cater to different customer preferences, the bike is available in red and black exterior colors, complemented by appealing finishes. This variety allows riders to select the option that best suits their individual style. In place of a traditional engine, the Ravi Humsafar E70 houses an electric motor and a battery system. The bike features a comfortable seat, and its seat height is designed to ensure that riders can comfortably reach the ground with their feet while resting at traffic signals or during brief stops. This consideration adds to the overall riding experience and rider confidence. With its stylish design, efficient lighting, informative instrument cluster, and rider-friendly features, the Ravi Humsafar E70 offers a balanced and enjoyable electric bike option.
Build Quality:
The durability of the Ravi Humsafar E70 is influenced by several factors, including the materials used in its construction. The frame, body panels, and other components are carefully selected to ensure long-lasting performance. The bike is designed and engineered with durability in mind, with a focus on reliability and quality. Each component, such as the motor, battery, and electronics, is built to withstand the rigors of daily use. The manufacturers of the Humsafar E70 prioritize durability by implementing rigorous testing and maintaining strict quality control measures during production.
While the bike is designed to be durable, the owner's responsibility for regular maintenance and proper care is crucial in extending its longevity. By following recommended maintenance schedules and taking appropriate care, owners can maximize the bike's durability and performance. To further provide assurance to customers, the Ravi Humsafar E70 comes with a warranty period of six months. This warranty underscores the manufacturer's confidence in the bike's durability and serves as a commitment to customer satisfaction.
Overall, the careful selection of materials, rigorous testing, and maintenance support contribute to the durability of the Ravi Humsafar E70, ensuring that it can withstand the demands of regular use and provide a reliable and long-lasting electric bike experience.
User Reviews:
The Humsafar E70 has received a predominantly positive response from users, although opinions are somewhat mixed. Its primary appeal lies in its eco-friendly design, as it produces zero tailpipe emissions, thereby contributing to the reduction of air pollution and greenhouse gas emissions. Users particularly appreciate the bike's rechargeable lithium-ion batteries, which offer a quiet and smooth ride experience. The lightweight and compact design of the Humsafar E70 also receive high praise, as it allows for easy maneuverability in crowded urban areas. Additionally, users find the bike's maintenance hassle-free, as spare parts are readily available throughout the country. The increasing popularity of electric bikes in general ensures good resale value for the Humsafar E70, while its low running cost is attributed to its quick 3-hour charging time and estimated mileage.
However, one limitation of the Humsafar E70 is its suitability primarily for short to medium-range commuting. It may not be the ideal choice for long-distance travel, as it is primarily designed for daily commutes within urban settings. Some users have encountered difficulties when it comes to charging the batteries, which is a point of improvement for the bike. Despite these minor drawbacks, the positive reviews outweigh the negatives, emphasizing the Humsafar E70's environmental friendliness, smooth ride, easy maintenance, and cost-effectiveness.
Major Competitors: