2023 Honda Accord
Sold in Pakistan = 2019-Present
10th Generation 
2023 Honda Accord Price in Pakistan
Price Effective from 14-March-2023
| | |
| --- | --- |
| Honda Accord | 15,499,000/- PKR |
Honda Atlas brought the 10th generation of Accord to Pakistan on September 4th of 2019 at the Honda Plant located at Manga Mandi. It was the successor of the 9th generation Accord presented in 2013. In other countries, Honda Accord entered in 2017, and the company also brought a hybrid version of it in 2018. The 10th generation of Accord was redesigned to give a masculine exterior having a dynamic outlook and comfortable cabin. Many of the new features introduced in the 10th generation of Accord include; a multi-view camera, Honda Safe Parking Assist System, Honda LaneWatch, wireless charging, and the latest infotainment system. The 2021 year brings the revised version of the 10th generation of Accord, which comes with a single powertrain option. It gives you a luxury interior with a memory seat, a four-way adjustable passenger seat, and an eight-way power-adjustable driver's seat. It offers you continuously varying automatic transmissions and an up-to-date safety system. Honda tries its best to give its customers a collision-free ride where everyone can safely enjoy the freedom of mobility with Honda's latest safety features. The ninth generation of Accord was available with a 2.4 liter DOHC engine, while the 10th generation brought the 1.5 liters VTEC turbocharged engine. We will be discussing some of its features and specs in detail.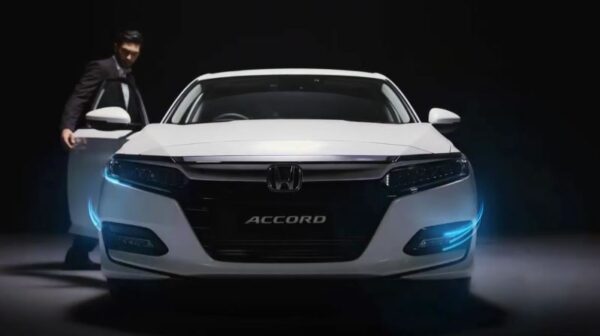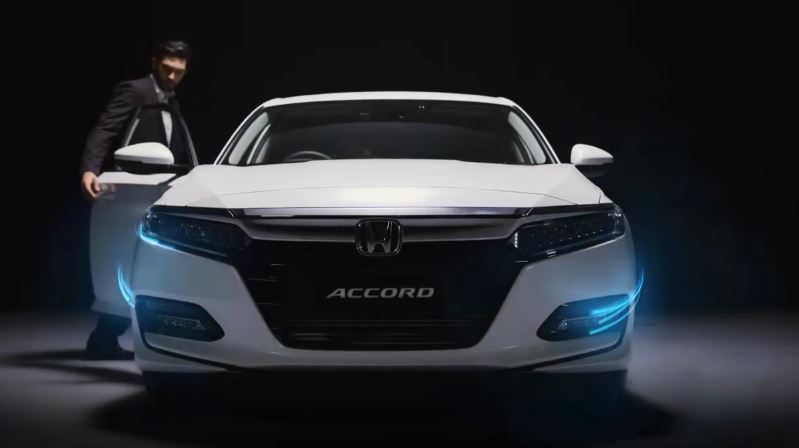 Trims & Versions:
Only a single variant of Accord is available for its 10th generation in Pakistan with a 1.5 L VTEC Turbo engine. It is different from the previous generation in terms of power generation and features. It offers you a bunch of new safety features that include six airbags, an Anti-lock Braking System, Electronic Brake Force Distribution, Braking Assistance, and cruise control, making your drive even safer than before. The latest generation of the Honda Accord is shorter and wider with a longer wheelbase w.r.t the previous generation.
Engine & Power:
The 9th generation of Honda Accord is equipped with a 2.4 liter DOHC engine, while the present 10th generation Accord added a 1.5 liter DOHC turbocharged 1498 cc VTEC engine producing maximum power of 134 kW (180 Horsepower) at 5600 RPM and torque of 233 Nm at 5000 RPM. It comes with an advanced suspension system and an improved braking system. It also provides you with an electronic parking brake, which comes with an auto brake hold option and assists the drivers in parking. The transmission type offered by the 10th generation Honda Accord is a Continuously Varying transmission. This CVT is mated with Earth Dream Technology further enhances the overall driving experience and improves the overall fuel efficiency.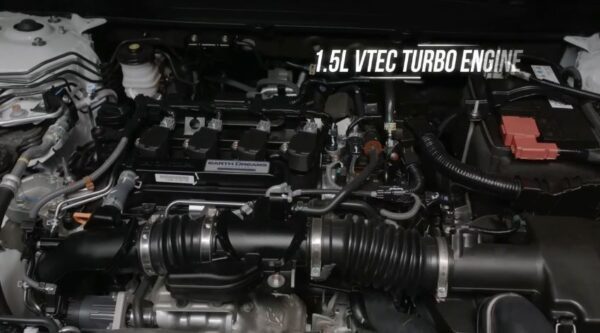 Performance & Drive:
The 1.5 liters of a small-displacement engine is expected to work a little harder, but it is both powerful and fuel-efficient. Most midsize cars are not sporty, and so is the Accord. It does not give you a sporty ride and may feel agile around turns, but it does not affect the overall performance of the car. The firm suspension system of the Accord gives a comfortable ride, especially on highways. The city driving experience of the Honda Accord may not be impressive a lot compared to many of its competitors because the rough pavements and bumpers can make the drive a little harsher. Honda Accord gives you front-wheel driving performance, and the engine delivers enough power to run the front wheels efficiently. The all-wheel-drive feature is not available yet in Honda Accord models. The acceleration of the Accord is good, and it does not feel short on power. The continuously varying automatic transmission is responsive, delivering a smooth drive with its balanced throttle changes. Handling techniques of the 10th generation Accord are playful, making drive fun, and its steering wheel is light which allows easy control of the vehicle. The vehicle does not lean much when turning around the corners, and the braking system of the Accord is also improved. It has electric parking brakes with an auto-hold feature that lets the drivers have full confidence when parking the cars. Two Driving mode options are present that can be selected/utilized according to the requirement. These driving modes include ECON with ECO assist and Sports mode. 
Econ mode reduces the amount of fuel you'll consume while accelerating without affecting your low-end and high-end throttle responses, and you'll only notice the difference on the highway, and that makes Econ mode ideal for city driving. Sports Mode is for maximum performance during the drive, and when activated, there will be an increase in throttle responses that could be felt clearly both in the city and on the highway.
Fuel Economy: The automatic transmission Accord gives you a mileage of 14 kilometers per hour on the highways and 12 kilometers per hour in the city with a fuel tank capacity of 56 liters and a maximum speed of 240 kilometers per hour.
Exterior design and features:
The 10th generation Honda Accord features a bold and dynamic design with an upright front fascia. The front end is pronounced with a chrome wing grille on the front designed above the large-sized air intake and two LED headlamps flanked by its sides. The hood features a unique and aggressive prominent center with sculpted body sides. There is a new contour lining joining the roof to the side panels, creating a clean exterior look. The rearview is equally attractive with an upswept decklid, LED taillights, and two exhaust ports. Eighteen-inches alloy wheels give a real sporty stance to the exterior looks of the Honda Accord 10th generation.
Interior design and features:
The new Honda Accord is classy and luxurious that features a beautiful layout of the dashboard that has wooden grain finishes making the cabin more stunning. The seats covered with premium black leather look attractive as well as ensure a relaxing journey for passengers. The driver's seat is provided with eight-way power adjustment, memory function, and lumbar support, while the passenger seat also has four-way power adjustment. It gives you plenty of space for carrying luggage in its 573 liter boot space, which can be increased further by folding the rear seats. There is an eight inches screen mounted on the dashboard giving you infotainment. It comes with Auto Car play interface with Bluetooth connectivity and six speakers installed for good sound quality. Four USB ports are installed inside the cabin to charge the mobile phones through cable, and a wireless phone charger has also been given. Other features offered are smart entry, remote engine start, dual-zone climate control, rain sensors, and rear ventilation for your comfort and convenience.
Safety & features:
The 10th Generation of Honda Accord was the top safety pick by IIHS, but we cannot say anything for the locally manufactured units. It has been equipped with plenty of safety features to make your ride safe and secure.
Anti-lock Braking System

Brake- Assist

Emergency Stop Signal

Hill-Start Assist

Lane Watch feature

Vehicle Stability Control

Six airbags

Multi-angle reversing camera

Immobilizer

Security alarm system

Walk away auto-lock
Pros & Cons:
Pros:
Comfortable Ride
Refined Handling
Precise Steering
This generation got an award internationally for being an excellent car
New technology turbo generates more power
Excellent Fuel Efficiency
Latest Generation avaiable worldwide
Cons:
Very Expensive in the D Segment Category
At half of its price locally assembled SONATA is available
Engine Size is Small
Expensive and less availability of Parts
Only one Trim is Available in Pakistan
Major competitors:
Verdict:
Honda Accord is a stylish sedan equipped with the latest technology that differentiates it from locally assembled sedans. The sleek and aerodynamic design of the 10th generation of Accord is attractive as compared to the previous 9th generation. The Honda Accord is well equipped to face all the hurdles by offering a powerful turbo engine and the latest safety features. The overall maintenance of the Honda Accord is somehow expensive as compared to other locally assembled sedans.