2023 Changan A800 MPV
Expected Launch:

2023 or 2024

Expected Price:

50-60 Lac PKR

1st Generation
Changan A800 was first introduced in 2017 by Changan automobiles, and it was introduced explicitly for the Chinese automobile market. Changan Motors also made an entry into Pakistan through a joint venture signed with Master Motors. The assembly plant of Changan Pakistan went operational in 2019, and they shortlisted their four vehicles that will be assembled locally in Pakistan. It includes Changan Karavan Changan M8/M9 pickup, Changan CX70T, and Changan A800. We will be talking about the features of the Changan A800 in detail today. Changan A800 is a seven-seater MPV that has been introduced to compete with Honda BR-V, and it is yet to be launched in Pakistan. Expectations are that the all-new Changan A800 will launch at-end of 2021. Changan A800 is specifically designed by Changan's design team in Turin, Italy. The beautiful masculine design of Changan A800 catches every eye on the roads. It comes with an Aisin six-speed manual-auto all-in-one transmission and a powerful turbocharged DVVT engine. The Changan A800's body is made with high-strength steel that guarantees you safety in high-speed crashes. It features an intelligent-active purifying system that uses environmentally friendly materials and purification technology to purify the air in the cabin. It will be the best feature introduced in the days of Covid.
Engine & Power:
Changan A800 has powered by a 1.5 turbocharged DVVT engine that produces a maximum output of (155hp) 115 kW at 5500 RPM and torque of 225 Nm at 1500 to 4000 RPM. The turbocharged engine achieves a powerful driving force from 2000 to 4000 RPM. The all-in-one transmission is efficient, and its gear shift response is also quick, which makes it accelerate 0-60 in eight seconds. In Pakistan, both engines will be available which are 1.5 turbo and 1.6 liters engines. Changan A800 1.6 liters engine produces (124hp) 92kw @ 6000 rpm with maximum torque of 160nm at 4000-5000 rpm. Little information about the trims of the A800 is available yet. It will be available in five-speed manual transmission, six-speed manual transmission, or six-speed automatic transmission.
Performance & Drive:
The Changan claims excellent driving performance in A800, and it is a two-wheel drive that runs the car smoothly. The efficiency of its transmission is 96 percent, and steering response is also remarkable-turning the car around turns and corners confidently. Handling of A800 is easy, and its suspension system lets you drive the car smoothly-absorbing all the bumps of the road. It is suitable for both city driving and long drives. The everyday city drive is best when you are riding in Changan A800 as it manages to give you a comfortable drive even on bumpy roads. It gives you three switchable driving modes that get utilized according to your needs. These driving modes include ramp mode, economical mode, sports mode, cruise control mode, idling start, and stop. If you want to control power consumption, then switch to the frugal way, and if you're going to drive it at faster speeds with sporty feels, then you can select the sports mode.
Similarly, ramp mode can be selected when you are driving the car on hilly roads and ramps. Your driving is made convenient with various features like a blind-spot warning that is incorporated in the electronic rearview mirror and passenger-side mirror. A six-point parking-distance-control system present in A800 assists the drivers-in-parking, and the screen display inside the cabin shows the distance of the car to the barriers in different directions. Thus-you-can parks the car safely, even in narrow lanes. The tires grip the car efficiently on the roads so you can have a stable ride and the real-time monitoring tells the tire pressure and temperature on the display screen, so an alarm will sound whenever tire pressure is not normal. The automatic adjustable headlights in Changan A800 work and illuminate according to outdoor lighting conditions. It automatically adjusts the light when driving the car on dark roads, so your drive is made safe now. Similarly, driving A800 in rainy weather is also made easy with its rain-sensing windshield wipers that work automatically in presence of the rain, and the sunroof sense closes the sunroof at the time of rain. The fuel economy of Changan A800 is also not bad, giving you a mileage of 14 kilometers per liter in the city and 16 kilometers per liter on highways.
Exterior Design & Features:
The body of Changan A800 is made durable because of its high steel strength and the anti-collision beam of car doors made of high-strength steel. The front end of the A800 is quite attractive-with its chrome-plated grille on the front that is glossy and matches the vehicle outlook. The overall appearance of this MPV is streamlined, and the sleek headlamps on both sides of the grille look equally attractive from all angles. The rear end of the A800 is boxy with a black colored bumper on its lower side and two square-shaped taillights fixed in it. A large-sized tailgate dominates the rear fascia, and sixteen-inches two-tone alloy wheels give a sporty stance to this MPV.
Interior Design & Features:
Changan A800 is a spacious car that gives a seating capacity for seven adults, and three rows of seats are present inside the cabin. The chairs and the steering wheel in leather give a premium feel to the place. The third-row seats come with a 2760 millimeters wheelbase and offer you generous headroom and legroom so sitting in the third row is also quite comfortable as compared to other MPVs. There is a seven-inches LCD in front of the drivers used as an instrument panel that displays the speedometer, tachometer, temperature gauge, water gauge, fuel gauge, and odometer. Other than this, an LCD has also been mounted on the dashboard giving you infotainment.
 There is an oxygen energy nanometer ecological photocatalyst system given in the cabin that removes harmful substances from the air and produces oxygen inside the cabin that provides you with healthier air. The driver's seat comes with a six-way adjustment and has a ventilation and heating system incorporated in it. The trunk at the rear is also spacious, having a capacity of up to 382 liters that can carry enough amount of luggage with you. The trunk space of Changan A800 is more than any other MPV, and apart from it, you will get thirty-three storage areas inside the cabin.
Safety & Features:
The high-steel strength body of Changan A800 is its first feature of it, ensuring you a safe drive. Other safety features given are a tire pressure monitoring system, a three-point safety belt reminder that fastens your belts in case of accidents, airbags, adaptive cruise control, an Anti-lock Braking System, and blind-spot detection.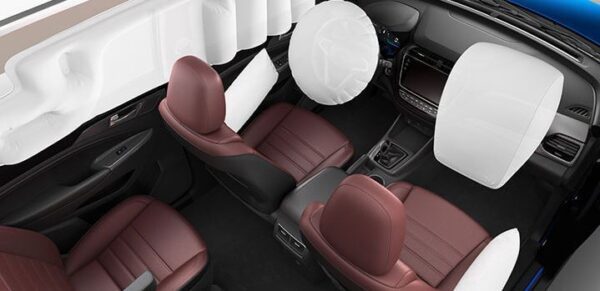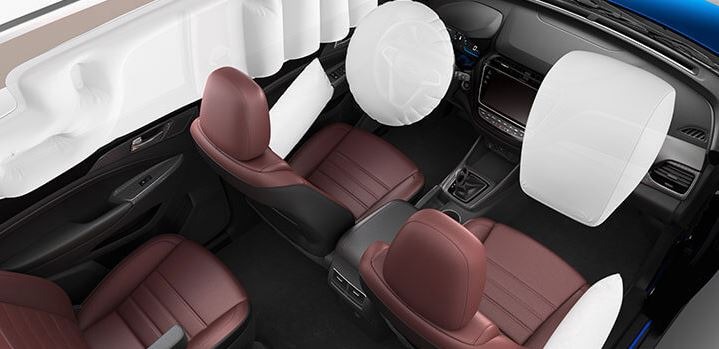 Major Competitors: