DFSK Glory 330
Sold in Pakistan = 2018-2019
Generation = 1st (CBU Discontinued)
Price in Pakistan in 2019 =

21,000,00/- PKR

Expected to be Re-Launched as well
DFSK Motors introduced their Fengguang Glory 330 in 2014 in China, which is a subsidiary product of Dongfeng Motors Company Limited. It was launched with two engine options and came with a seven-seat configuration. It received a major restyling in 2017 with redesigned front-rear exterior looks. The new generation DFSK Glory 330 expected release was in 2020, but sales of DFSK were not so favorable this year. Still, Dongfeng Motor Company managed to release a revised version of Glory 330 for the year 2021 in some countries like Egypt and Sri Lanka that is known for its spacious cabin and superb versatility. It has been upgraded, with advanced safety features that make it a safe and reliable vehicle and makes the drive more enjoyable. It offers manual transmission only and comes with a rear-wheel-drive feature. It is now available in three trim levels that have been explained in detail below. The CBU unit of DFSK Glory was also Available in Pakistan by Prince Motors that discontinued in 2019 and was having six seating configurations and a typical MPV design a bit longer than usual MPVs. You can book your Glory 330 by depositing 21 lacs Pakistani rupees to the Prince Motors dealers if they have some units left.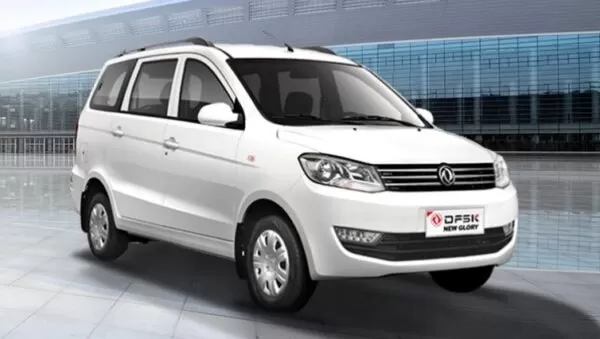 Trims & Versions:
Three variants of Glory 330 are available for the latest version that includes DFSK Glory 330 H/L, DFSK Glory 330 Highline, and DFSK Glory 330 Topline. The powertrain for all the trims differs from each other. DFSK Glory 330 H/L features fourteen inches alloy wheels, EBD, ABS, driver airbag, central lock, fog lights, and power windows. The Highline trim is equipped with remote keyless entry, power steering, touch screen multimedia display, USB ports, Bluetooth connectivity, rear camera, and rear spoiler. The Top-line trim was upgraded with electric mirrors, skin brushes, rear sensors, and a multi-function steering wheel. The transmission option and driving feature are standard in all the Trims.
Engine and Power:
The DFSK Glory H/L is powered by a 1250 cc turbocharged diesel engine generating 115 hp horsepower and torque of 190 Nm. The Highline and top-line trims are charged by 1.5 liters 1500 cc, generating 85 kW (113 HP) at 1499 RPM. The suspension and braking system is the same for all the trims, and the front-engine layout is also similar. The rear-wheel driving feature is given as standard in all trim levels and all the versions have a five-speed manual transmission.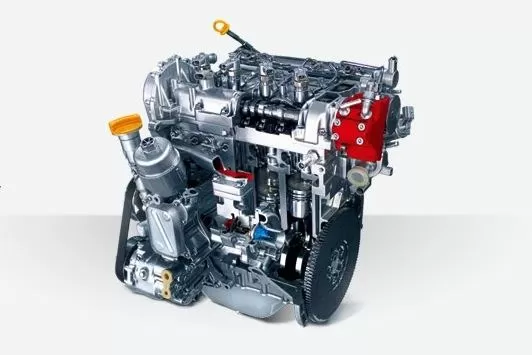 Performance & Drive:
DFSK Glory 330 lets you gallop on your journey with its strong driving dynamics featured with its updated suspension system that not only gives you a balanced ride but also makes it a memorable one. The braking system is also efficient enough to apply the brakes smoothly, without disturbing the comfort of passengers, and the electronic brake-force distribution feature applies a varying amount of force to each wheel of Glory 330 that apples a jerk-free brake. On the other hand, the anti-lock braking system prevents the wheels from locking up when heavy pressure is applied to the brakes. It detects the wheels that are about to be locked and reduces braking force on it, and keeps the braking system active all the time, making your drives safer than before. The engine gives efficient power to the rear wheels, and the steering wheel response is light which makes maneuvering of the car around turns effortless with confidence. Thus handling of Glory 330 gets amazing with its responsive steering wheel and makes the ride comfortable. Many other features are present in the car to make driving easy and safe for example the reverse parking sensors that assist the drivers in parking. Likewise, the brake light indicators are also mounted on the rear-end that-alerts you when there is an issue in ABS. Acceleration of Glory 330 is also good enough to give you a balanced ride even at higher speeds. The 1.5 liters engine car gives you a top speed of 165 kilometers per hour, and the 1.3 liters engine Glory 330 gives you a top speed of 150 kilometers per hour. The fuel economy of the Glory 330 is also impressive in which the 1.5 liters engine Glory 330 consumes 7.4 liters of fuel to give you a mileage of hundred kilometers, and the 1.3 liters engine consumes 7.1 liters and gives a mileage of hundred kilometers.
Exterior design and features:
DFSK Glory 330 is a longer MPV than traditional MPVs, and it measures 4365 millimeters in length. The front end is stylish featuring, halogen headlamps and chrome metallic meshwork grille in the center that has a DFSK logo above it. Fog lights and turn signal lights are positioned below the headlamps while the rear end is equally beautiful with thin elongated taillights, and the logo is embossed on the rear end-too. Glory 330 is equipped with fourteen inches alloy wheels and quality tires that provide a full grip on roads making the drives stable and comfortable.
Interior design and feature:
DFSK Glory 330 features a luxurious cabin that gives a premium feel, and its deluxe looks further completed with wooden trim pieces that are seen over the dashboard and sides of the door. A touch screen display mounted on the dashboard in higher-end trims that comes with GPS navigation and smartphone compatibility. Higher-end versions are also equipped with leather seats that are adjustable in four orientations, and it gives accommodation to six to seven adults comfortably. The rear seats are foldable to increase the cargo area, and they can carry enough luggage for a weekend trip. The multi-functional steering wheel assists the drivers in getting calls and controlling audio, while a Bluetooth connection has also been given on board. The cabin is also equipped with a central lock, power outer rear-view mirror, dual air conditioner, FM/AM radio, rear window defroster, cruise control, power front seats, power door locks, and heated front seats.
Safety features:
DFSK Glory 330 is equipped with all the latest safety features included dual front airbags, front seatbelt pretensions, anti-lock braking system, electronic brake-force distribution, child locks, parking assistance, and an electronic anti-theft system. 
Major competitors:
Verdict:
DFSK Glory 330 is a worthy option to try and buy if you are looking for a big family-sized MPV, that is capable of accommodating six to seven adults comfortably within an economical budget as compared to its competitors. Apart from its spacious cabin, it is also equipped with loads of standard features that promise you a comfortable and convenient ride.