2022 Changan F70 Pickup Truck 
Expected launch in Pakistan:

2022

Expected Price in Pakistan:

36-44 lac PKR

Generation = 1st
Changan has filled the automobile community in Pakistan with excitement by hinting at extensions of its product lines. It is in the headlines nowadays since April 14, 2021, when test mules were spotted first time on the roads of Karachi. Three vehicles of the Changan company were spotted on the streets of Karachi, among which there were two SUVs and one F70 Pickup truck.  Some hints are also given on the Facebook page of Changan Motors in Pakistan that confirms the news of something new coming to the product line of Changan. Changan F-70, known as Kaicene F70, was debuted in 2019 in China. It is a mid-size pickup truck with a front-engine and rear-wheel-drive or a four-wheel-drive option. It is also known as Changan Hunter in Chile and Peugeot Landtrek in America and Africa. The Changan F70 pickup available in international markets offers three engine choices: a 1.9 liters engine, a 2.4 liters engine, or a 2.5 liters engine. The Changan company will launch F70 pickup at the end of 2021, or the beginning of 2022 as the Auto Development Policy 2016 to 2021 will expire in June 2021. It can not be said that the Changan F70 coming to Pakistan will be like the globally available F70 or not, but it will have the basic features and specs.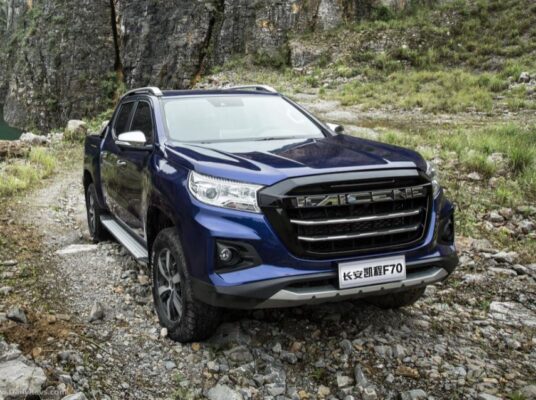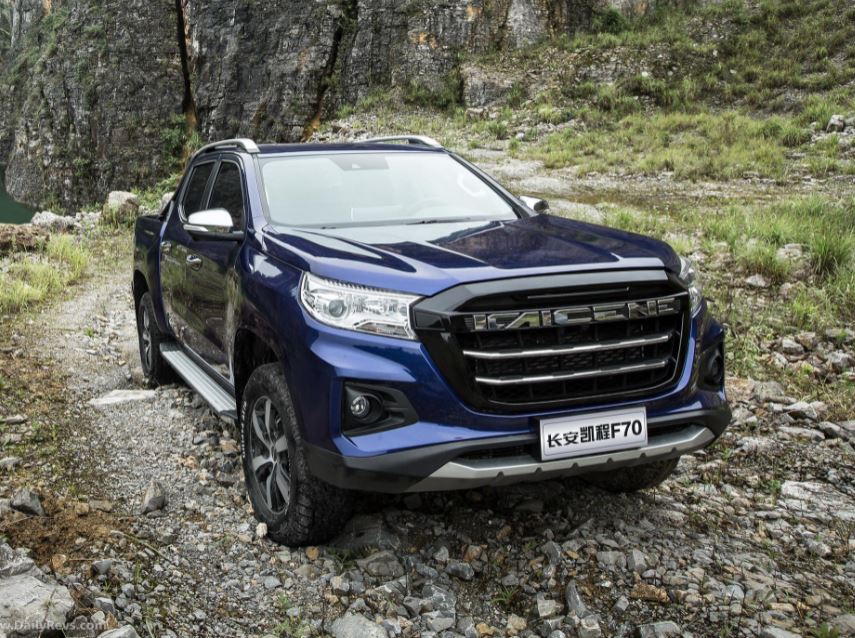 Trims & Variants:
Changan F70 pickup is available in China in two versions of Standard and the LWB (long wheelbase). The standard version has a wheelbase of 3180 millimeters, and the LWB version has a longer wheelbase of 3430 millimeters. Other than the wheelbase, the Standard version differs from the LWB version in terms of wheel size. The Standard version offers 17 inches alloy rim wheels, and the LWB offers 18 inches alloy rim wheels. The Changan F70 pickup is available in either a two-wheel-drive option or a four-wheel-drive option.
Engine, Power & Tranmission:
The three engine choices it offers are two diesel engines and one petrol engine that is as follows:
1.9 liters diesel engine that produces a maximum output of 150 hp and a torque of 350 Nm.
The 2.4 liters gasoline engine produces a maximum output of 218 hp and a torque of 320 Nm.
2.5 liters diesel engine that generates a maximum power of 129 hp and a torque of 360 Nm.
All these engines offer a six-speed manual transmission.
It is not confirmed yet, that Changan will offer all F70 pickup truck engine choices in Pakistan.
Performance & Drive:
All three engines of Changan F70 pickup deliver excellent performance because of its Euro 5 emission standards that have made it the best seller pickup in the export market. The six-speed Getrag manual transmission is smooth, and the gear changes are quick. The overall performance of the vehicle is not affected either by driving it on rushy roads or highways. You can drive it either with the rear-wheel-drive option or the four-wheel-drive option, and the engine delivers enough power to run all four wheels efficiently. The Changan F70 can carry a payload of up to 1.2 tonnes, and the impressive thing is that its performance is not affected even when tonnes of loads are moved by it. Changan F70 has a ground clearance ranging from 214 millimeters to 235 millimeters, and it can tow up to 3.5 tonnes easily. This much ground clearance makes the off-road adventures convenient and thrilling. The steering response is quick, and the steering is light-weighted so that you can turn the car quickly with fewer efforts. The vehicle produces minimum body roll, and the suspension system is well efficient to deliver you a jerk-free ride. The fuel economy of the Changan F70 pickup is impressive, consuming 8.2 liters of fuel to travel a distance of 100 kilometers. Changan F70 pickup has tested at extreme heat and high altitudes, so satisfied adaptability of F70 around the world. The automatic transmission is not available in F70 yet, but it will be launched globally next year, so maybe it will be available in Pakistan. It offers two driving modes that are the Sport mode and the Eco mode chosen on your requirement.
Exterior design and features:
The Changan F70 pickup truck is 5330 millimeters long, and it offers two basic designs which differ based on wheelbase. The Long Wheelbase version has a greater wheelbase of 3430 millimeters, and the overall design is similar to the standard version. The front has a chrome encrypted vertical grille with two large-sized headlights having round headlamps in it. The rear-end design is typical as all other pickup trucks have. There is a deck in the rear to carry load and passengers, increasing the car's versatility. It offers 18-inches alloy rims that enhance the beauty of this pickup truck.
Interior design and features:
Changan F70 pickup truck offers a seating capacity to five adults, and the seats are covered with leather that gives a premium feel to the cabin. A 10-inches touch screen mounted on the dashboard that is compatible with Android Auto and Apple Car Play. There are piano theme keys on the central console of the pickup truck giving it a stylish appearance. There is a multi-function steering wheel and rectangular air vents in the cabin. The cabin has a high level of noise insulation, which makes the environment in the cabin comfortable. The F70 offers a 3.0 intelligent system that gives you a voice control feature and APP remote monitoring.
Safety & features:
Some of the safety features of Changan F70 pickup are:
Airbags
Anti-Lock Braking System
Electronic Brake Force Distribution
ESP
Traction control
Front collision warning alarm
Lane departure warning alarm
Adaptive cruise control
Major competitors: