2023 Isuzu MU-X SUV
Expected Launch in Pakistan:

2023 or 2024

Expected Price in Pakistan:

60,000,00 PKR  

2nd Generation
Isuzu introduced its three-row-body-on-frame mid-size SUV in 2013 as a successor to MU-7, and it is based on Isuzu D-Max. The MU-X acronym stands for MAKES U EXCITING. The second generation of MU-X was launched in 2020 in Thailand, and it is offered in two engine choices there. The sales of Isuzu MU-X went nice in 2020 in Thailand, with a sale of 8139 units 2020. Ghandhara Industries is a name for supplying Isuzu vehicles in Pakistan, and Ghandhara Industries Pakistan is planning to launch MU-X in Pakistan. This news has been released in a recent media report given early in 2021. The Ghandhara Industries has also suffered in COVID-19 lockdown consequences due to the depreciation of our currency, because of which production and supply of its vehicles also decreased, but now Ghandhara is expecting to gain momentum back by introducing an all-new SUV in the Pakistani market. The launch of the Isuzu MU-X SUV will give big competition to Toyota Fortuner and other newly released SUV vehicles. The upcoming Isuzu MU-X will be a seven-seater car that will be offered in either a four-wheel-drive option or a front-wheel-drive option. It will be having all-new chassis and a classy body design equipped with all the latest safety features. Isuzu MU-X is expected to be launched at end of 2021, and its price will be kept fairly competitive as compared to its competitors. We will be discussing the features and specs of this amazing-upcoming SUV in our article today.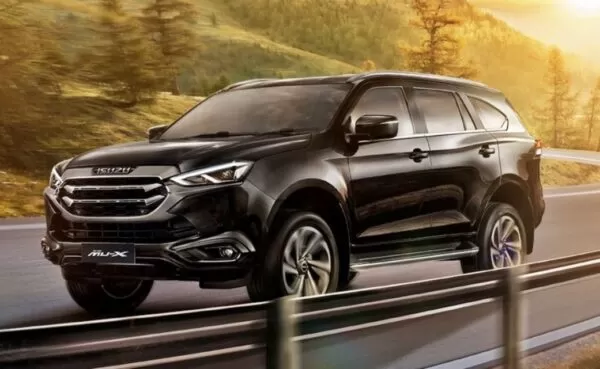 Trims & Variants:
Four variants of Isuzu MU-X are available internationally that include Isuzu MU-X 2WD, 4X2 MU-X, MU-X 4WD, and MU-X 4X4. The upcoming MU-X in Pakistan will also be available in these trim levels. The basic difference among the trims occurs in their wheel-drive options and transmission. You will be offered two-wheel-drive, front-wheel-drive, rear-wheel-drive, and all-wheel-drive options. These will be available in both manual and automatic transmissions.
Engine & Power:
The all-new Isuzu MU-X is powered by a 2999 cc, three-liters, four-cylinder turbocharged diesel engine, which produces a horsepower of 174.5 at 3600 RPM and torque of 380Nm at 1800 RPM to 2800 RPM. It is equipped with an independent, double wishbone, coil spring suspension on its front axles, and Penta-link stabilizer bar suspension on the rear axles. It features a CRDi fuel supply system, and it offers you either a six-speed manual transmission or a six-speed automatic transmission. The lower trims offer two-wheel-driving power, and the higher variants come with an all-wheel-driving feature.
Performance & Drive:
The all-new MU-X SUV performs with perfection because of its heavy-powered three-liters turbocharged diesel engine that effortlessly produces a torque of 380 Nm. This efficient engine can cope-up with all challenges and balance power with fuel efficiency, so you are provided with highly advanced common-rail technology. The wonderful suspension system makes your ride comfortable over hills and bumps by absorbing all the odds of the road. The six-speed transmission comes with smooth shifting, and the Grade Logic technology ensures you have a safe drive as it let you drive the correct gear in both ascending and descending terrains. You will be given with select Rev-Tronic mode when you want to take full control for sequential shifting. The 380 Nm torque delivers a smooth acceleration no matter how much load is carried in it. It will deal with all road difficulties with ease, and passengers will not feel discomfort. The handling of the vehicle is not compromised, and it ensures you have a comfortable ride. Your off-road adventures are also made exciting and fun with Isuzu MU-X as it comes with steel underbody protection so it can knock in-punishing all off-road conditions. You can avail of the front-wheel-drive option or four-wheel-drive option, depending on your requirement. You will also be provided with 4×4 Terrain Command, so when you have to face a sudden beach or mountain range, you can simply select 4H over the speed of 100 kilometers per hour so you will not be stopped on this tough track with complete control. It has a towing capacity of 3 tons so, you don't need to leave anything whenever you are going on an adventure. The fuel efficiency of MU-X is also promising 12-13 kmpl, but its mileage will be recorded according to the road conditions of our country.
Exterior Design and features:
The all-new Isuzu MU-X features a modern and practical design. The front end features an aggressive chrome grille with two Bi-LED projector headlights on its sides that comes with LED daytime running lights. It has been equipped with fog lights, so your ride is not compromised in extreme weather conditions. The tough-exterior look is more enhanced with side steps that ease getting in and out of the vehicle. There will be an elegant curve of Katana on its body that resembles a Japanese sword, and the rear end is also equally attractive as the front. It will have eighteen-inches alloy wheels that not only look great but also are built tough for all types of terrains.
Interior Design & Features:
There lies a spacious and comfortable cabin within the sleek exterior of this SUV. The cabin is designed for comfort and equipped with adjustable headrests and a six-way electric-powered adjustable driver's seat. The seats are covered with leather, and there is room for seven adults. The rear seats in the 2nd and 3rd rows are foldable, so you can increase the storage space and carry enough luggage with you. It comes with a screen mounted on the dashboard having a rearview camera and GPS navigation. You will also be provided with a ten-inches screen fixed to the roof that can be viewed from the 2nd and 3rd row of seats and provides you infotainment. It comes with Bluetooth connectivity, so you can enjoy the music of your choice, and can also connect your iPhone or USB to the infotainment system. It has been equipped with eight speakers that give you good quality sound. Other than this dual-zone climate control system lets you adjust the temperature in the cabin so you can enjoy your ride comfortably. It will provide you with power windows, steering wheel controls, an electroluminescent display, a-pillar assist handles, keyless entry, and abundant storage spaces.
Safety & Features:
Isuzu MU-X has been rated 5 stars by the ACNAP safety rating; we also expect the Pakistani version to come with similar safety standards. If so then, it will be equipped with six airbags, reversing camera, a hill-start-assist, a rear parking assist, Anti-Lock Braking System, traction control, hill-descent control, and an emergency brake assist system.
Major Competitors: