2022 MG HS SUV
Sold in Pakistan = 2021-Present
Generation = 1st
2022 MG HS Price in Pakistan =

65,990,00 PKR
The MG HS is built on the concept of the MG X Motion. It debuted alongside the Roewe Marvel X at the 2018 Beijing Auto Show. The brand is a step closer to the existing manufacturers with each new MG model. The HS offers a seven-year warranty and a purchase price that gives attractive passenger space from other competitors as its interior architecture and quality are both substantially better than previous MGs. MG UK was planning to launch its model into the UK too last year and now the 2020 MGHS is also ready for sale in the United Kingdom. Its headquarter is in London, United Kingdom while the concept was the same as the SAIC HS initiated by China. Sporty outdoors and familiar inside, All-New MG HS is the quality SUV with soft-touch materials used in the spacious cabin for quality familial moments. The all-electric version of MGHS was also revealed at the Guangzhou automobile show in China by the end of 2019 and it is expected to show its launch by the end of 2021 in the United Kingdom.
Trims & versions Available in Pakistan:
Only one Trim or Package G Luxury is available in Pakistan that has all the Major safety and entertainment features which can be seen in the Specs & features section.
Engine and power:
All trims of MGHS are powered by 1.5 liters four-cylinder turbocharged petrol engine that gives power to front wheels with efficient drive and comes with the option of seven-speed automatic  (DCT) transmission. It generates a maximum power output of 160 HP at 5600 rpm and torque of 250 Nm at 1500 to 4400 rpm.
On the other hand, the hybrid model (No yet Available in Pakistan) is powered by 1.5 liters turbocharged engine paired with a 90 KW electric motor charged by a 16.6 kWh battery that is capable enough to give you the mileage of 32 miles without any tailpipe emissions while it gives you a power output of 258 PS at 5500 rpm.
Trims & Versions (available internationally):
It is available in three trim levels that are; explore entry trim, excite mid-level trim, and exclusive high-end trim.
Explore Entry Level:
The model entry-level of Explore starts from £17,995. Standard features include seventeen inches alloy wheels, push-button start keyless entry system, Apple Car Play, and Android Auto interface,10.1-in color touchscreen, and electric folding and heated door mirrors.
Explore Mid Level:
The Excite mid-level edition is from £20.495, which includes rear parking, eighteen inches alloy wheels, rain-sensing washing machines which sat navigation system.
Exclusive High Level:
The Exclusive top spec is available in a choice of two leather interiors (black or red and black), sequential indicators for front and rear LED, heated sports heating electrically adjustable front seat, climate control system for the double zone, ambient lighting, and Sky roof panorama opening. MGHS plug-in option is also available that is charged by turbocharged engine paired with 90 KW motor. It is available in exciting and exclusive ranges only.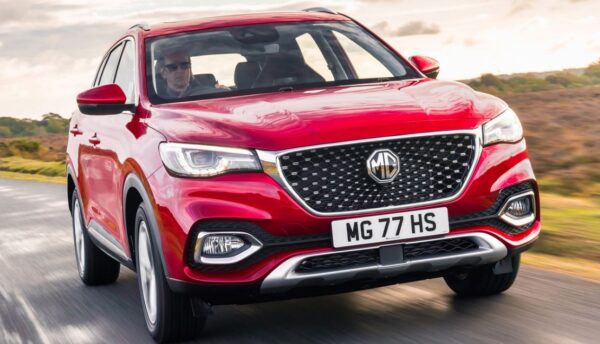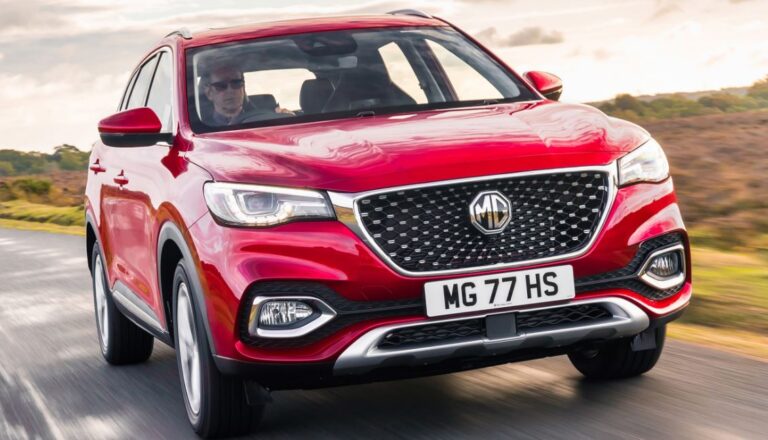 Drive & Performance:
Driving MGHS at a relaxed pace is comfortably efficient for good drivers but it can be slow with petrol engines by inexperienced drivers as it can cause coarse sounds at 4000 rpm. The six-speed manual transmission is smooth and fine while the automatic one makes the motor feel better by shifting up in cautious turns. However, if necessary, it is sluggish to start in a lower gear. MG wants to inject their sports heritage into their models, including their largest SUVs, with a red button in "Super Sport" mode below the steering wheel. The glare reaction is sharpened and even the interior light is transformed into a red glow. It accelerates to cover sixty-two miles (100 km) in 9.9 seconds with a top speed of 118 miles (190 km) per hour. The suspension and braking system is made remarkably efficient to deliver a smooth tension free ride.
Fuel Economy:
 The manual gearbox gives a mileage of 37.2 miles per gallon while automatic transmission provides us with a mileage of 36.2 miles per gallon and the hybrid version gives the mileage of thirty miles per gallon. Which if converted to Kilometers then it delivers 12-15 Kilometer per liter fuel economy combined.
Exterior design and features:
The styling is also very elegant. The front has an appearance of the MG family, but it has a wider, square shape but is not particularly distinctive. The chrome grille and wide headlights in MG HS are sportier than the bulbous Renault Kadjar, while on the side there are just plumes that look like an acceptable SUV, not a pumped hatchback, with the contrasting trims. The body of MGHS features silver roof rails, electrically adjusted and power folded side mirrors, rear parking sensors, and automatic headlights that are provided with daytime running lights. It is available in five different exterior color options that are artic white, white pearl, black pearl, Brix ton blue, and Farringdon red.
Interior design and features:
The HS has the best interior for MG, with enhanced architecture and materials which make it closer to rivals. There is a good amount of passenger room front and rear seats with head and legroom and the 450 liter MG HS boot is easily adequate to carry worth of luggage for the weekend. Modern touches such as circular outdoor beautiful vents and a 10.1-inches infotainment monitor on top of the dashboard all give the HS a vibrant look inside. The infotainment system is compatible with both Android Auto and Apple Car play interface while the six speaker's audio system also gives exceptional sound.
This is also very minimalist-very few buttons are available and even most temperature controls have to be switched up and down through the touchscreen display. Even The explore trim features 10.1 inches infotainment screen and seventeen inches alloy wheels while the excite trim is upgraded with leather upholstery, larger-sized alloy wheels, and satellite navigation, and the exclusive trim features heated front seats along with panoramic sunroof attraction.
Safety features:
MG is equipped with a standard emergency braking system and lane assistance for the HS, bundled in the MG Pilot kit. Cars are fitted with automatic DCT and are also augmented with a traffic jam, which can track the vehicle up to 35 miles per hour in front of them. The adaptive cruise control system is also given along with two airbags, a hill descent system, an anti0lock braking system, and electronic brake-force distribution. It was rated with five stars by the Euro NCAP test.
Major competitors:
Verdict:
It is a spacious SUV equipped with the best interior features and attractive exterior design offered at such a good price letting you avail the warranty for seven years too but at the same time, some buyers are not appealed by its unrefined petrol engines, high running cost, and reliability concerns. We still hope a good market for HS in the UK as it has been awarded five stars by Euro NCAP which is a good plus point for the customers.