DFSK Glory 370
Sold in China = 2016-2021
Generation = 1st (Discontinued)
DFSK 370 Price in China in 2021 =

60,900 Yuan
Dongfeng Sokon or DFSK Motors have been introducing economical passenger and commercial vehicles since the time of its formation in 2003. A variety of automobiles were introduced in the passenger vehicles lineup and Glory 370 was one of them. DFSK Glory 370 was launched in 2016 in China as a compact MPV that gives you two engine options. The 2021 Glory 370 comes with a logo of BE FREE which means now it gives you more FREE SPACE so you can enjoy yourself with your families. It is known for its flexible and unrestrained space inside the cabin that can be adjusted according to your needs to give you an exceptional driving experience. It is perfect for large families because it gives you a seating capacity for seven adults, and another worthy feature of this MPV is its luxurious infotainment system that gives you GPS navigation, a rearview camera, and Bluetooth connectivity. There were expectations that DFSK Glory 370 may be launched in Pakistan when DFSK vehicles were first time introduced in Pakistan, but up till now, no news has been heard again about its launch in Pakistan. DFSK Glory 580 is the first Glory vehicle in the Glory series launched in Pakistan in the year 2020 and soon may we get Glory 370 also in our country.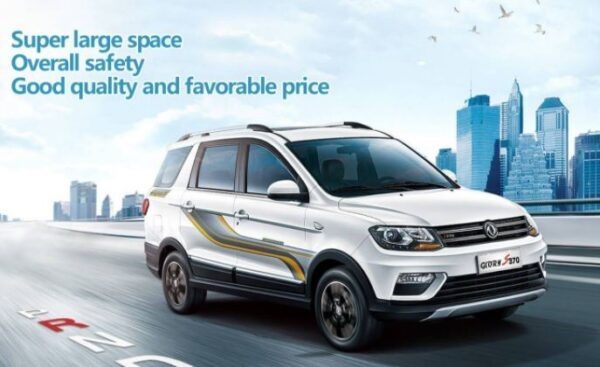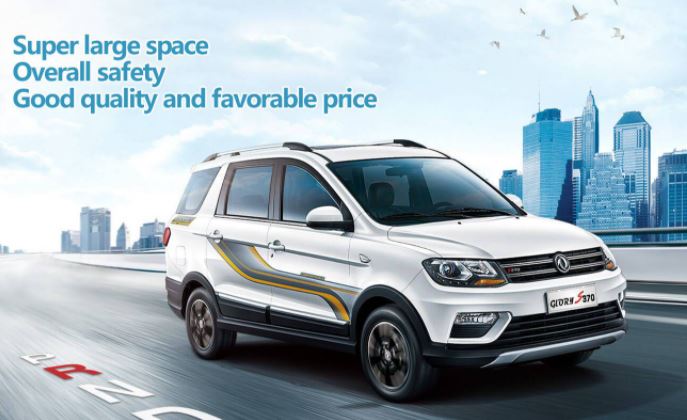 TRIMS & Versions:
DFSK Glory 370 is available in four trim levels. The four variants of glory 370 are differentiated as per transmission levels and engine powertrain. It is available in two powertrains is either a 1.5 liters engine or a one liters engine. The transmission options it offers are five-speed manual transmission with a gearbox option and an automatic continuously varying transmission. Both the options come with smooth throttle changes. Other features are almost similar among all the trims and the infotainment system is given as standard in all the available variants.
Engine and Power:
As mentioned earlier above in the article, DFSK Glory 370 is available in two engine options that are either 1 liters engine or 1.5 liters engine. With 1.5 liters SFG15-02 engine Glory, 370 produces a maximum power of 116 PS and torque of 148 Nm. The 1.0 liters SFG15-01 engine produces 123 hp and 148 Nm torque. 
Performance & Drive:
DFSK Glory 370 gives a good driving experience with both of its engines. The 1.5 liters four inline cylinder engine generates enough power to run the front wheels smoothly while it has front-wheel drive only. The suspension system of Glory 370 works efficiently and gives you a comfortable drive with a maximum shock-absorbing feature that makes it fit for driving both in towns and on highways. The suspension of Glory 370 features Macpherson independent suspension on the front and rear five-bar spiral spring suspension on the back. The speed breakers are no more rough and hard on the journey, and you will experience a smooth ride. The ride becomes more comfortable with the least engine noises and driving it on highways at higher speeds is no more uncomfortable for the passengers as it gives you a quiet atmosphere inside the cabin. Handling of Glory 370 is also convenient for making turns and curves easy while the further assistance provided with its electronically assisted steering wheel that works with the least effort. It increases the driver's confidence by allowing the controlling and parking of the vehicle with the least tension. The braking system of Glory 370 is also improved to apply the brakes efficiently without producing any jerky movement so you can enjoy the ride freely and comfortably. The braking system in all the trims is similar, and it features disc brakes on both front and rear. An anti-lock braking system prevents the brakes from being locked or jammed in case of accidents or emergencies that ensures a safe ride as well. Electronic brake force distribution technology applies the brake by varying the amount of force needed and applied to all the wheels of the vehicle that ensures the braking system to be smooth. The transmission option of Glory 370 also varies in different trims that include either the five-speed manual transmission or five-speed continuously variable transmission. Both manual and automatic transmissions are precise and help you to change the gears smoothly.
The fuel economy of Glory 370 is average that gives you a hundred kilometers mileage by consuming petrol of six liters (16 kmpl) and has a fuel tank capacity of fifty liters. Acceleration of Glory 370 is average like many other MPV, and the maximum speed it allows is 160 kilometers per hour.
Exterior designs and features:
This MPV has a beautiful and attractive traditional seven-seater design that has a length of 4565 millimeters, a width of 1725 millimeters, and a height of 1810 millimeters. The front design of glory 370 is known for its Hawkeye crystal diamond-shaped headlights that are positioned on both sides of the central metallic chrome mesh grille that looks stunning and the fog lights are given as well along with double headlamps. The rear is not appealing as expected from an MPV that features old-styled taillights. The tiny alloy wheels are so small as compared to the body size of Glory 370 that gives it a very cheap feeling.
Interior designs and features:
The interior design of Glory 370 is also not very attractive with cheap trim materials used inside. The interior is designed in black color and has a big touch screen display that is very hard to use and has lots of buttons to control it. Seven inches touch screen display now comes with a GPS Navigation system, Bluetooth connectivity, and mobile connectivity. The cabin features leather-covered seats having the front central armrest. The middle seat of the car can be bent along with the armrest to move inside freely. The seating arrangement comes with two configuration options that can be either 2+2+3 or 2+3+2. 
The vehicle has all the standard features available that include child locks, central locks, airbags, a rearview camera, foldable integrated rear seats, air conditioning, and heating system, mobile internet system, multifunction steering wheel, and power windows.
Safety features:
It has been equipped with all necessary safety features so drivers can drive it confidently on roads and passengers also feel safe. Some of the safety features include an anti-lock braking system, electronic brake-force distribution, airbags, intelligent anti-theft system, collision automatically unlock feature, three-point safety belt, child lock, tachograph, and reversing radar.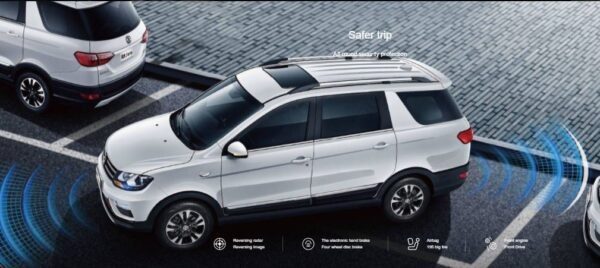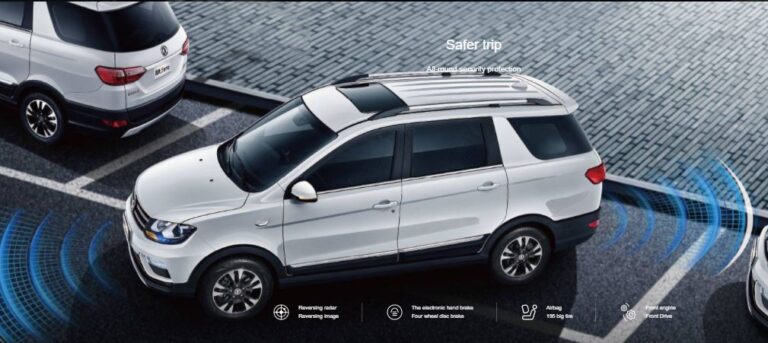 Major competitors:
Verdict:
DFSK Glory 370 is available at a very economical price, but as a whole, it is an oddball and comes with many drawbacks. The cheap-looking small wheels are very unsafe, and the interior is also quite cheap-looking and does not appeal to the customers. The major plus points of Glory 370 are; the spacious cabin that accommodates seven adults comfortably and its budget-friendly price, so if you still want it by ignoring its drawbacks then you can prioritize it because of its low pricing as compared to the competitors.